One of the first rules of effective communication is to "know thy audience." Climate change public engagement efforts must start with the fundamental recognition that people are different and have different psychological, cultural, and political reasons for acting – or not acting – to reduce greenhouse gas emissions. Our research has identified "Global Warming's Six Americas": six unique audiences within the American public that each responds to the issue in their own distinct way...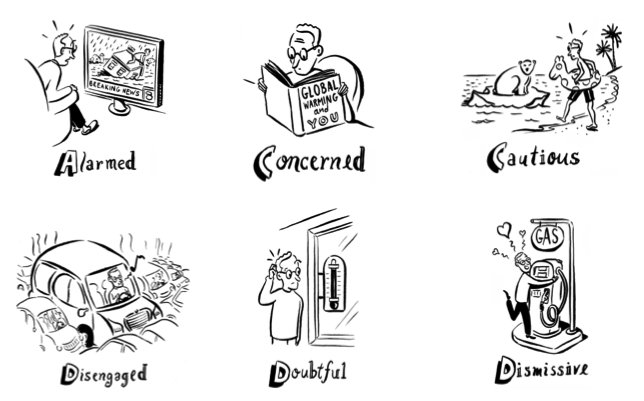 Artwork by Michael Sloan
The Alarmed are fully convinced of the reality and seriousness of climate change and are already taking individual, consumer, and political action to address it. The Concerned are also convinced that global warming is happening and a serious problem, but have not yet engaged the issue personally.
Three other Americas – the Cautious, the Disengaged, and the Doubtful – represent different stages of understanding and acceptance of the problem, and none are actively involved. The final America – the Dismissive are very sure it is not happening and are actively involved as opponents of a national effort to reduce greenhouse gas emissions.
The six audiences were first identified using a large nationally representative survey of American adults conducted in the fall of 2008. The survey questionnaire included extensive, in-depth measures of the public's climate change beliefs, attitudes, risk perceptions, motivations, values, policy preferences, behaviors, and underlying barriers to action. The Six Americas are distinguishable on all these dimensions, and display very different levels of engagement with the issue.
Since 2008, we have conducted many additional studies on these six audiences, including:
The Six Americas framework is being used by climate educators and communicators throughout the United States, including local, state, and national governments, academic institutions, environmental organizations, businesses, faith groups, doctors and scientists, and the media.
For a quick introduction, please see our short video.
source: http://climatecommunication.yale.edu/
original story HERE
Sign Up for Our Free Global Warming Blog RSS feed by clicking here. About once a week you will automatically get all the best blog stories of the week. (The blog now has thousands of articles.)
Share This Blog Post: If you would like to share this blog post, go to the original shorter version of this post and look to lower right for the large green Share button. Ask them to sign up too for the Global Warming Blog.
Click here
for information on
the groundbreaking and disruptive new Climageddon
book. It is about the global warming emergency and what you can do to help end it!
To View Our:
current positions, opinions, agreement or disagreement with this blog article or its facts,
click here
.
Do you like this post?
---