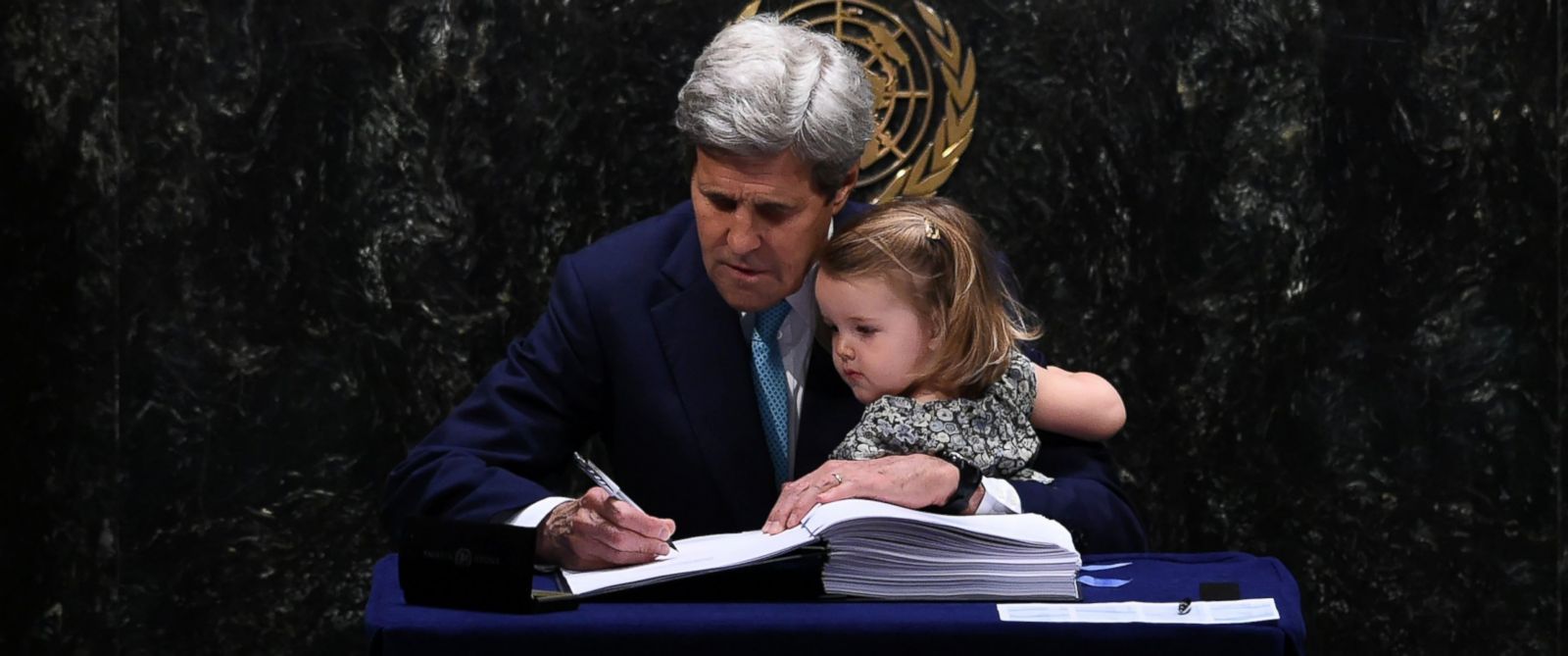 John Kerry Signs Paris Agreement With Granddaughter on Lap (Jewel Samad/AFP/Getty Images)
In a symbolic photo opportunity designed to remind the public of its duty to protect the health of future generations, Secretary of State John Kerry brought his young granddaughter with him to the United Nations as he signed an international commitment to curb the pace of global warming...
Over 150 nations are expected to sign the agreement today, a truly historic feat based on a previous accord set in Paris that aims to limit the Earth's temperature to 1.5 or 2 degrees Celsius above pre-industrial levels.
Kerry hoisted his granddaugther onto his lap in front of a large assembly gathered for the signing ceremony, kissing her on the cheek after adding his signature on behalf of the United States. Isabelle Dobbs-Higginson, 2, is the only child of Kerry's eldest daughter, Alexandra Kerry, and her husband, Julian Dobbs-Higginson.
Today's agreement, signed on Earth Day, marks the first time the world's most prolific polluters, including the U.S., Europe, China and India, have all agreed to set specific, verifiable goals to reduce carbon emissions and dependency on fossil fuels. The deal also calls on countries such as Brazil to enforce strict policies on deforestation.
The deal still has to be ratified by each signatory nation. In the United States, President Obama is expected to ratify the agreement through executive action, bypassing a Republican Congress skeptical of the overwhelming consensus presented by climate scientists. The deadline for ratification is April 21, 2017, one year from now.
By JUSTIN FISHEL Apr 22, 2016, 1:03 PM ET
source: http://abcnews.go.com/
original story HERE.
To see our most current positions, opinions, comments, agreement or disagreement with this article, and/or possible criticisms related to the subjects or facts raised in the above article, 
click here.
Then look for those subjects in the navigation links at the top the page.
To learn about more about global warming, climate change or greenhouse gases as well as the causes, consequences, solutions, definitions, facts and tipping points related to these subjects, 
click
 here
. 
To automatically be emailed a summary of the latest news on global warming, sign up for our Global Warming Blog by 
clicking here
. (Put your email address in the Global Warming Blog Subscribe box at the bottom right of the page.) 
To sign a critical petition for declaring a national and international global warming State of Emergency, click  
here
!
Sign up for the Global Warming Blog for free by clicking here. In your email you will receive critical news, research and the warning signs for the next global warming disaster.
Click here to learn how global warming has become irreversible and what you can do to protect your family and assets.
Click here to learn about the most disruptive new book on global warming facts and research. Climageddon, The Global warming Emergency and How to Survive it.
To share this blog post: Go to the original shorter version of this post. Look to lower right for the large green Share button.
To view our current agreement or disagreement with this blog article, click here.
---