U.S. Secretary of State John Kerry speaks at the U.N. on Wednesday, September 21. CREDIT: AP PHOTO/JASON DECROW
Just one more hurdle remains before the agreement can enter into force...
Last December, nearly 200 countries signed an agreement in Paris pledging to keep the world well below 2 degrees Celsius of warming in an effort to stave off the worst impacts of climate change. Now, that pledge looks closer than ever to becoming a reality.
On Wednesday morning, 31 countries officially ratified the Paris climate agreement, pushing it over one of the required thresholds needed for the agreement to enter into force.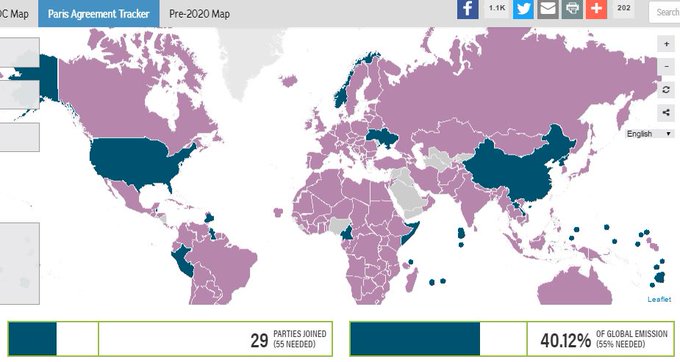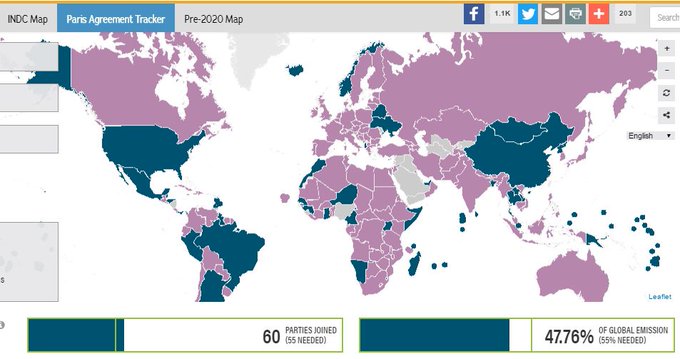 Follow
WRI Climate
@WRIClimate
Before and after today's
#
ParisAgreement
event -- 31 countries joined, now at 60 countries and 48% emissions. See
http://

ParisAgreementTracker.org
7:58 AM - 21 Sep 201
19
19 Retweets
Sixty parties, representing 48 percent of the world's emissions, have now officially joined. For the Paris agreement to enter into force, at least 55 nations, representing at least 55 percent of global emissions, must formally ratify. That means that the agreement needs just 7 percent more greenhouse gas emissions before the agreement can enter into force.
"I thank all the world leaders who have stood here on stage with me today for the leadership they have shown," U.N. Secretary-General Ban Ki-moon said during the high-level event held at the United Nations Wednesday morning. "I also want to thank all those countries that have accelerated their ratification processes and will join the Paris Agreement in 2016."
Countries like the United Kingdom, Australia, Argentina, and Canada did not officially join the agreement on Wednesday, but joined a suite of countries in committing to ratify the agreement by the end of 2016. According to the World Resources Institute, 96 countries have now either ratified, or committed to ratifying, the Paris agreement by the end of the year, representing 65 percent of global emissions.
"Taken together these, commitments will put us past the threshold of 55 percent of global emissions," Ki-moon said. "This means we will cross the final barrier for entry into force of the Paris agreement. I appeal to all leaders to accelerate your domestic procedures to enter into force this year."
U.S. Secretary of State John Kerry called Wednesday's meeting "an exciting moment," but noted that the pace of climate change has not slowed since the agreement was initially signed in December.
"The Paris agreement was an extraordinary milestone," Kerry said. "It was one that took decades to achieve, but the feeling of satisfaction that comes with that milestone is tempered by the knowledge that… the problem that we confronted and continue to confront was growing worse."
On Tuesday, the NASA and the National Oceanic and Atmospheric Administration (NOAA) released data detailing that the Earth had just experienced its hottest August on record, extending a streak of record-breaking global heat to 16 months. According to NOAA, that streak is unprecedented in its 137 years of temperature observations.
JUST IN: Globe was record warm for 16th consecutive month in August -- @NOAANCEIclimate http://www.noaa.gov/news/august-marks-ongoing-trend-of-record-breaking-heat-for-globe … #StateofClimate
"Make no mistake, these high temperatures are already having consequences," Kerry said. "Already we have climate refugees on this planet. Already we have more powerful storm surges. The bottom line is that even as we come here to celebrate, the challenge remains pronounced."
Frank Bainimarama, the Prime Minister of Fiji — which was the first country to officially ratify the Paris agreement — also spoke, urging nations that have not joined the agreement to do so as quickly as possible.
"The need is urgent," he said. "My country, along with other small island nations, is on the front line of climate impacts. The rapid entry into force and implementation of the Paris agreement is critical to our national survival."
"The bottom line is that even as we come here to celebrate, the challenge remains pronounced."
The United States officially joined the Paris agreement, along with China, during the G20 Summit earlier this month. And there is some hope, among U.S. environmentalists, that entering the agreement into force before the end of the year could prevent a possible Donald Trump-controlled White House from walking back the United States' commitment, something that could significantly undermine the success of the agreement. Legal experts have noted, however, that Trump would still be able to either abandon the agreement altogether (though that would require waiting at least a year after it goes into effect) or dismantle key domestic policies that have been the cornerstone of the Obama administration's climate agenda — namely, the Clean Power Plan, which Trump's latest economic policy plan pledges to revoke completely.
In advance of Wednesday's event, 375 scientists from the National Academy of Sciences penned an open letter regarding the dangers of climate change, and warned against Trump's pledges to withdraw the United States from the Paris agreement.
"Walking away from Paris makes it less likely that the U.S. will have a global leadership role, politically, economically, or morally," the letter read. "We cannot afford to cross that tipping point."
Reporter at ThinkProgress.
ngeiling@americanprogress.org
source: https://thinkprogress.org/
original story HERE
To learn about more about global warming, climate change or greenhouse gases as well as the causes, consequences, solutions, definitions, facts and tipping points related to these subjects, 
click here
. 
To see our most current positions, opinions, comments, agreement or disagreement with this article, and/or possible criticisms related to the subjects or facts raised in the above article, 
click here
.
 Then look for those subjects in the navigation links at the top the page.
To sign a critical petition for declaring an international global warming State of Emergency, click  
here
!
Do you like this post?
---