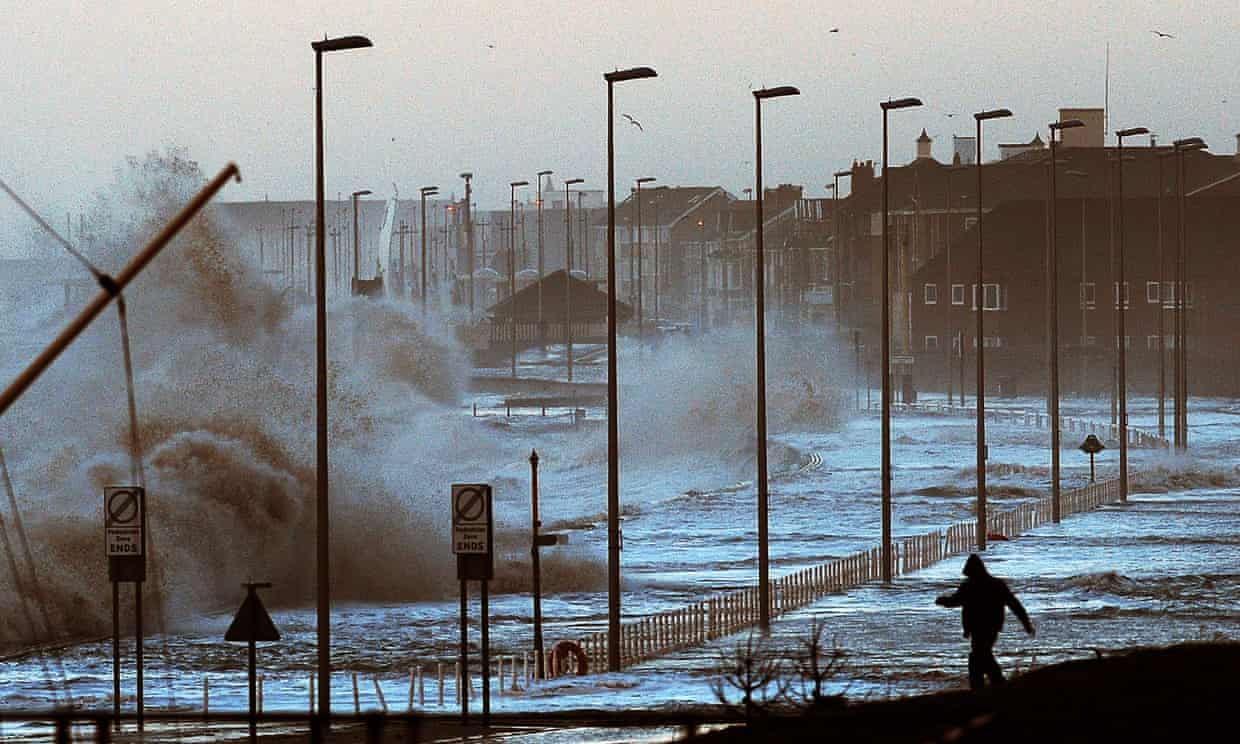 Waves crash over coastal roads at Cleveleys near Blackpool in 2014. Photograph: John Giles/PA
A study of recent data suggests that only good fortune has so far saved coastal communities from a major flood...
Storms during the winter of 2013-14 generated the maximum recorded sea level at 20 of the 40 tide gauge sites around the UK, as well as the largest number of extreme sea level events in any season in the last 100 years.
This is one of the findings of scientists from Southampton University who have been studying coastal flooding around Britain to try to understand the increasing threat from storm surges in various parts of the coast.
There are several factors involved in who will get flooded and when. The track of the depressions, the direction of the wind and the state of the tide dictate which places are vulnerable at any one time.
To help people predict when coastal communities might be at risk the scientists have developed a historical record of coastal flooding called Surgewatch, which gives a report of each event since 1915 and its severity. Those with memories of recent storms or extra information are asked to contribute.
But a disturbing finding is that none of these serious flood events occurred during severe storms but those classed as moderate. This was because none of the severe storms coincided with a high spring tide so were not enough on their own to overtop the sea defences. In other words, so far the UK has been lucky.
The conclusion must be that with sea levels rising at around 3mm a year and storms getting more frequent and violent, it is only a matter of time before a major storm and a spring tide coincide, and bring widespread destruction to somewhere along Britain's coastline.
Sunday 18 December 2016 16.30 EST
source: https://www.theguardian.com/us
original story HERE
If you would like to share this blog story on Facebook with one easy click, scroll down to the 
very
 bottom of this page and look for the SHARE button along with the 
Facebook LIKE button under the
"Sign up to Learn About & Help End Global Warming"
area where people
enter their email address. You do not need to enter any email address to use the one click SHARE button.
To learn about more about global warming, climate change or greenhouse gases as well as the causes, consequences, solutions, definitions, facts and tipping points related to these subjects, click here.

To see our most current positions, opinions, comments, agreement or disagreement with this article, and/or possible criticisms related to the subjects or facts raised in the above article, 
click here
.
 Then look for those subjects in the navigation links at the top the page.
To sign a critical petition for declaring an international global warming State of Emergency, click  
here
!
Sign Up for Our Free Global Warming Blog RSS feed by clicking here. About once a week you will automatically get all the best blog stories of the week. (The blog now has thousands of articles.)
Share This Blog Post: If you would like to share this blog post, go to the original shorter version of this post and look to lower right for the large green Share button. Ask them to sign up too for the Global Warming Blog.
Click here
for information on
the groundbreaking and disruptive new Climageddon
book. It is about the global warming emergency and what you can do to help end it!
To View Our:
current positions, opinions, agreement or disagreement with this blog article or its facts,
click here
.
Do you like this post?
---