cartoon by Adam Zyglis
#1 THE DIRTY SECRETS BEHIND THE NEW PARIS CLIMATE CONFERENCE (COP21) AGREEMENT THEY DON'T WANT YOU TO KNOW…
Strong, smart adults do not want to be fed false hopes, false targets or false facts. They want to know the way things really are so that they can adapt to or effectively manage what actually is there. If you would like to quickly cut through the Paris Climate Conference media spin as well as other greenwashing from the poorly informed concerning the Paris agreement and results, keep reading…
(note: This ones on the cusp of the new year but it tells the story that is about to unfold...)
2015 was hot.
2016 will likely be hotter.
It wasn't even close.
In all of recorded history back to the mid-19th century, we haven't seen a year warmer than 2015. Everywhere scientists looked, from Siberia to northern South America, to all of the world's major ocean basins, they found record to near-record warmth.
(note: 2016 will blow away 2015 as far as heat goes...)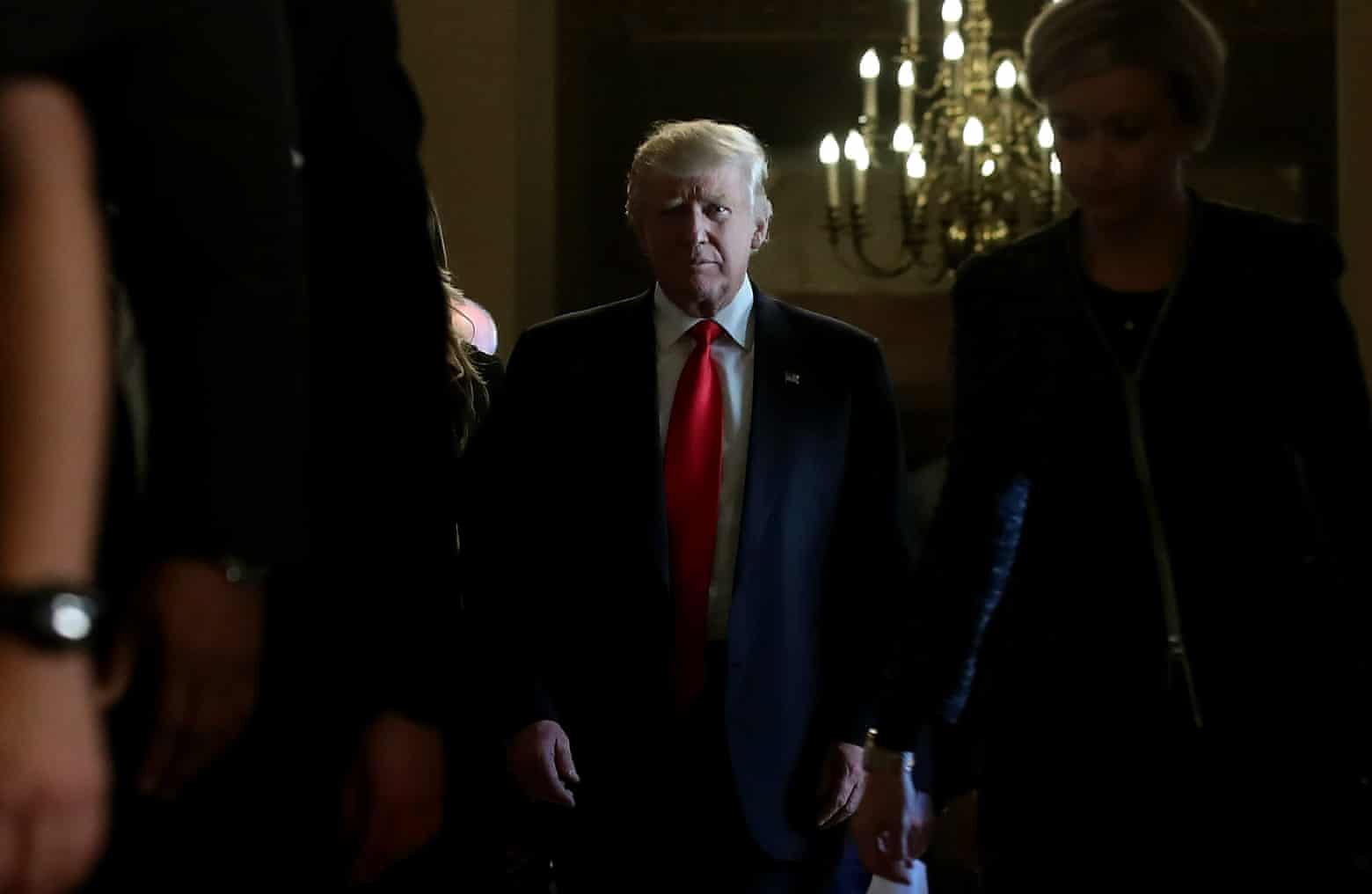 Trump has called global warming a 'bullshit' Chinese-invented hoax and wants the US to exit the Paris climate deal. Photograph: Mark Wilson/Getty Images
#3 DONALD TRUMP PRESIDENCY A 'DISASTER FOR THE PLANET', WARN CLIMATE SCIENTISTS...
Leading scientists say the climate denier's victory could mean 'game over for the climate' and any hope of warding off dangerous global warming...
The ripples from a new American president are far-reaching, but never before has the arrival of a White House administration placed the livability of Earth at stake. Beyond his bluster and crude taunts, Donald Trump's climate denialism could prove to be the lasting imprint of his unexpected presidency...
Getty Images
#4 OBITUARY: GREAT BARRIER REEF (25 MILLION BC-2016)
Climate change and ocean acidification have killed off one of the most spectacular features on the planet...
The Great Barrier Reef of Australia passed away in 2016 after a long illness. It was 25 million years old...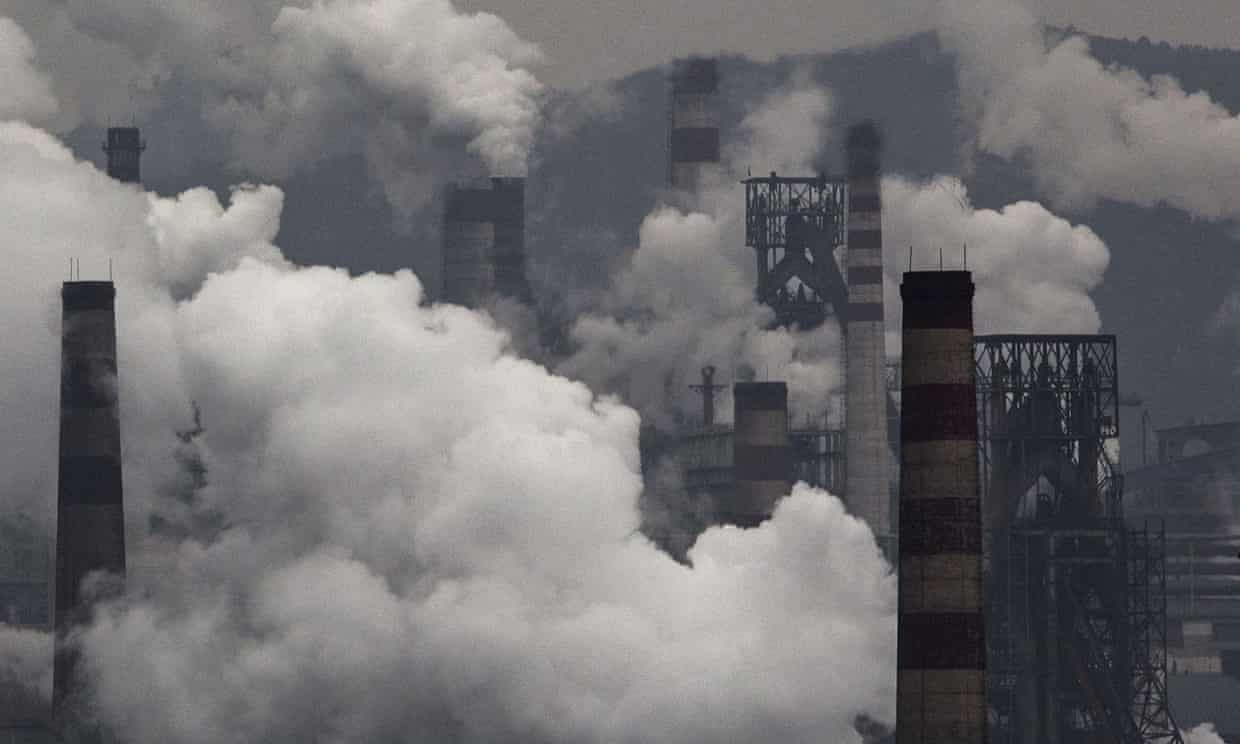 Since the industrial revolution, humans have been adding more carbon dioxide to the atmosphere than plants can take up, driving levels higher, as well as global temperatures. Photograph: Kevin Frayer/Getty Images
#5  THE WORLD PASSES 400PPM CARBON DIOXIDE THRESHOLD. PERMANENTLY!
We are now living in a 400ppm world with levels unlikely to drop below the symbolic milestone in our lifetimes, say scientists. 
In the centuries to come, history books will likely look back on September 2016 as a major milestone for the world's climate. At a time when atmospheric carbon dioxide is usually at its minimum, the monthly value failed to drop below 400 parts per million (ppm).
Photos - NOLA.com | The Times-Picayune
#6 RESETTLING THE FIRST AMERICAN 'CLIMATE REFUGEES'...
ISLE DE JEAN CHARLES, La. — Each morning at 3:30, when Joann Bourg leaves the mildewed and rusted house that her parents built on her grandfather's property, she worries that the bridge connecting this spit of waterlogged land to Louisiana's terra firma will again be flooded and she will miss another day's work...
(note: This is just the beginning. Alaskans are also being moved. Floridians and some East Coasters are next. But let's not forget there are tens of 1000s all over the world are being forced to move and some who can't must adapt or perish.)
The area covered by Arctic sea ice at least four years old has decreased from 718,000 sq miles in September 1984 to 42,000 sq miles in September 2016. Older ice tends to be less vulnerable to melting. The age of the ice is indicated by shades ranging from blue-gray for the youngest ice to white for the oldest. Credits: Nasa
#7 ARCTIC ICE MELT 'ALREADY AFFECTING WEATHER PATTERNS WHERE YOU LIVE RIGHT NOW'...
Soaring Arctic temperatures 'strongly linked' to recent extreme weather events, say scientists at cutting edge of climate change research...
The dramatic melting of Arctic ice is already driving extreme weather that affects hundreds of millions of people across North America, Europe and Asia, leading climate scientists have told the Guardian. Severe "snowmageddon" winters are now strongly linked to soaring polar temperatures, say researchers, with deadly summer heatwaves and torrential floods also probably linked. The scientists now fear the Arctic meltdown has kickstarted abrupt changes in the planet's swirling atmosphere, bringing extreme weather in heavily populated areas to the boil.
A wildfire smolders over drought-stricken California, Aug. 18, 2016.
#8 NO MATTER HOW MUCH IT RAINS, MEGADROUGHTS ARE 'VIRTUALLY CERTAIN' DUE TO CLIMATE CHANGE...
The U.S. Southwest is almost guaranteed to suffer scorching, decades-long "megadroughts" if the world continues producing greenhouse gas emissions at its current pace, a new study warns...
Southwestern states could see the risks of megadroughts rise up to 99 percent by the end of this century as global warming drives up regional temperatures, a team of U.S. researchers said.
(note: Let's not forget the droughts in Bolivia and Africa of epic historical proportions...)
Photo: Kara Lofton, WVPB
#9 THE FLOOD NEXT TIME: WARMING RAISES THE RISK OF DISASTER...
The National Weather Service described the West Virginia disaster as a 1000-year event, a term meteorologists use to describe the rare probability of such extreme rains. Many scientists who study the climate, however, warn that our warming atmosphere is increasing the likelihood and severity of flooding disasters. Further, a review of emergency planning shows that while risk of extreme rainfall is on the rise in Kentucky, Ohio, and West Virginia, the states are not doing enough to prepare for the rising waters.
The Science: "Data are very clear," said Michael Mann, Distinguished Professor of Atmospheric Science at Penn State University. "There is a substantial increase in what we call the intensity of rainfall events," he said, "which is simply to say, flooding – more extreme and more prevalent flooding."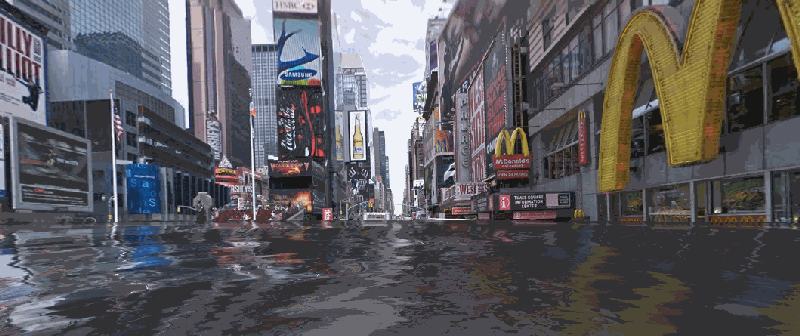 Image via World Under Water
#10 WHY SCIENTISTS ARE SO WORRIED ABOUT SEA-LEVEL RISE IN THE SECOND HALF OF THIS CENTURY...
New research just published in the Proceedings of the National Academy of Sciences notes that if we stay on a current, high-emissions pathway and do not achieve the cuts that the Paris agreement seeks to institutionalize, then we could hit 2 degrees Celsius by 2040 or so. For the planet's sea level, this would mean over a half-foot rise averaged around the globe, in comparison with average sea levels from 1986 to 2005. The sea-level increase, however, would be far worse in certain places, such as the U.S. East Coast, where it could be over a foot...
If you would like to share this blog story on Facebook with one easy click, scroll down to the 
very
 bottom of this page and look for the SHARE button along with the 
Facebook LIKE button under the
"Sign up to Learn About & Help End Global Warming"
area where people
enter their email address. You do not need to enter any email address to use the one click SHARE button.
To learn about more about global warming, climate change or greenhouse gases as well as the causes, consequences, solutions, definitions, facts and tipping points related to these subjects, click here.

To see our most current positions, opinions, comments, agreement or disagreement with this article, and/or possible criticisms related to the subjects or facts raised in the above article, 
click here
.
 Then look for those subjects in the navigation links at the top the page.
To sign a critical petition for declaring an international global warming State of Emergency, click  
here
!
To help do something about the climate change and global warming emergency, click here.
Sign up for our free Global Warming Blog by clicking here. (In your email, you will receive critical news, research, and the warning signs for the next global warming disaster.)
To share this blog post: Go to the Share button to the left below.
---