Climate scientist Katharine Hayhoe has suffered sexist attacks from climate change deniers. Source: Katharine Hayhoe
(Digest: Story of the Week... El Niño/La Niña Update... Toon of the Week... Video of the Week... Reports of Note... Coming Soon on SkS... Poster of the Week... SkS Week in Review... 97 Hours of Consensus...)
Story of the Week...
Why Climate Deniers Target Women...
Harassment is no stranger to the reporters, researchers and policymakers who work on climate change, but it is particularly severe for the women in those fields.
Canadian environment minister Catherine McKenna was labeled "climate Barbie" by the right-wing political blog The Rebel Media. Kait Parker of the Weather Channel suffered attacks from Breitbart News, which dismissed her forceful and lucid explanation of climate science as an "argument from a pretty girl." Emily Atkin, who covers climate and energy for The New Republic, also has endured sexist barbs from Breitbart, which said she had "kitty claws," and Rush Limbaugh, who called her an "infobabe." In similar fashion, climate scientist Katharine Hayhoe earned the moniker "climate babe" from Limbaugh.
Certainly, sexist attacks are not unique to climate science, journalism or advocacy, but research into public understanding of climate change reveals an important link between sexism and climate denial — support for the existing social hierarchy. 
Why Climate Deniers Target Women by Jeremy Deaton, Climate Nexus, Feb 2, 2018 
---
El Niño/

La Niña

Update
More U.S.

drought

in a second-year

La Niña

? 
Currently, we are fully immersed in the second winter of a "double-dip" La Niña.   Although it will take some time before we can see how this event stacked up with past events, you might have noticed that it has been quite dry over much of the U.S. this winter, with drought expanding across several regions, particularly in the south.  Being the big ENSO fans that you are, you might have asked yourself, are these conditions typical in the second winter of a double-dip La Niña?  And are there any differences in how the atmosphere responds to La Niña in the second winter relative to the first?  Well if either of those questions ever crossed your mind, then you're in luck! 
A recent study (1) led by Dr. Yuko Okumura of the University of Texas at Austin addressed how the impacts of La Niña may change from the first winter to the second for double-dip La Niñas like this one. Spoiler alert: Dr. Okumura and colleagues found evidence that U.S. drought and the North Pacific atmospheric circulation anomalies strengthen in the second winter of a double-dip La Niña.  With that out of the way, let's take a closer look at what they found.
More U.S. drought in a second-year La Niña? by Nat Johnson, ENSO Blog, NOAA's Climate.gov, Feb 1, 2018 
---
Toon of the Week...
---
Video of the Week...
The superstorms and wildfires of 2017 cost a record-breaking $306 billion. As the Trump administration has sought to reverse environmental rules, is the federal government prepared to address even stronger storms?
Is the U.S. Ready for More Billion-Dollar Storms? by Deborah Acosta, Climate Change, New York Times, Jan 29, 2018
---
Coming Soon on SkS... 
In-depth: Scientists discuss how to improve

climate model

s (Carbon Brief)
How to Change Your Mind About

Climate Change

(David Kirtley)
Impact of

climate change

on health is 'the major threat of 21st century' (Daisy Dunne)
Guest Post (John Abraham)
New research this week (Ari Jokimäki)
2017 SkS Weekly

Climate Change

& Global Warming News Roundup #6 (John Hartz)
2017 SkS Weekly

Climate Change

& Global Waming Digest #6 (John Hartz) 
---
Poster of the Week...
---
SkS Week in Review... 
---
97 Hours of Consensus...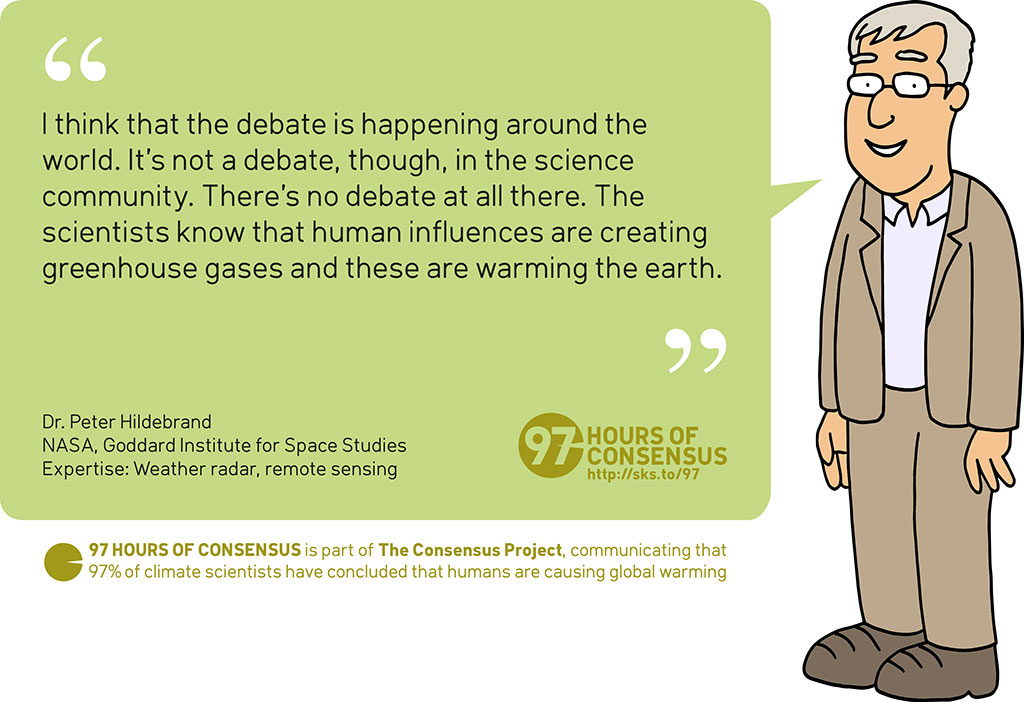 Quote derived from:
"I think that the debate is happening around the world. It's not a debate, though, in the science community. There's no debate at all there. The scientists know that human influences are creating greenhouse gases and these are warming the earth. And other things are — other human impacts, such as changing the earth's surface, paving over things and the like is also having an effect on the earth. So there's no debate there in the science community." 
High resolution JPEG (1024 pixels wide)
Posted on 4 February 2018 by John Hartz
source: https://skepticalscience.com/
original story HERE
To help do something about the climate change and global warming emergency, click here.
Sign up for our free Global Warming Blog by clicking here. (In your email, you will receive critical news, research, and the warning signs for the next global warming disaster.)
To share this blog post: Go to the Share button to the left below.
---