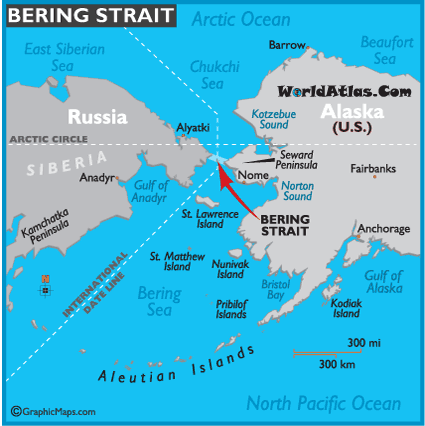 GraphicsMaps.com
It was a sad, cold day in the Bering Strait on March 12, when a 2,000-square-mile chunk of ice decided it was time to break up with the mass it was likely attached to. It took just two days for the split to fully occur, and thanks to NASA's Worldview near real-time satellite imagery program, we can watch the whole thing like a cringeworthy reality TV breakup...
The giant chunk of ice that from the greater ice mass was just about the same size as Rhode Island, according to TechInsider. This being the hottest winter in recorded history might have had something to do with it — just a thought. The unprecedented spike worldwide shattered records and certainly raised the heat in both land and ocean temperatures, especially through January and February, as Mic previously reported.
Here's a look at the ice on March 12:
Source: NASA Worldview
And two days later, after it bid adieu: 
Source: NASA Worldview
A side-by-side comparison shows just how epic, alarming and potentially disastrous this enormous breakup is:
Source: Mic/NASA Worldview
This is not an isolated incident. We are likely to watch several more cold breakups after a historically hot winter season.
By Chris Riotta March 16, 2016 11:25 AM
source: http://mic.com
original story HERE.

To see our most current positions, opinions, comments, agreement or disagreement with this article, and/or possible criticisms related to the subjects or facts raised in the above article, click here.
  To learn about more about global warming, climate change or greenhouse gases as well as the causes, consequences, solutions, definitions, facts and tipping points related to these subjects, 
click
here
. 
To automatically be emailed a summary of the latest news on global warming, sign up for our Global Warming Blog by 
clicking here
. (Put your email address in the Global Warming Blog Subscribe box at the bottom right of the page.) 
To sign a critical petition for declaring a national and international global warming State of Emergency, click  
here
!
To help do something about the climate change and global warming emergency, click here.
Sign up for our free Global Warming Blog by clicking here. (In your email, you will receive critical news, research, and the warning signs for the next global warming disaster.)
To share this blog post: Go to the Share button to the left below.
---