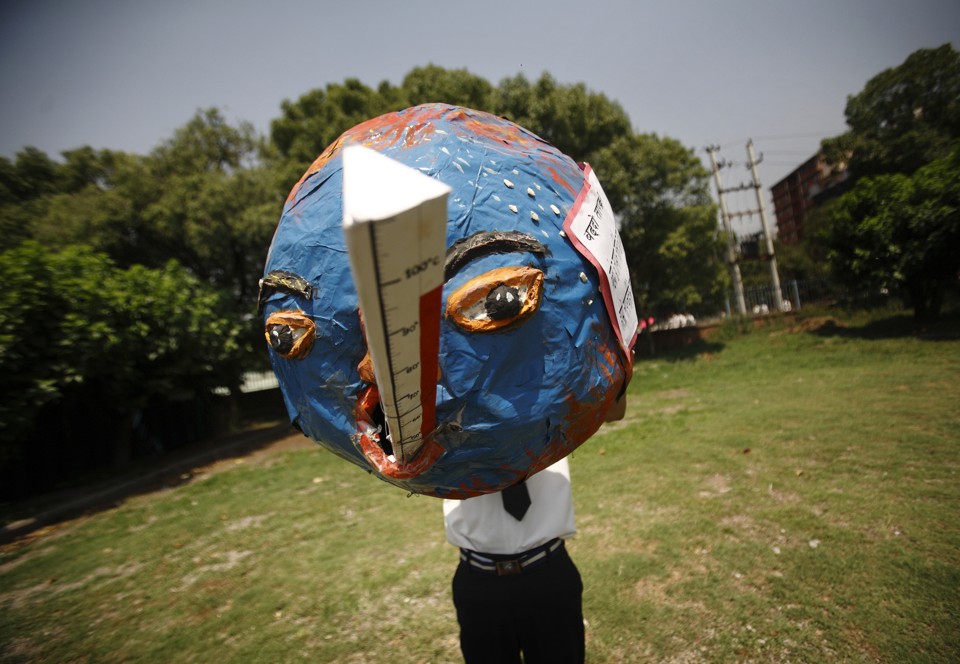 A boy after a rally on World Environment Day in Kathmandu, in 2012. Navesh Chitrakar / Reuters
In recent weeks, "Energy Kids" has cut information about fossil fuels' environmental impacts. Effort meant to inform younger generations about energy and the environment sees sentences reworked and pie charts eliminated...

Almost 20 years ago, the U.S. Energy Information Administration had an idea: Make an educational website for children about energy sources and the science behind them. 
In short order, the EIA created "Energy Kids," which now features energy-themed sudoku and crossword puzzles, colorful pie charts and a know-it-all mascot called Energy Ant. Images of a school bus parked between a coal plant and an oil rig adorn the bottom of the web page, along with drawings of wind turbines, solar panels and an energy-efficient lightbulb.
During the Obama administration, Energy Kids even won multiple international awards for its content and design, as well as one from a digital publishing company that hailed it as "the best of the best in open and engaging government."
The Trump administration, it seems, wasn't altogether impressed with the site or its awards. In recent weeks, language on the website describing the environmental impacts of energy sources has been reworked, and two pie charts concerning the link between coal and greenhouse gas emissions have been removed altogether.
A page from the U.S. Energy Information Administration's "Energy Kids," an education website for children about energy sources. On the right, two pie charts depicting the link between coal and greenhouse gas emissions have been removed.
On a page dedicated to coal, the following sentences were deleted: "In the United States, most of the coal consumed is used as a fuel to generate electricity. Burning coal produces emissions that adversely affect the environment and human health."
The two pie charts that were axed showed that although coal generated only 42 percent of total U.S. electricity in 2014, it created 76 percent of total carbon dioxide emissions linked to electricity generation.
"Impact" seems to have been a word the new administration disliked in particular.
The sentence "Reuse and recycling can also reduce coal's environmental impact" was changed to "Reuse and recycling can also reduce the environmental effects of coal production and use." "Underground mines have less of an impact on the environment compared to surface mines" became "Underground mines generally have a lesser effect on the landscape compared to surface mines." "Impacts of coal mining" was changed to "Effects of coal mining," and "Reducing the environmental impacts of coal use" became "Reducing the environmental effects of coal use."
In a section on oil, the sentence, "There are environmental concerns associated with hydraulic fracturing" became "Hydraulic fracturing has some effects on the environment."
On a separate kids' page for greenhouse gases, a paragraph detailing the U.S. share of global carbon dioxide emissions was also deleted:
"The United States, with 4 percent of the world's population, produced about 17 percent of global carbon dioxide emissions from burning fossil fuels in 2011, the most recent year for which global data are available. The United States has the world's largest economy and meets 83 percent of its energy needs by burning fossil fuels."
Another change involved shrinking a paragraph into footnote-sized font. The minimized text includes a description of methane as "a strong greenhouse gas" that results from coal mining. In the same paragraph, the sentence "Learn more about greenhouse gas emissions" — along with a link to the EIA's page on "Where Greenhouse Gases Come From" — was deleted.
A page from the U.S. Energy Information Administration's "Energy Kids," an education website for children about energy sources. On the right, a paragraph about the United States' share of global CO2 emissions has been removed.
The changes on the website for kids were flagged by the Environmental Data and Governance Initiative, a group including scientists, lawyers and archivists that started tracking changes to federal websites and data after Trump's election. ProPublica independently confirmed the timing and nature of the website changes by examining previous versions of the EIA website captured by the Internet Archive's Wayback Machine.
"Control of the stream by which we educate the young, that's how you control the future understanding of generations, of how the world works," said Kathleen Hall Jamieson, a professor of communication at the University of Pennsylvania.
Jamieson said that while it's hardly surprising that information about energy has been shifted toward the pro-fossil fuel views of this administration, "You expect that in the explicit messaging of those talking about the policy, rather than in deleting things that we know."
Since Trump took office, various government websites have been changed or taken down — such as climate change information on the Environmental Protection Agency's site and an entire page dedicated to LGBT issues on whitehouse.gov.
But subtle changes to government pages directed at children had so far escaped notice. Last year, the kids' page drew about 950,000 page views from more than 410,000 unique visitors, according to the EIA.
The EIA, which is part of the Department of Energy, bills itself as a "statistical and analytical agency" that distributes "independent and impartial energy information" for use in policymaking and in educating the public. According to the EIA's website, the agency's "data, analyses, and forecasts are independent of approval by any other officer or employee of the U.S. government."
On the campaign trail, Trump appealed to key segments of working-class voters by promising to bring back coal jobs. The flagging industry has faced steep competition from cleaner and often cheaper natural gas, as well as renewable sources of energy.
Related:
Brilliant and controversial, Dr. Will Happer of Princeton says being called a climate denier feels like being labeled a Nazi sympathizer. Read the story.
A recent reworking of language concerning climate change on a Wisconsin government website could be replicated under a Trump administration. Read the story.
Trump's "America First" energy plan, as touted on the White House website, affirms the administration's commitment "to reviving America's coal industry, which has been hurting for too long." The plan also promises to tap into domestic reserves of oil, shale and natural gas, while at the same time rolling back "burdensome regulations" on the energy industry.
This month, President Trump signed off on the repeal of an Obama-era regulation that would have limited coal companies' ability to dump potentially toxic mining debris into waterways. The Interior Department had estimated that the rule would protect 6,000 miles of streams and 52,000 acres of forests, but opponents of the rule said it would only further harm the already struggling coal industry.
"These websites are actually giving us clues as to what this administration is going to do, much more so than the very public media show that we are getting through the White House press secretary, through President Trump tweeting or through Kellyanne Conway on 'Meet the Press,'" said Jennifer Wingard, an associate professor of rhetoric at the University of Houston. "It is intentional, these shifts in words are meaningful, and it's smart to pay attention to them."
The EIA's Office of Communications manages the Energy Kids page and aims to update the content with the most recent data, according to Jonathan Cogan, a spokesman for the agency. The office also tries to review all of the pages at least once a year, he said. 
"If you've seen any changes to it, it's just part of the ongoing update process," Cogan said. "When a trend is up in the previous years, and then all of a sudden there's a downturn, you have to change the wording in the sentence to make the sentence fit the numbers. That's the only type of thing we would have been doing here."
However, many of the changes since Trump's inauguration involve wholesale deletions of older data, as opposed to updates, as well as language edits that seem unrelated to changing trends. When asked about these specific alterations to the Energy Kids webpages, Cogan said that "for the most part, the information that you talk about being deleted is still there, either in a different place or worded slightly differently."
"I really don't see a lot there," he said.
Cogan emphasized that the EIA is a "policy-neutral statistical agency" that is not required to submit its analyses for approval by any part of the executive branch. "We're not in the position that other agencies might be in," he said.

Feb. 17, 2017, 8 a.m.
source: https://www.propublica.org/
original story HERE
Get New Climageddon book: Click here for a new book about the global warming emergency and what you can do.
To View Our: current positions, opinions, agreement or disagreement with this blog article or its facts, click here.
To help do something about the climate change and global warming emergency, click here.
Sign up for our free Global Warming Blog by clicking here. (In your email, you will receive critical news, research, and the warning signs for the next global warming disaster.)
To share this blog post: Go to the Share button to the left below.
---