The Larsen C Ice Shelf ice crack taken by plane in February 2017. Image: british antarctic survey
On the same day that President Donald Trump is making his big announcement on whether to keep the U.S. in the Paris Agreement on climate change, potentially ominous news has emerged from a group of scientists keeping watch on Antarctica's ice sheet...
A crack that has been spreading across the Larsen C Ice Shelf in the Antarctic Peninsula accelerated its progress in late May and is about to break off a Delaware-sized iceberg, scientists reported on Wednesday in a blog post. 
The rift, which is 1,500 feet wide in places,  grew by 11 miles between May 25 and May 31, researchers said, bringing the front edge of the crack to within 8 miles of  the sea. Once it gets close enough to the ice edge — which could happen anytime now — it will produce one of the largest icebergs ever recorded. 
View image on Twitter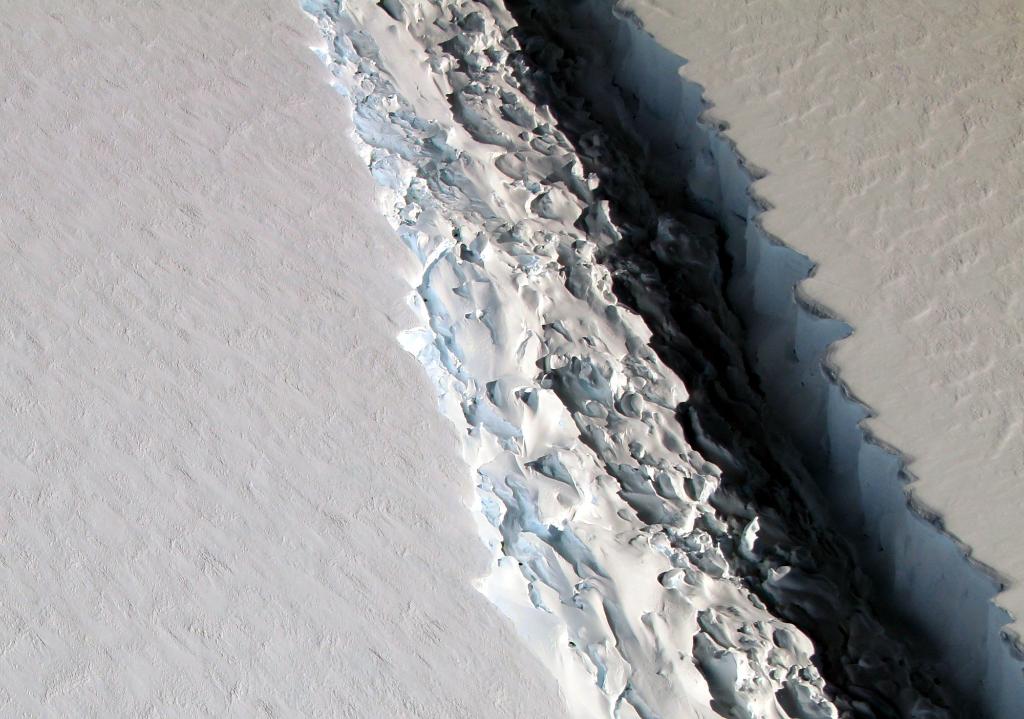 View is of a rift in the Antarctic Peninsula's Larsen C ice shelf from our airborne survey of polar ice: http://go.nasa.gov/2gT5w5F  @NASA_ICE
"The rift tip appears also to have turned significantly towards the ice front, indicating that the time of calving is probably very close," researchers wrote.
The blog post from scientists with Project MIDAS, a UK-based research project investigating global warming in West Antarctica, shows that prior to the most recent jump in the crack's progression, the rift appeared to be bogged down in a so-called "suture" zone of ice starting at the Cole Peninsula. 
Such suture zones can stop developing ice rifts in their tracks. That no longer appears to be the case with Larsen C, however. 
"... There appears to be very little to prevent the iceberg from breaking away completely," the scientists wrote. 
The iceberg itself will not raise global sea levels, and is not actually that out of the ordinary, since glaciers frequently calve icebergs in Greenland, Antarctica and other areas. However, this iceberg will be noteworthy for its size, and it will also leave the larger ice shelf in a more vulnerable position that could cause it to go the way of its neighbor, Larsen B, which broke up in 2002.
That breakup event served as the inspiration for the opening scene in the 2004 blockbuster, The Day After Tomorrow.
Image: nasa
Image: nasa
"When it calves, the Larsen C Ice Shelf will lose more than 10 percent of its area to leave the ice front at its most retreated position ever recorded; this event will fundamentally change the landscape of the Antarctic Peninsula," the scientists wrote. 
A study published in 2015 showed that a reshaped Larsen C Ice Shelf that is missing the Delaware-sized chunk of ice will be much less stable than it has been. 
Ice shelves across West Antarctica and Greenland are melting from increasing air and sea temperatures. This is raising alarm bells in the science community, since such floating sections of ice serve as doorstops for the land-based glaciers behind them, and when the ice shelves erode or break apart, they can cause the land ice to flow faster into the sea.
Progress of the Larsen C Ice Shelf crack through May 31, 2017. Image: project midas
As land ice melts more rapidly, it is raising sea levels, threatening coastal cities worldwide. 
It's not clear how much of a role global warming is playing in forming and propelling the Larsen C rift, considering that such events can occur naturally. There is some evidence showing that downslope winds may be spreading above average air temperatures across the ice shelf. 
However, the Antarctic Peninsula as a whole, where Larsen C is located, is one of the most rapidly warming areas of the continent.
June 1st, 2017
source: http://mashable.com/
original story HERE
Get the new Climageddon book:
Click here for a new book about the global warming emergency and what you can do.
To View Our: current positions, opinions, agreement or disagreement with this blog article or its facts, click here.
Donate to help end Global Warming
To help do something about the climate change and global warming emergency, click here.
Sign up for our free Global Warming Blog by clicking here. (In your email, you will receive critical news, research, and the warning signs for the next global warming disaster.)
To share this blog post: Go to the Share button to the left below.
---