This Oct. 11 photo shows Lake Purdy in Birmingham, Alabama. The lake has receded several feet due to drought, leaving dry, cracked ground where water used to be.  Associated Press
With 98 percent of the state affected, Alabama's abysmal water management planning is under intense scrutiny...
Alabama farmer George Robertson has experienced some bad droughts over the years, but the 74-year-old has seen nothing like this.
Speaking from his parched farm in East Alabama on Tuesday, Robertson sounded heavy-hearted. "You can walk out into the pastures where the cattle are, and it's like walking on toast," he said over the phone. "Everything is crunchy, everything is dead."
Robertson's family has been farming in the state for generations. Robertson himself is a life-long farmer. He worked as a bale carrier for 30 years, and today, he runs a cattle farm in Chambers County, about 10 miles north of Auburn University. His nephew has a row-crop farm nearby.
But for all his years in the farming business, Robertson, who served on his district's Soil and Water Conservation Committee for more than 40 years, said he's never seen a drought quite so bad.
"This is the worst we've ever been through," he said. "We're really up against the wall right now."
Alabama is in the midst of the worst drought in at least a decade, though anecdotally, many say it's the most severe in modern memory. More than 98 percent of the state is now suffering drought conditions, with parts of the northeast and east-central Alabama enduring "exceptional drought" ― the worst possible kind. Rivers and streams have run dry, wildlife have perished, and raging wildfires have consumed more than 12,000 acres of land statewide.
"It's going to take a very wet winter to get us out of this mess," Robertson said, "Or we're just going to have to rely on the good Lord to help us out."
Even with exceptionally wet conditions in the coming months, "it'll still probably take two years to come out of this thing," Robertson added. Crop yields on his nephew's farm are now at just a third of what they usually are at this time of year.
"We may soon have to sell off some of our cattle. And when that happens, you know you're in real trouble," Robertson said. 
Forecasters said this week that the drought is showing no signs of abating. Alabama will likely experience not a wet, but a drier than usual winter this year, according to the National Oceanic and Atmospheric Administration.
The agency said the drought is expected to persist through Jan. 31, bringing worsening conditions to areas already in the grips of a crisis. It's anticipated that drought will consume the entire state by year's end.
With climate change promising to bring more frequent and intense droughts and wildfires in the coming decades, local activists and water management experts say the ongoing drought is a foreshadowing of "scary" things to come.
The current emergency has also cast a harsh spotlight on the state's abject failure to prepare for times of drought crisis, they say.
Associated Press
Droughts are becoming more frequent in the Southeastern United States. 
Dead Fish Litter Creeks
Looking out of his window in his home in Hoover, a Birmingham suburb, on Tuesday night, Mitch Reid described an upsetting sight.
"The stream that my sons play in, Patton Creek — I can see it from here — it's completely dry," he said.
"There are dead fish littering the creek. I've lived in this town for 11 years and I've never seen it like this."
Photographs of Patton Creek show dry boulders, some of them piled into teetering cairns by locals. Small fish are strewn across the rocks, all dead; a limp water snake lays motionless next to a pile of dried leaves.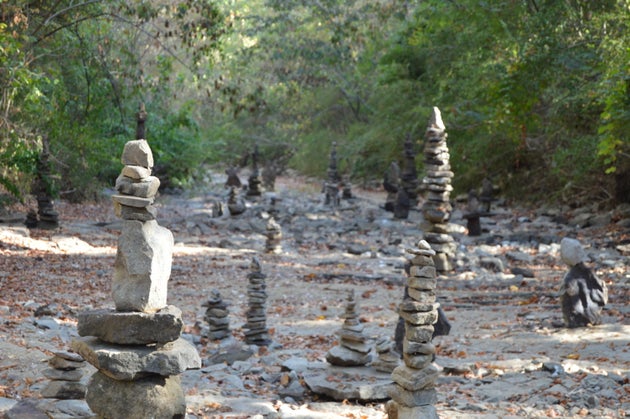 Patton Creek in Hoover, Alabama, has dried up completely this drought season. Reid said his neighbors built cairns to mark the drying of the stream. Mitch Reid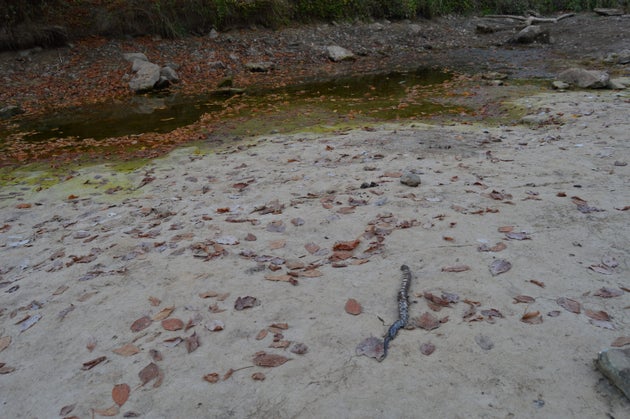 A dead water snake lies on the dried-up bed of Patton Creek. Mitch Reid
'Rivers Are Dead Or Dying'
Patton is a small creek, not one of Alabama's many great rivers, but it's an example of how the drought has devastated the state's waterways, said Reid, program director for the non-profit, Alabama Rivers Alliance.
"This is going to sound like hyperbole, but what we're seeing in Alabama's streams and rivers, it's essentially the worst it's ever been," he said. "Streams and rivers across the state are dead or dying."
Take Little River Canyon in Fort Payne, a national preserve known for its gushing waterfalls and stunning canyon rims and bluffs.
For the first time in decades, the Little River has completely stopped flowing.
Larry Beane, a park ranger at the preserve, told The Huntsville Times last week that the river had dried up for the first time since he began working there 21 years ago. Locals who've lived in the area for far longer had told him they don't remember a time when the river had ever dried out completely, he added.
At least 10 percent of the state's streams have now hit record lows, U.S. Geological Survey data shows. And that number is expected to balloon.
"The drought first started to manifest in May in the northern part of the state, and almost like a cancer, it has spread," Reid said. "The Little River is a harbinger of what's to come for the rest of the state. That's going to be the reality for the rest of our streams."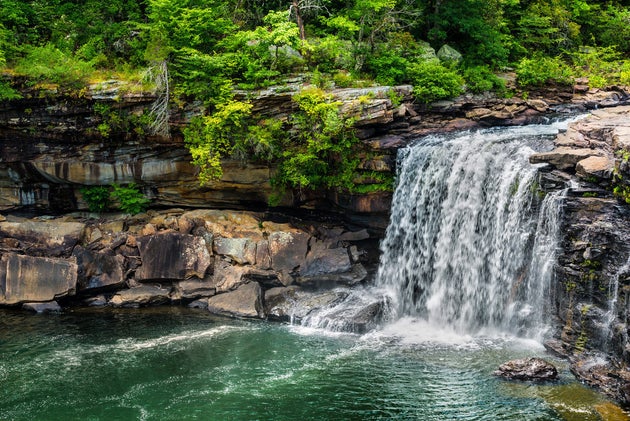 A waterfall gushing at Little River Canyon National Preserve in northern Alabama. Rob Hainer/Getty Images
Health Risk
Alabama has been dubbed "America's Amazon." It has the most navigable water channels in the country and boasts the most freshwater biodiversity. So dead and dying rivers and streams can spell disaster for ecosystems, as well as local communities living near water bodies and industries relying on these water channels for survival.
"The life of a stream reflects the health of that stream," Reid said. "If the stream is functioning and the water is in good quality, you're not, for instance, going to have poisonous algae. So even just for my kid's health, I want a healthy ecosystem."
Drought also severely threatens the health of wildlife populations, including threatened species. Other than being one of America's most biodiverse states, Alabama is also home to the third-largest number of endangered species in the country, including aquatic creatures like fish, freshwater mussels and crayfish.
"This drought is not only impacting thousands of species, it's also impacting the last individuals of species that remain on earth," said Reid. "We could lose species that are hanging on by the skin of their teeth and the hair on their mussel shells."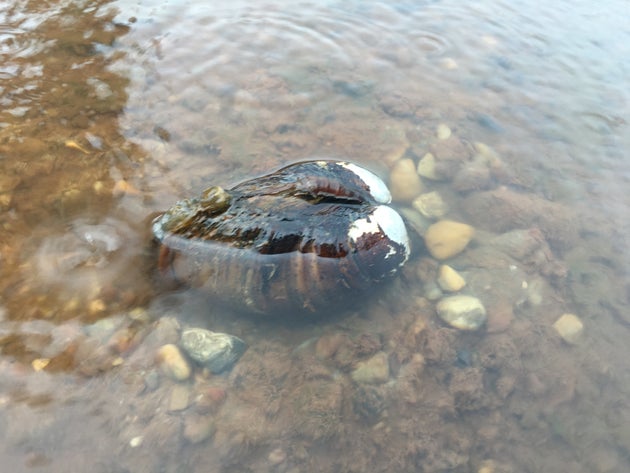 Randy Haddock
Hundreds of stranded mussels have emerged in parts of the Cahaba River, Alabama's longest free-flowing river, says the Cahaba River Society's Randy Haddock. There are concerns of scenarios similar to the Alabama drought of 2000, which saw losses of freshwater mussels, including endangered species, of up to 80 percent. 
Fisheries Impacted
The drought could also significantly impact some of Alabama's fisheries, particularly its oyster fisheries. It's already had an effect all the way south in Mobile Bay, where saltwater from the Gulf of Mexico meets freshwater from Alabama's rivers, according to local reports.
Oysters need a combination of fresh and saltwater to survive. Experts are concerned that a reduction in fresh water flows could decimate oyster fisheries in the Bay. (The near-total collapse in 2013 and 2014 of the historic oyster fishery in nearby Apalachicola, Florida, has been blamed on decreased freshwater flow exacerbated by drought.)
"Alabama is a river state, where so much of our identity is linked to the water that flows around us," Reid said.
"We need to need to figure out how to work together as a state face these drought crises, or we will lose the Mobile Bay estuary, we will lose our status as one of the country's most biodiverse places."
Associated Press
Alabama Forestry Commission firefighters Jim Junkin, left, and Brad Lang talk about strategies for fighting a wildfire near Brookside, Alabama, on Thursday. Wildfires are burning hundreds of acres of land daily across the South amid a worsening drought.
National Water Laggard
Reid is one of many water management experts and activists who believe that a central contributing factor to Alabama's current drought emergency is a total failure of the state's government to manage its water.
When it comes to water management, "Alabama is definitely the laggard state in the Southeast," said Gil Rogers, director of the Southern Environmental Law Center's Georgia office. "If Alabama had a better way of regulating and prioritizing water use, at least some of the drought impacts could be better mitigated."
Alabama is the worst state in the Southeast in terms of water management, security and sustainability, according to a September report from the National River Network.
The state doesn't have a statewide water budget, a monitoring plan for surface and ground water withdrawals, flow protections, drought planning, or water conservation and efficiency planning, among other water policies, the NRN found.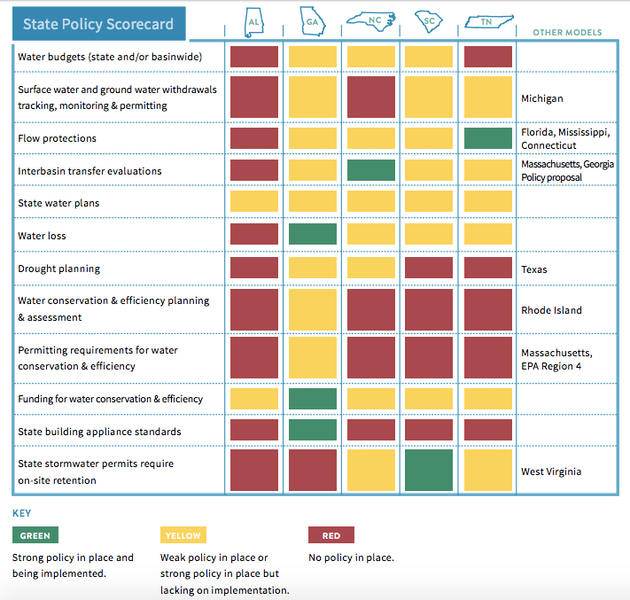 River Network
No Clear Statewide Plan
And it's not just regionally where Alabama is failing.
In 2012, The Alliance for Water Efficiency and the Environmental Law Institute's national assessment on water efficiency and conservation gave Alabama, along with four other states, the very worst score: 2 points out of a possible 40, or a "D" grade.
"There's a complete lack of a water plan in Alabama, and if you look at the history of water management in state, we always freak out in droughts," said Reid. "We basically just keep using the water until it runs out."
State officials declared a drought emergency this month, in which they "strongly urged public water systems and other users of large amounts of water to continue to carefully monitor conditions and implement their drought conservation plans, as needed."
But without a clear statewide mandate, "what does that really mean?" asked Reid. "There's really no specific actions the state is supposed to take."
"There are no records of who's using water where and when, so it's just lots of pointing fingers. It's like the Wild West," he said.
While streams are running dry and farmers are struggling to grow crops, some companies and individuals are still using water excessively in drought-stricken parts of the state, Reid said. Just upstream from his home and the bone-dry Patton Creek, a golf course has continued to irrigate its lawns, he said.
"Without a plan, water users are not required to conserve their water, even during a drought," Rogers said in an email this week. 
Lake Purdy in Birmingham, Alabama, on Oct. 11. Water levels there have dropped several feet due to a severe drought. Associated Press
Need For Urgent Action 
There are signs that the state has started to awaken to the need for an improved water management plan. In 2012, Alabama Gov. Robert Bentley (R) gave five state agencies the directive to put together a comprehensive water management plan.
Nothing concrete, however, has yet emerged from this initiative.
Still, William Aldreen, an environmental law professor who specializes in water management at the the University of Alabama, told The Huffington Post this week that the state appears to be "in the midst of an attempt to create a more rational approach to water management in the future."
"That effort, I would hope, will produce a permit program for large water withdrawals, a system that will establish and implement environmental flows on our rivers and streams, and a more effective approach for dealing with droughts," he said.
However, an effort to create "a more rational approach, rather than the essentially laissez faire approach we have now" will only be successful if "stakeholders look to the common good of the state, as opposed to more narrow economic interests," Aldreen warned.
State legislators will also need to "have the courage and wisdom to act," he added.
Many observers say it's still too early to tell whether Alabama's water plans will succeed. But most agree that the time to act is now — both to address the current crisis and to mitigate future drought disasters.
"Alabama cannot afford to continue this pattern of sitting idle, even as the warning signs start to emerge," Rogers said.
The governor needs to take immediate action to restrict all outside water use across the state, according to Reid. "We don't want to see more rivers and streams turn into Patton Creek," he said.
In this 1988 photo, Alabama farmer Ben Cosby celebrates a rainfall onto one of his cotton fields after months of drought. After severe dry spells in the 1980s, the state didn't see emergency drought conditions until the 2000s. Drought has become much more severe and frequent since then. Associated Press
A 'Scary' Future
Asked if he could remember some of the worst droughts in recent history, cattle farmer George Robertson rattled off a few dates.
There was the severe drought in 2012, the 2007 emergency and one in 2000. He also pointed to a "bad spell" in the 1980s, and "this was before my time, but in 1954 there was a drought that hit very hard."
"We used to deal with these extreme droughts once every 20 to 30 years," Reid said. But several severe events have hit the state this past decade.
"Looking forward at the climate models that predict more severe weather," including worsening droughts, "we can't just hunker down and expect to deal with it once every few decades," Reid continued. "It's now hitting us hard every three to four years." 
"Ben Franklin once said that only 'when the well's dry do we know the worth of water,' and we're seeing that," Reid said. "The future is scary. This is not the first drought and it's certainly not going to be the last. We need to get our house in order now before the storm gets here." 
To help do something about the climate change and global warming emergency, click here.
Sign up for our free Global Warming Blog by clicking here. (In your email, you will receive critical news, research, and the warning signs for the next global warming disaster.)
To share this blog post: Go to the Share button to the left below.
---