Barack Obama and Justin Trudeau will commit to work together to fight climate change and protect an Arctic experiencing the mildest winter ever recorded, sources familiar with the initiatives said.
The two leaders were expected to announce a number of common climate measures at a meeting at the White House this week, from a 45% cut in methane emissions from the oil and gas industry to protections for a rapidly warming Arctic.
The state visit on Thursday is seen as an important moment for Trudeau to break with his Conservative predecessor, Stephen Harper, who was accused of muzzling government scientists and backtracking on climate promises.
The visit – four months after Trudeau's election and 11 months before Obama leaves the White House – offered a rare window of opportunity to advance the cause that is important to both leaders, the Canadian prime minister said.
"There is a nice alignment between a Canadian prime minister who wants to get all sorts of things done right off the bat and an American president who is thinking about the legacy he is going to leave in his last year in office," Trudeau told a Huffington Post town hall.
"The issues that are important to him and to me are climate change … We're talking about border issues, as well – making sure there is a smooth flow of goods and people across our shared border that isn't putting our security at risk."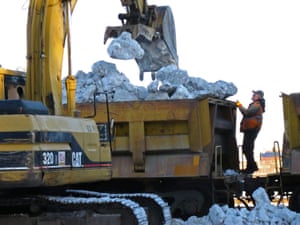 Workers unload snow from a train in Anchorage, Alaska, to cover the ground ahead of the Iditarod dog sled race. Persistent above-freezing temperatures have melted much of the local snow. Photograph: Rachel D'Oro/AP
Taking prime position among those issues was the Arctic – where winter temperatures are 7C above normal this year and the sea ice cover is also dwindling towards a new record low. In Alaska, the winter was so unseasonably warm that the authorities were forced to import freight cars full of snow for the launch of the annual Iditarod dog sledding race.
The US took over from Canada last year as leader of the Arctic Council, the group of polar regional countries.
The US and Canadian leaders were expected to use the Washington visit to announce a number of measures to protect remote communities and ecologically sensitive marine areas in the Arctic, sources familiar with the initiatives said.
Some of those initiatives involved efforts to reduce reliance on diesel fuel – which is transported by barge into remote native Alaskan villages.
With the melting of the Arctic summer sea ice, the region faces sweeping changes in the years and decades ahead.
Shipping traffic in the North-west Passage and the Bering Sea is projected to rise by a factor of seven over the next decade – which could disrupt hunting and fishing by native Alaskan communities.
The two leaders are also expected to announce joint initiatives in Arctic science research. Scientists have blamed the warming of the Arctic for changes in global weather patterns.
Obama and Trudeau are also expected to announce common positions on reducing methane emissions from the oil and gas industry. Both countries have been edging towards a common 45% target for cutting emissions from methane – which is more than 80 times as warming as carbon dioxide.
On Tuesday, the US State Department's climate envoy, Todd Stern, told reporters that methane emissions reductions would be an area the countries could work together on.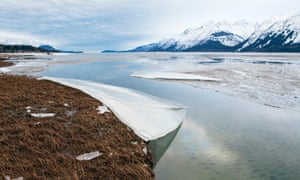 Melting ice on the Chilkat river near Haines, Alaska. Winter temperatures have been 7C above normal in the Arctic this year and the sea ice cover is also dwindling towards a new record low. Photograph: Michele Cornelius/Alamy
In November last year, Alberta, Canada's main energy-producing province, unveiled a new climate plan proposing to reduce methane emissions from oil wells by 45% from 2014 levels by 2025. Two months later, Obama proposed new rules cutting methane emissions 45% from 2012 levels by 2025.
Campaigners saw the curbs on methane as a chance to cap one of the fastest growing sources of climate pollution in recent years – because of the boom in oil and gas drilling.
"Methane is a very significant climate pollutant," said Erin Flanagan, the federal policy director for the Pembina Institute, a Canadian environmental thinktank.
Tuesday 8 March 2016 09.52 EST
source: http://www.theguardian.com/us
To learn about global warming, climate change and greenhouse gas causes, effects, solutions, definitions, facts and tipping points, click here.
To sign a petition for declaring a global warming State of Emergency, click here
To receive the latest news on global warming, sign up for our Global Warming Blog by clicking here. (Put your email address in the Global Warming Blog Subscribe box at the bottom right of the page.) 
To learn about the new Job One For Humanity Plan to end global warming, click here.