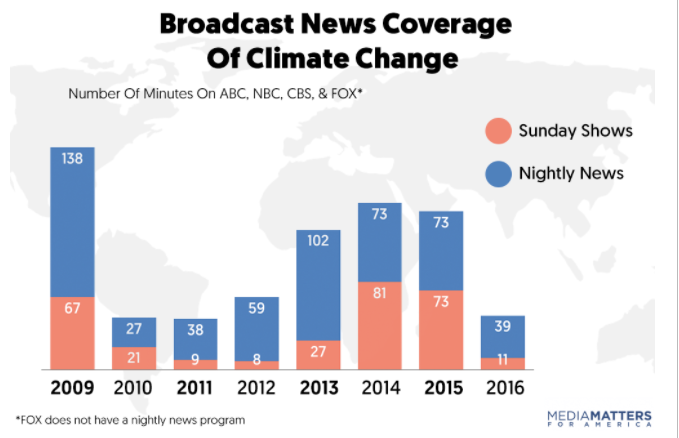 Media Matters
And wasn't because of a lack of newsworthy events...
(Job One's News Editor's note: It is very apparent which party controls the major news corporations...)
The collective coverage of climate change on ABC, NBC, CBS and Fox News Sunday in 2016 was only a third of what it was in 2015, according to the nonprofit watchdog Media Matters. The year's coverage of climate change was the least since 2011, the study found.
Media Matters broke down the coverage on Sunday shows and nightly news shows, which Fox News does not have.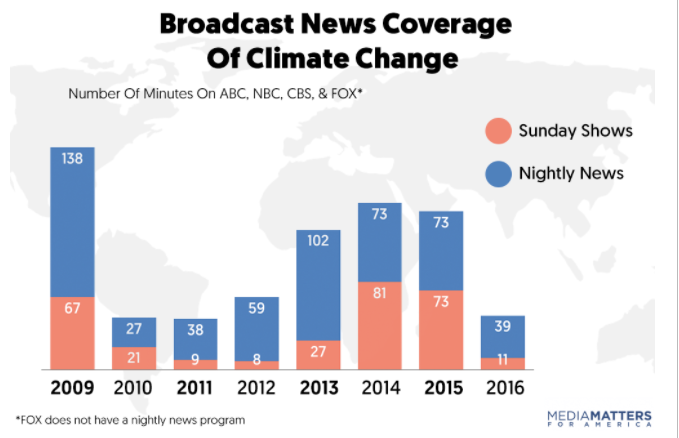 Media Matters
Overall, climate change coverage on the networks dropped from a combined 146 minutes in 2016 to just 50 in 2015, with none of the networks showing an increase. ABC, with just six minutes of coverage, took the title for least air time on the subject. NBC had the biggest decrease, from 50 minutes in 2015 to 10 minutes last year.
There was also the signing of the Paris Climate Agreement and ample opportunity to correct false climate claims made on the 2016 presidential campaign trail.
ABC, NBC, CBS and Fox News Sunday did not air a single segment "informing viewers of what to expect on climate change and climate-related policies or issues under a Trump or Clinton administration," Media Matters pointed out. 
The outlier was PBS, which aired 21 segments on the Paris climate conference, while the other networks aired five or fewer. 
See more findings from the study here.
Do you like this post?
---