Rescue crews expanded their search in Southern California's Montecito on Friday for five missing people as the death toll rose to 18 from mudslides that damaged hundreds of buildings and caked highways with sludge.
About 1,250 emergency workers raced against the clock to find survivors with drones, heavy equipment and sniffer dogs in the rescue and clean-up efforts, the California governor's Office of Emergency Services said.
The latest victim, 87-year-old Joseph Bleckel, was found in his Montecito home on Friday, the Santa Barbara County sheriff, Bill Brown, said, adding that the remaining missing were between the ages of 2 and 30.
"We've got a window that's closing, but we're still very optimistic. There's been plenty of cases where they've found people a week after," Santa Barbara County Fire Department spokesman Mike Eliason said earlier on a muddy Montecito street especially hard-hit by the mudslide.
Officials said secondary searches of damaged structures were under way.
The number of missing has fluctuated as people were located, said the Santa Barbara Sheriff's Office.
Authorities said on Thursday night that 43 people were unaccounted for.
Residents in some areas were subject to a new mandatory evacuation on Friday, emergency officials said, adding the unstable environment remained a threat.
Montecito, a wealthy enclave north of Los Angeles, bore the brunt of a rainstorm that drenched southern California on Monday and Tuesday, triggering mudslides in hilly areas in Santa Barbara, Ventura and Los Angeles counties recently scorched by wildfires.
Survivors compared the speed and roar of the debris flows to a freight train.
Hundreds of Montecito residents who were marooned but not injured by the devastation were led to safety on Wednesday as rescue teams with dogs, helicopters and specialised vehicles scoured the transformed landscape.
Many areas lacked gas, electricity and water. "A majority of Montecito and that whole area is in the Stone Age right now," Mike Eliasonfor the Santa Barbara county fire department said. "We're actively pursuing trying to get in there as quick as we can to get those people to safety."
The flows buried a 30-mile stretch of the 101 freeway, parts of which are expected to remain closed until Monday.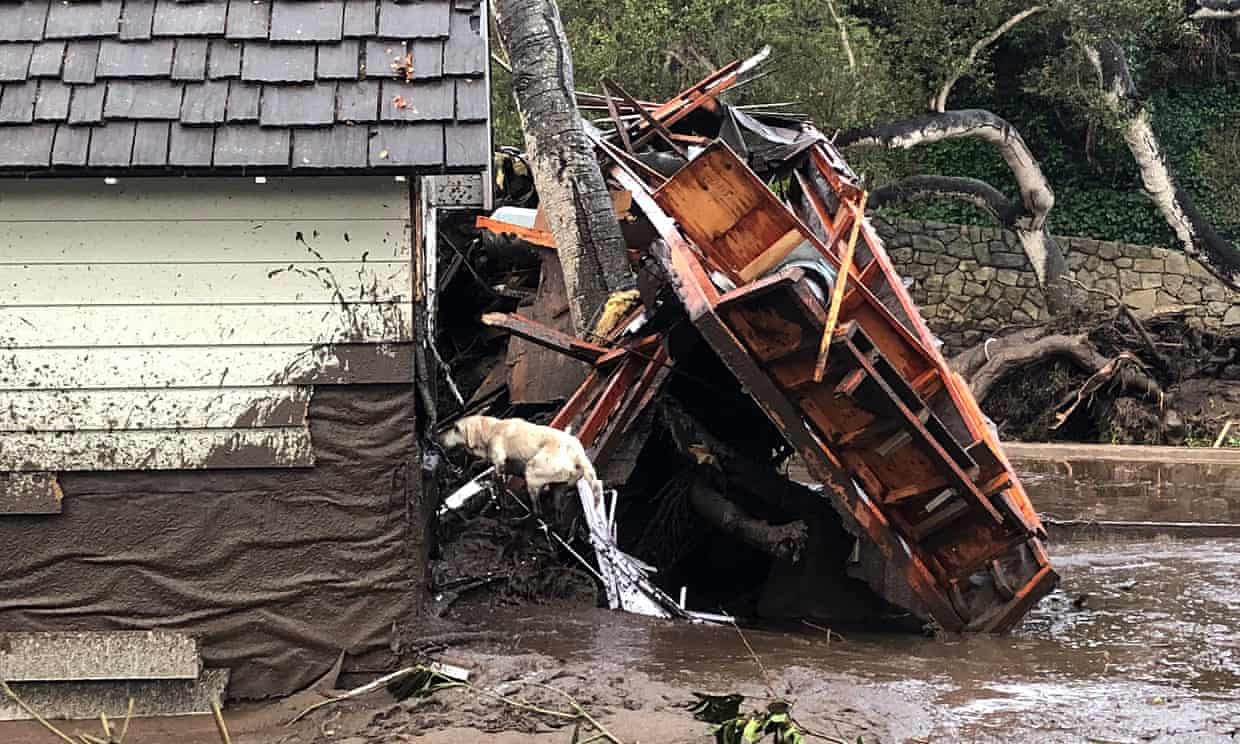 Santa Barbara County fire search dog Reilly looks for victims in damaged and destroyed homes in Montecito. Photograph: Xinhua / Barcroft Images
 Tributes poured in for the first two fatalities to be publicly named.
Roy Rohter founded St Augustine Academy, a small private Catholic school in Ventura. "Roy's life has been in service to his good, loving and ever-forgiving God," the headmaster, Michael Van Hecke, said in a statement. "He has done so much for so many people and pro-life and Catholic education causes … Thousands have been blessed by the Rohters' friendship and generosity."
The real estate firm Riskin Partners in Montecito announced on Facebook the death of its founding partner, Rebecca Riskin. "The confirmation of her loss is incredibly devastating to her friends, family, and our community. Per her wishes, we intend to carry out her life's work with the same strength, grace and elegance that wholly defined Rebecca."
The storm – the first of the rainy season – turned devastating because huge wildfires in recent months charred mountains and canyons, leaving soil unable to efficiently absorb water.
Survivors rued not heeding official warnings to evacuate. "I think all of us have learned our lessons on this one. We were all bad children and ignored the warning," David Cradduck, 66, told the LA Times.
He cited disaster fatigue, having just recently fled wildfire. "We were all tired of it. Now here we are, shovels in hand, trying to get our vehicles out. Mother Nature came back and dealt us a big blow, but it's our fault. We should have heeded the warning."
The Thomas fire, which encompassed the land around Montecito, burned more than 280,000 acres, the biggest in California's modern history.
This followed a five-year-drought – by some measures the worst in a millennium – which emptied reservoirs and parched the countryside.
It ended in 2016 with record rainfall which counterintuitively aggravated last year's fire season by producing vegetation – fuel. It turned tinder dry last summer, the hottest on record.
There is nothing new about big wildfires and mudslides in California but so many records in so short a time has convinced many scientists that climate change is a factor.
Fri 12 Jan 2018 20.18 EST
source: https://www.theguardian.com/us
original story HERE