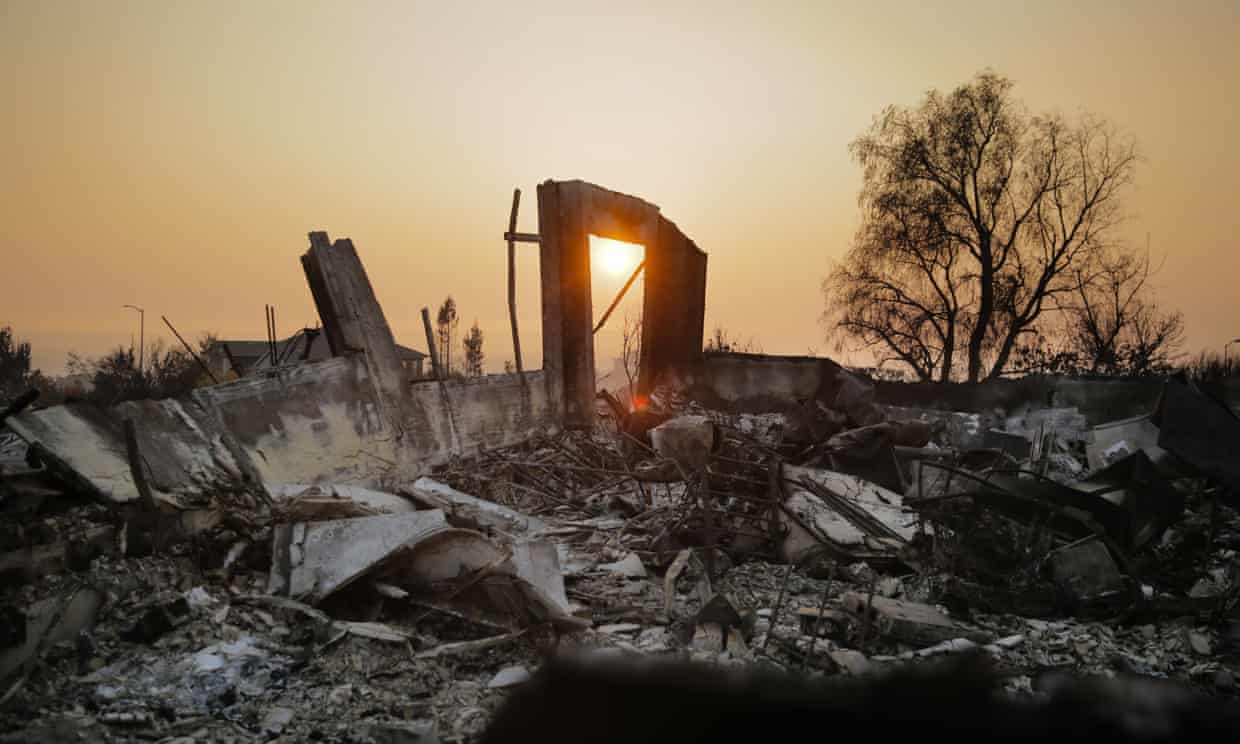 The sun sets through smoke over the remains of homes in the Fountaingrove neighborhood in Santa Rosa. Photograph: Elijah Nouvelage/Getty Images
Three more deaths have been confirmed in the wildfires burning in northern California wine country, which were already the deadliest series of such fires in state history. By Saturday afternoon, the toll had reached 40...
Bodycam footage shows woman's rescue from California wildfire - video
100,000 evacuated and 5,700 homes and businesses destroyed
wildfires race toward wineries and historic town of Sonoma
Sonoma County announced on Saturday evening that its coroner had confirmed two more deaths, taking the total in the county to 22 and the overall count to 40.
The Napa County sheriff's office announced two more deaths, taking the county total to six.
The increased presence of law enforcement officers helping people out of homes has made the fire areas safer even as new flare-ups occur.
The wildfires raced toward wineries and the historic town of Sonoma on Saturday, chasing hundreds more people from their homes and threatening to roll back firefighters' modest gains against the cluster of blazes that was as wide as 100 miles.
With high winds and dry weather statewide, more fire crews and equipment such as helicopters were being staged in southern California in preparation for any fires there. Across the state, the number of destroyed homes stood at 5,700 and authorities said about 100,000 people were under evacuation orders, including 3,000 evacuated on Saturday from the city of Santa Rosa, about 50 miles (80 km) north of San Francisco. Teter said plans were in the works to allow some evacuees to return to their homes.
In Santa Rosa on Saturday morning, Douglas and Marian Taylor stood outside their apartment complex with their two dogs and a sign that said "End evacuation now". Their building was unharmed at the edge of the evacuation zone with a police barricade set up across the street. The couple said they were spending about $300 a day to rent a motel room and eat out, and they wanted to return home because the fire did not appear to be a threat to their apartment complex.
On Saturday morning, officials had said progress against the fires had been put in doubt by winds of 20mph, with gusts up to 40mph, which forced the evacuation of 400 more homes. One winery owner said that in his neighborhood, seven miles east of Santa Rosa, things "went to hell last night".
Firefighters had now "got a good fight going on", Dean Vincent Bordigioni said.
California governor Jerry Brown and US senators Dianne Feinstein and Kamala Harris were due to attend a community meeting on Saturday afternoon in Santa Rosa, which has been hit hard. Brown has remained in state capital Sacramento this week, issuing emergency declarations and securing federal disaster relief.
"This is truly one of the greatest tragedies that California has ever faced," Brown said. "The devastation is just unbelievable. It is a horror that no one could have imagined."
In all, 17 large fires still burned across the northern part of the state. More than 9,000 firefighters attacked the flames using air tankers, helicopters and more than 1,000 fire engines. A CalFire spokesman, Daniel Berlant, said crews had spent days digging defense lines to keep the flames out of residential areas. Officials were concerned new winds would blow embers and ignite new fires, he said.
Hundreds of firefighters poured in to California as crews arrived from Nevada, Washington, Idaho, Montana, New Mexico, North and South Carolina, Oregon and Arizona. Other teams came from Canada and Australia. Crews were using 840 fire engines from across California and another 170 sent from around the country.
Entire neighborhoods have been reduced to ash and rubble. The death toll has risen daily as search teams gain access to previously unreachable areas. Individual fires including a 1991 blaze in the hills around Oakland killed more people than any one of the current blazes, but no collection of simultaneous fires in California had ever led to so many deaths, authorities said.
People remained on edge, said Will Deeths, a middle school principal who was helping to supervise volunteers at Sonoma Valley high school, now an evacuation shelter. "In the afternoons we start looking up at the flag pole and we start looking to see, is the wind blowing? Is the flag moving?" he said. "It's been really crazy."
Video: Sonoma County sheriff's deputy drives through heart of fire...
Video was released of body camera footage from the first night of the fire, showing an unnamed deputy braving wild flames and thick smoke to clear out a community already being devoured by the flames.
"Go! Go! Go! Go! Go!" the Sonoma County deputy yells to drivers who are hesitating and moving slowly. The deputy, wheezing and coughing, runs to several doors shouting "sheriff's office!" for anyone who may be in earshot. He then comes across another deputy with a woman in a wheelchair right next to a house that is burning and lifts her into an SUV to take her away.
On Friday dozens of search-and-rescue personnel at a mobile home park in Santa Rosa carried out the grim task of searching for remains. Fire tore through the city early on Monday, leaving only a brief window for residents to flee and destroying the park, which was known as Journey's End and was home to hundreds of people.
Workers were looking for two missing people. They found one set of remains, mostly bone fragments, and continued looking for the other, said Sonoma County Sgt Spencer Crum.
To help in the search, the Alameda County sheriff's office near San Francisco sent equipment including drones with three-dimensional cameras, and five dogs. Authorities said some victims were so badly burned they were identified only by metal surgical implants that have ID numbers on them.
Sunday 15 October 2017 00.49 EDT
source: https://www.theguardian.com/us
original story HERE
To help do something about the climate change and global warming emergency, click here.
Sign up for our free Global Warming Blog by clicking here. (In your email, you will receive critical news, research, and the warning signs for the next global warming disaster.)
To share this blog post: Go to the Share button to the left below.
---