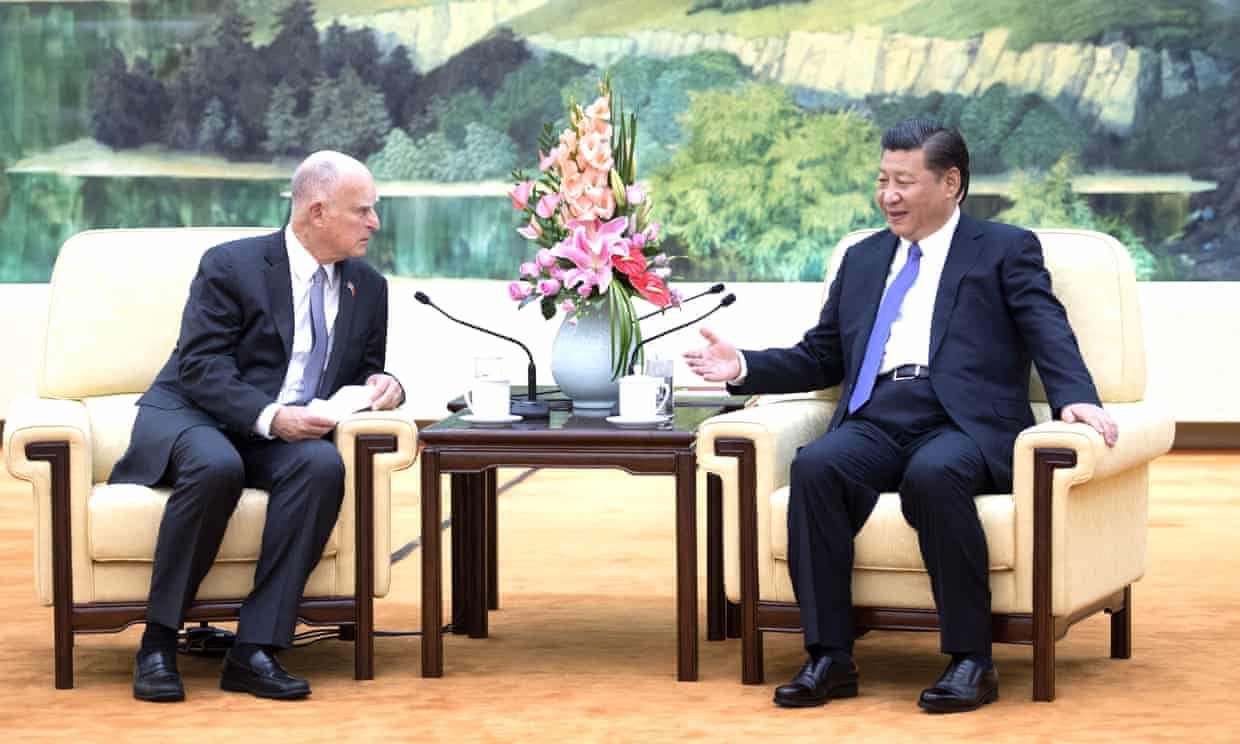 Chinese president Xi Jinping meets visiting California governor Jerry Brown to discuss a climate deal. Photograph: Xinhua/REX/Shutterstock
Governor Jerry Brown says president's decision to pull the US out of the Paris agreement will be only a temporary setback...
China and California have signed an agreement to work together on reducing emissions, as the state's governor warned that "disaster still looms" without urgent action on climate change.
The governor of California, Jerry Brown, spoke to reporters at an international clean energy conference in Beijing about Donald Trump's decision to pull the US out of the Paris agreement, saying it would ultimately prove to be only a temporary setback.
For now, he said, China, European countries and individual US states would fill the gap left by the federal government's decision to abdicate leadership on the issue.
"Nobody can stay on the sidelines. We can't afford any dropouts in the tremendous human challenge to make the transition to a sustainable future," Brown said. "Disaster still looms and we've got to make the turn."
Brown later held a closed-door meeting with the Chinese president, Xi Jinping, during which the two pledged to expand trade between California and China with an emphasis on so-called green technologies that could help address climate change, Brown said. Trump's announcement last week that he wanted to pull out of the Paris accord did not come up, according to the governor.
"Xi spoke in very positive terms," Brown told reporters after the meeting. "I don't think there's any desire to get into verbal battles with President Trump."
Trump's decision drew heavy criticism within the US and internationally, including in China, which swiftly recommitted itself to the agreement forged with the administration of the former US president Barack Obama. Trump argued that the Paris agreement favoured emerging economies such as China's and India's at the expense of US workers.
Tuesday's agreement between California and China's Ministry of Science and Technology effectively sidestepped Trump's move, bringing about alignment on an issue of rising global importance between the world's second-largest economy — China — and California, whose economy is the largest of any U.S. state and the sixth largest in the world.
Brown signed similar collaboration agreements over the past several days with leaders in two Chinese provinces, Jiangsu and Sichuan.
Like the Paris accord, the deals are all non-binding. They call for investments in low-carbon energy sources, cooperation on climate research and the commercialisation of cleaner technologies. The agreements do not establish new emission reduction goals.
The US has long been a major player in the clean energy arena, driving innovations in electric cars, renewable power and other sectors of the industry. California, with some of the strictest climate controls in the nation, has been at the forefront of the sector.
China in recent years overtook the US as the world leader in renewable power development. But it has also struggled to integrate its sprawling wind and solar facilities into an electricity grid still dominated by coal-fuelled power plants.
At the same time, Chinese leaders face growing public pressure at home to reduce the health-damaging smog that blankets many urban areas.
China is by far the world's largest user of coal, which accounts for almost two-thirds of its energy use and has made it the No 1 emitter of climate-changing greenhouse gases.
Communist party leaders pledged that greenhouse gas emissions would peak no later than 2030 under the Paris pact, and start to fall after that. They have cancelled the planned construction of more than 100 new coal-fired power plants and plan to invest at least $360bn in green energy projects by the end of the decade.
The nation's consumption of coal fell in 2016 for a third consecutive year, but rebounded slightly in 2017. It could meet its 2030 target a decade early.
Tuesday 6 June 2017 22.24 EDT
source: https://www.theguardian.com/us
original story HERE
Share This Blog Post: If you would like to share this blog post, go to the original shorter version of this post and look to lower right for the large green Share button.
Click here for information on the groundbreaking and disruptive new Climageddon book about the global warming emergency and what you can do to help end it!
To View Our: current positions, opinions, agreement or disagreement with this blog article or its facts, click here.
To help do something about the climate change and global warming emergency, click here.
Sign up for our free Global Warming Blog by clicking here. (In your email, you will receive critical news, research, and the warning signs for the next global warming disaster.)
To share this blog post: Go to the Share button to the left below.
---