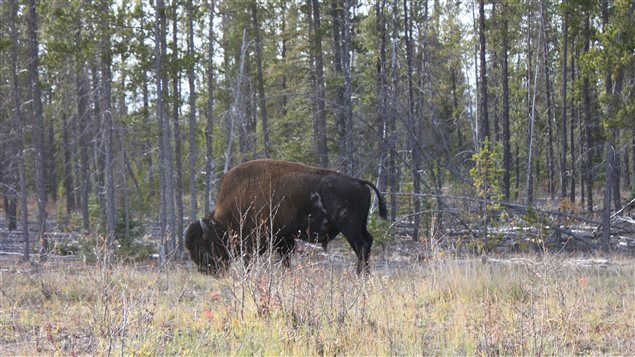 A wood bison grazing along the edge of NWT Hwy 3.
Photo Credit: Peter deMontigny
Climate change is causing extensive lake expansion and is flooding key habitat for the threatened Mackenzie wood bison herd in the southern Northwest Territories, according to a new study...
The Mackenzie Bison Sanctuary, on the western shore of Great Slave Lake, is home to an important population of wood bison, which are listed as "threatened" under Canada's Species At Risk Act. The Mackenzie herd plays a key role in efforts to conserve and increase wood bison populations in the Northwest Territories.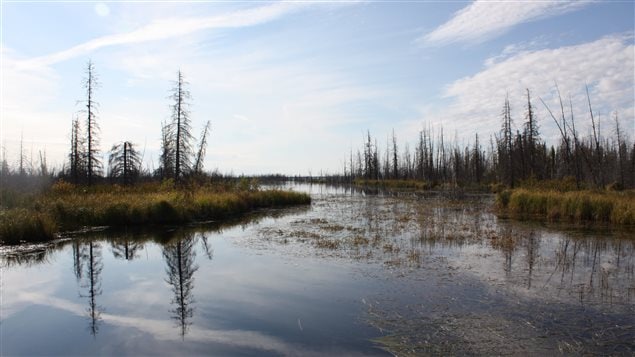 Mackenzie Bison Sanctuary © Photo courtesy of: Joshua Thienpont/University of Ottawa
But over the last decade researchers started getting reports from local communities as well as wildlife managers signalling that the area was getting wetter and harder to access, and that expansion of local lakes had flooded large areas of sedge meadows, key bison habitat, said Joshua Thienpont, post-doctoral fellow at the University of Ottawa in the Department of Biology and co-lead author of the study.
(click to listen to the full interview with Joshua Thienpont) Listen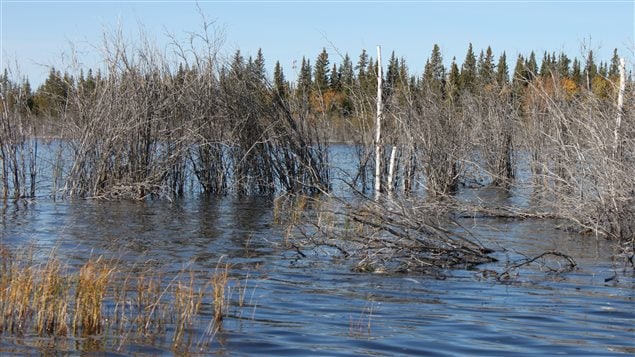 Drowned terrestrial vegetation on the margin of a lake in the Mackenzie Bison Sanctuary. © Peter deMontigny.
The team of researchers, which also included five partner universities and the government of the Northwest Territories, looked at satellite imagery taken between 1986 and 2011 over an area of 10,000 square kilometres to track how water levels had changed over that period, Thienpont said.
"We found that over that time the amount of land covered by water had almost doubled, from about 5.5 per cent of the landscape to as high as 11 per cent," Thienpont said.
The flooding is affecting essential bison habitat by inundating sedge meadows that tend to grow on the edges of large shallow lake ecosystems, he said.
"Surveys of the bison population at the same time indicate that as the lakes have expanded, the Mackenzie herd appears to have abandoned the former core of its range within the protected area of the sanctuary in search of forage," study co-author Michael Pisaric, a professor of geography at Brock University, said in a statement.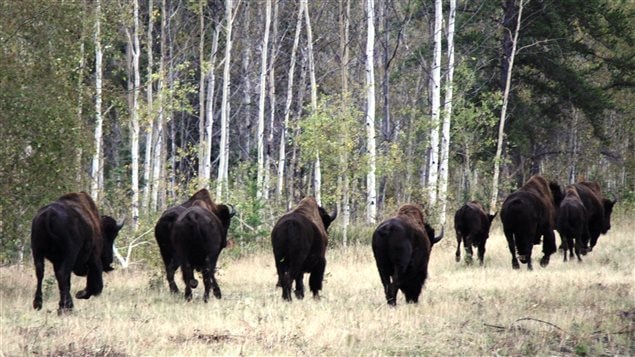 A group of wood bison running along the side of NWT Hwy 3. © Linda Kimpe/University of Ottawa
This migration of bison from this core habitat worries conservationists, Thienpont said.
It adds another stressor on top of the threat of forest fires or outbreaks of anthrax to an already vulnerable species, Thienpont said.
"And second it's important because it shows that more generally climate change in the North can manifest in various way," Thienpont said. "We often hear about lakes getting smaller because of drainage from permafrost thaw or from increased evaporation but it can also show that in some areas lakes can expand."
Researchers concluded that the lake expansion and flooding phenomenon was connected to increased precipitation and rising temperatures observed in recent years, he said.
"We wanted to determine whether this is part of a long-term cycling or this is something that might be new and unprecedented in the recent past, perhaps, connected to human-induced climate change," Thienpont said. "And we did that by looking at lake sediment core."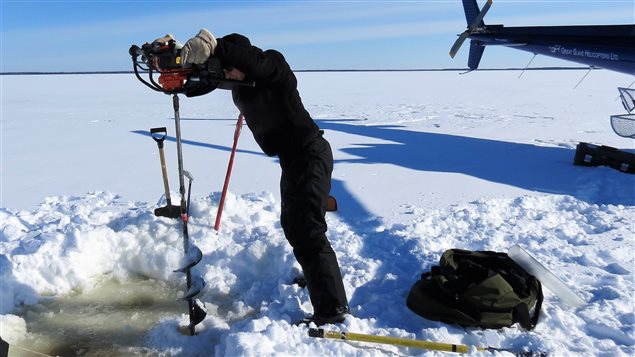 Drilling through lake ice to retrieve a sediment core. © Emily Stewart/Queen's University
The researchers extracted sediment core from the largest lake in the area, to examine changes in lake surface area over the past few centuries.
The analysis of special chemical markers that are produced exclusively by land plants and allow scientists to track changes in the landscape showed that the there was no precedent for the recent flooding going back at least 200 years, Thienpont said.
"Our findings clearly indicate that increases in lake size, as a result of climate change, have directly impacted the use of the land by threatened wood bison," said Jules Blais, co-author and professor of biology and environmental toxicology at the University of Ottawa. "This represents an additional challenge for the conservation of wood bison herds that have also been affected recently by diseases like anthrax."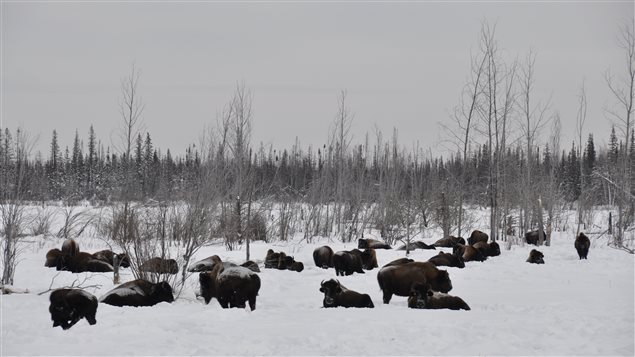 A herd of wood bison rests in the snow near Highway 3 in N.W.T. © Michael Pisaric
[email protected]
Thursday 23 February, 2017
source: http://www.rcinet.ca/en/
original story HERE
Get New Climageddon book: Click here for a new book about the global warming emergency and what you can do.
To View Our: current positions, opinions, agreement or disagreement with this blog article or its facts, click here.
To help do something about the climate change and global warming emergency, click here.
Sign up for our free Global Warming Blog by clicking here. (In your email, you will receive critical news, research, and the warning signs for the next global warming disaster.)
To share this blog post: Go to the Share button to the left below.
---