Firefighters battling a forest fire near Morgan Hill, California in September. A new study finds climate change has significantly exacerbated wildfires in the Western U.S. since the 1980s. Other human activities, including fire suppression policies and land development, are also fuelling this problem, the researchers say. Associated Press
Climate change has at least doubled the area affected by forest fires in the Western U.S. since the 1980s, a new study finds...
The wildfires that raged through the Western United States this year claimed lives, destroyed hundreds of homes and cost taxpayers millions of dollars. Scientists claimed climate change was a cause of the blazes. Skeptics dismissed this as an "excuse."
But a new study from Columbia University and the University of Idaho researchers has found climate change has been exacerbating wildfires in the Western United States for decades. And it's happened at a staggering rate.
Human-induced climate change has at least doubled the area affected by forest fires in the Western U.S. since 1984, according to the study, published this month in the journal Proceedings of the National Academy of Sciences. Warmer temperatures, and thus dryer land, have caused fires to rage across an additional 16,000 square miles of forest, the researchers found.
That's an area larger than the states of Massachusetts and Connecticut combined.
Since 1970, average temperatures in forested parts of the Western U.S. are said to have increased about 2.5 degrees Fahrenheit, and scientists expect this upward trend to continue. Wildfires are going to "increase exponentially" as temperatures rise, said researchers ― for as long, at least, as there are enough trees left to burn.
Study coauthor A. Park Williams told The New York Times that by the middle of this century, there might not be enough vegetation to even sustain wildfires in some parts of the Western U.S.  
In the meantime, however, "no matter how hard we try, the fires are going to keep getting bigger, and the reason is really clear," said Williams, a bioclimatologist at Columbia's Lamont-Doherty Earth Observatory, in a news release. "Climate is really running the show in terms of what burns. We should be getting ready for bigger fire years than those familiar to previous generations."
This August 2016 photograph shows the devastation of the Blue Cut forest fire in West Cajon Valley, California.  Associated Press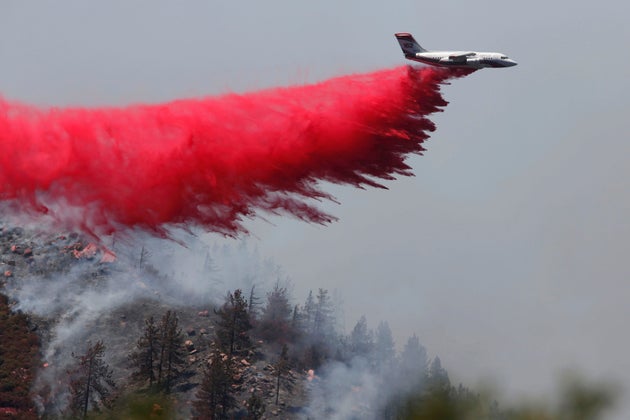 A firefighting aircraft flies over a wildfire near Hesperia, California in August 2016. Patrick Fallon/Reuters
A firefighter battles the Loma wildfire near Morgan Hill, California in September. Associated Press
The new research corroborates earlier evidence of climate change's impacts on America's wildfires. A 2014 study found that large forest fires in the Western U.S. had increased by a rate of seven fires a year from 1984 to 2011. Climate change was "a very likely factor" in this rise, the study's authors said.
"We looked at the probability that increases of this magnitude could be random, and in each case it was less than 1 percent," study lead author Philip Dennison told USA Today. 
A 2011 study concluded that climate change would trigger more extreme fires around Yellowstone National Park in the coming decades. These fires "could rapidly and profoundly alter" the park's ecosystem, scientists said. 
Associated Press
This undated photo provided by Yellowstone National Park shows a fire burning on the west side of the park. A 2011 study said climate change would make extreme fires around Yellowstone far more common in the coming decades.
The link between climate change and wildfires has also been established outside the U.S. Researchers said last year that fire season had lengthened for more than a quarter of the Earth's total vegetated surface from 1979 to 2013, fueled in part by climate change. Worldwide, the average duration of fire weather season had increased 19 percent, they said.
Ironically, worsening forest fires are, in a vicious cycle, contributing to climate change, the scientists added. More and worse forest fires reduce the number of trees that can absorb heat-trapping carbon dioxide. 
"When average fire weather seasons are longer-than-normal or when long seasons impacted more global burnable area, net global terrestrial carbon uptake is reduced," the researchers said in the 2015 study. 
10/20/2016 05:36 am ET
To help do something about the climate change and global warming emergency, click here.
Sign up for our free Global Warming Blog by clicking here. (In your email, you will receive critical news, research, and the warning signs for the next global warming disaster.)
To share this blog post: Go to the Share button to the left below.
---