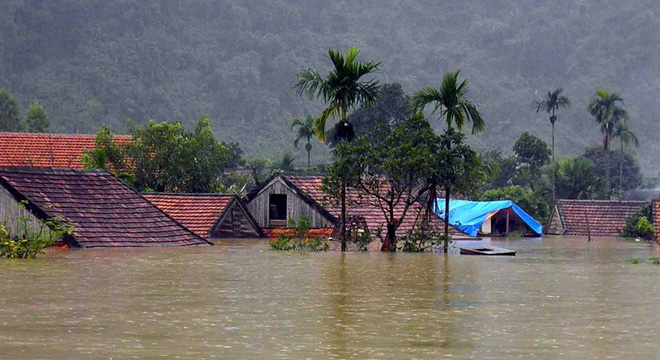 Scientists have found connections between climate change and the appearance of new diseases, especially vector borne diseases, including dengue fever and malaria. credit: VietNamNet Bridge

Vietnam is among five countries in the world to suffer the most from climate change...
According to the Central Steering Committee on Fighting and Preventing Calamities, the spell of cold weather which lasted from January 22 to January 28, 2016 in the north killed nearly 9,500 cattle and damaged 9,453 hectares of rice fields.

During the cold spell, snow not only appeared in mountainous areas near the border line, but also in Hanoi and Nghe An province, the thing which never happened in the past.

Scientists pointed out that the changes in weather and climate will have serious impact on the vector population and therefore lead to an outbreak of vector-borne diseases. 

Vector-borne diseases are infections transmitted by the bites of infected arthropod species, such as mosquitoes, ticks, triatomine bugs, sandflies, and blackflies.


Scientists have found connections between climate change and the appearance of new diseases, especially vector borne diseases, including dengue fever and malaria.
In Vietnam, rising seawater levels, temperature increases and changes in rainfall all are favorable conditions for mosquitoes to reproduce and transmit disease.

Dengue is a seasonal disease which is seen mostly in the Mekong Delta in the south of Vietnam. However, recent surveys found that dengue fever tends to appear year round and in northern provinces as well.

According to WHO, climate change has a close relation with the development of infectious diseases. As a rule, after natural calamities, the environment suffers major disturbances. Heavily contaminated water sources are one of the main causes of the outbreaks of gastrointestinal illness and other diseases spread by water sources.

WTO estimates that in 2000 about 2.4 percent of cases of acute diarrhea in the world and 6 percent of cases of malaria in countries with low and middle incomes were related to climate change.

Heat waves which appear more and more frequently and with higher intensity will increase the risk of thermal shock, stroke and myocardial infarction, and increase morbidity and mortality, especially among the poor, elderly and children. 

In addition, climate change is related to changes in air quality, which, together with changes in temperature in the cold season, also contribute to an increase in chronic respiratory diseases and bronchial asthma.

The impact on human health caused by heat waves are a major concern of Vietnam's health care sector. In Vietnam, 'heat waves' are understood as a 'hot spell'.

Research on heat waves conducted in 2013 in Nghe An showed connections with the percentage of children aged below five hospitalized because of respiratory and diarrheal diseases.
Mai Thanh
07:50 | 26/12/2016
Related: Vietnam wishes for more EU support in environment protection...
Vietnam continues fight against climate change...
source: http://english.vietnamnet.vn/
original story HERE
If you would like to share this blog story on Facebook with one easy click, scroll down to the 
very
 bottom of this page and look for the SHARE button along with the 
Facebook LIKE button under the
"Sign up to Learn About & Help End Global Warming"
area where people
enter their email address. You do not need to enter any email address to use the one click SHARE button.
To learn about more about global warming, climate change or greenhouse gases as well as the causes, consequences, solutions, definitions, facts and tipping points related to these subjects, click here.

To see our most current positions, opinions, comments, agreement or disagreement with this article, and/or possible criticisms related to the subjects or facts raised in the above article, 
click here
.
 Then look for those subjects in the navigation links at the top the page.
To sign a critical petition for declaring an international global warming State of Emergency, click  
here
!
To help do something about the climate change and global warming emergency, click here.
Sign up for our free Global Warming Blog by clicking here. (In your email, you will receive critical news, research, and the warning signs for the next global warming disaster.)
To share this blog post: Go to the Share button to the left below.
---