Atmospheric concentrations of carbon dioxide last year rose by the biggest margin since records began, according to a US federal science agency.
Fossil fuel burning and a strong El Niño weather pattern pushed CO2 levels 3.05 parts per million (ppm) on a year earlier to 402.6 ppm, as measured at the Mauna Loa Observatory in Hawaii, the National Oceanic and Atmospheric Administration (Noaa) said on Wednesday.
"Carbon dioxide levels are increasing faster than they have in hundreds of thousands of years," said Pieter Tans, lead scientist at Noaa's Global Greenhouse Gas Reference Network. "It's explosive compared to natural processes."
The big jump in CO2 broke a record held since 1998, also a powerful El Niño year.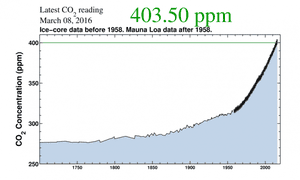 The Keeling curve. Photograph: credit: Scripps Institution of Oceanography
Drought and erratic rainfall caused less carbon to be stored by parched forests and drylands, on top of the effect of fossil fuel emissions, Noaa said.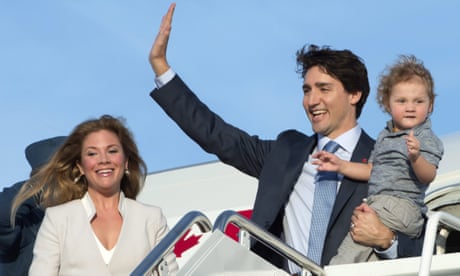 Countries previously seen as climate change villains present shared vision on cutting emissions as Justin Trudeau meets Barack Obama at White House
CO2 levels in the air have increased over 40% since 1880, as industry ramped up emissions. The build-up of those gases traps heat, which warm the planet and stoke extreme weather. Last year was the hottest year on record, according to multiple weather agencies.
The last time the Earth experienced such a sustained CO2 rise was between 11,000 and 17,000 years ago, in which period CO2 jumped by 80ppm. Today's rate is 200 times faster, said Tans.
Scientists at the remote Hawaii site have plotted global CO2 levels since 1958, in what is known as the Keeling Curve.
by: Alex Pashley for Climate Home, part of the Guardian Environment Network Thursday 10 March 2016 11.34 EST
source: http://www.theguardian.com/us
original story HERE.
To see our most current positions, opinions, comments, agreement or disagreement with this article, and/or possible criticisms related to the subjects or facts raised in the above article, 
click here.
Then look for those subjects in the navigation links at the top the page.
To learn about more about global warming, climate change or greenhouse gases as well as the causes, consequences, solutions, definitions, facts and tipping points related to these subjects, 
click
 here
. 
To automatically be emailed a summary of the latest news on global warming, sign up for our Global Warming Blog by 
clicking here
. (Put your email address in the Global Warming Blog Subscribe box at the bottom right of the page.) 
To sign a critical petition for declaring a national and international global warming State of Emergency, click  
here
!