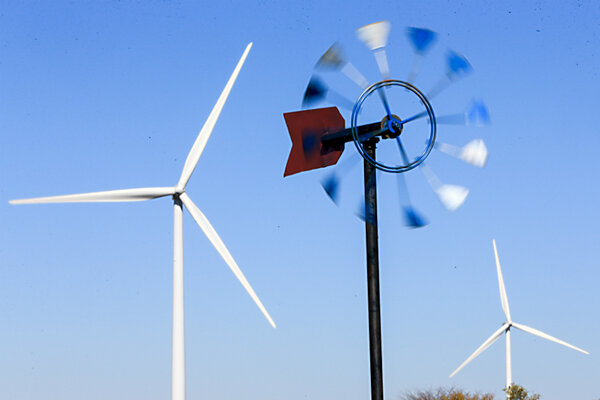 An ornamental windmill spins in front of wind turbines near Steele City, Neb on Nov. 3, 2015. 99 percent of electricity in Costa Rica came from renewable energy in 2015.
The Central American nation is leading the world in cutting fossil-fuel pollution by relying on hydropower and other forms of renewable energy. Is this a model other countries could follow?
This year, nearly all of Costa Rica's electricity came from renewable sources, according to the state electricity agency.
The Costa Rican Electricity Institute (ICE) said in a statement Friday that it achieved "99 percent renewable electricity generation" so far this year, AFP reports.
Early this year, the Costa Rican government announced that the country had been running fully on renewable energy for the first 75 days of 2015. At the time, it set a target to run 97.1 percent on geothermal, wind, biomass and solar sources for the rest of the year.
So far, it's not clear whether this year's declining oil prices have particularly affected the country's efforts for renewable.
Energy consultant Bonaire Le notes that crude oil's drop in price has highlighted the attractiveness of renewable energy's relative isolation from fossil-fuel price fluctuations.
Crude oil prices aren't the only factor influencing the pace of renewable energy efforts, according to Mr. Le. "Factors such as legislative mandates, competitive substitutes, and varying regional impact must also be considered."
The Central American nation is just one of many nations around the world that is getting behind renewable energy.
Recently, India, the world's third-largest carbon polluter, unveiled a plan that aims to make its economy more energy-efficient and to cut carbon emissions. In this significant shift, the Indian government said that it also intends to produce about 40 percent of its electricity in 2030 from "non-fossil-fuel based sources" such as solar, wind, and hydropower.
Renewable energy now powers nearly 95 percent of electricity in Uruguay. Over the past decade, the South American nation has drastically reduced its carbon footprint "without government subsidies or higher consumer costs," the country's National Director of Energy Ramón Méndez told The Guardian earlier this month.
The Swedish government in September took a major step to move the country away from fossil fuels. The country allocated 4.5 billion kronor (about $545 million) in its 2016 budget for green-energy infrastructure, at home and abroad.
Nordic countries already lead the world in renewable energy. Sweden generates around two-thirds of its electricity through renewable sources, according to the Independent. Norway and Iceland rank even higher, even though Norway is also Europe's biggest oil producer.
In July, Denmark generated 140 percent of its electricity demand from wind power, reported the Guardian.
In the US, earlier this year, Hawaii's Gov. David Ige signed into law four energy bills that sets the state's renewable energy goal at 100 percent by 2045.
That means, in 30 years, Hawaii should be running only on electricity made by renewable energy, possibly a mix of solar, wind, and geothermal power.
Though Hawaii's goal of 100 percent renewable energy is the most ambitious of any American state, other states are also setting timelines for changing energy generation mix.
California, for instance, has pledged to get half its energy from renewable sources by 2030.
The city of Burlington, Vt., now gets 100 percent of its electricity from renewable sources. This is part of the state's grander goal to produce 90 percent of its energy from renewable resources by 2050, including electricity, heating, and transportation.
According to a recent analysis by the National Renewable Energy Laboratory's (NREL) Renewable Electricity Futures Study, renewable energy could provide 80 Percent of all US electricity generation by 2050.
To receive the latest breaking news on global warming issues, click here and go to our climate blog. Look to the bottom right of the page for the climate blog Subscribe box to automatically get our RSS news feed and each new story. 
To learn what you can do that is effective to help fix global warming caused climate destabilization, click here.
To learn why the term climate destabilization is replacing the terms climate change and global warming, click here.
To help do something about the climate change and global warming emergency, click here.
Sign up for our free Global Warming Blog by clicking here. (In your email, you will receive critical news, research, and the warning signs for the next global warming disaster.)
To share this blog post: Go to the Share button to the left below.
---