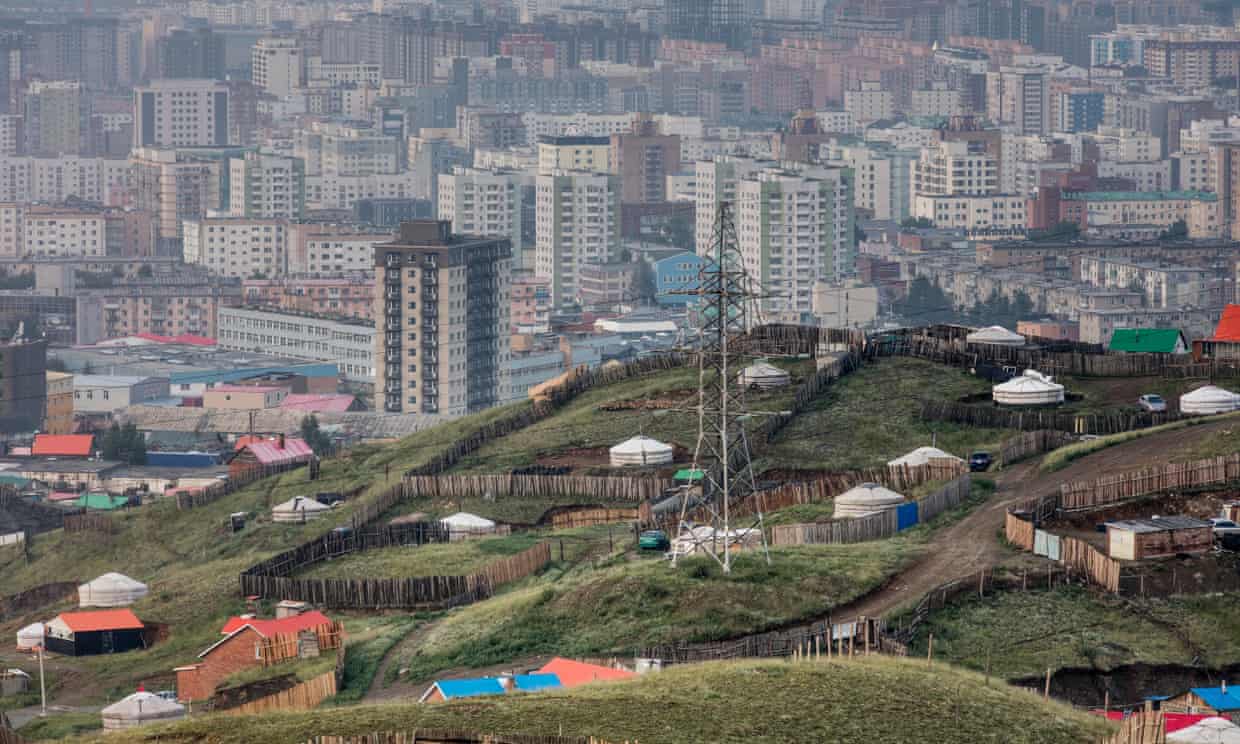 Mongolian nomadic homes on the outskirts of the capital, Ulaanbaatar. Many such districts have sprung up as nomads are forced to abandon their traditional way of life by climate change. Photograph: David Levene for the Guardian
In the last six years, some 140 million people have been forced to move because of climate-related disasters (Mongolian herders fly steppe blighted by climate extremes and social change, 5 January). Climate change is driving long-term environmental damage and sudden catastrophes, presenting a global long-term threat to human security...
According to the UN, by mid-century, one in 30 people could be displaced, many as a result of climate change. Existing global inequalities are exacerbated by the injustice of climate change which severely affects the poorest and most vulnerable, those who have contributed least to the climate crisis. Although climate change and enforced migration are increasingly linked, those displaced have no legal standing under existing international refugee and asylum law.
Related:
Record-breaking increases in global temperature mask the unequal impact of planetary warming. Temperature increases in Mongolia have risen by more than double the global average over the past century. Elsewhere, in Somalia, Darfur, Syria and across sub-Saharan Africa, the chronic effects of drought, water scarcity and agricultural crises in rural areas no longer able to sustain their peoples have driven hundreds of thousands of migrants into cities and across borders. Safe haven is provided overwhelmingly by other poor countries, whilst richer countries respond by building walls and fences and a political debate that is toxic and often racist.
In response, our respective organisations, with wide support across civil society and trade unions, are organising Europe's first national conference on climate refugees in London on 11 February. Our conference will discuss the need for urgent international protection for climate refugees and migrants, and for far stronger public awareness and government leadership to tackle this fundamental issue.
Suzanne Jeffrey Chair, Campaign Against Climate Change Trade Union Group
Asad Rehman Senior campaigner, international climate, Friends of the
Monday 9 January 2017 14.57 EST
source: https://www.theguardian.com/us
original story HERE
If you would like to share this blog story on Facebook with one easy click, scroll down to the 
very
 bottom of this page and look for the SHARE button along with the 
Facebook LIKE button under the
"Sign up to Learn About & Help End Global Warming"
area where people
enter their email address. You do not need to enter any email address to use the one click SHARE button.
To learn about more about global warming, climate change or greenhouse gases as well as the causes, consequences, solutions, definitions, facts and tipping points related to these subjects, click here.

To see our most current positions, opinions, comments, agreement or disagreement with this article, and/or possible criticisms related to the subjects or facts raised in the above article, 
click here
.
 Then look for those subjects in the navigation links at the top the page.
To sign a critical petition for declaring an international global warming State of Emergency, click  
here
!
To help do something about the climate change and global warming emergency, click here.
Sign up for our free Global Warming Blog by clicking here. (In your email, you will receive critical news, research, and the warning signs for the next global warming disaster.)
To share this blog post: Go to the Share button to the left below.
---