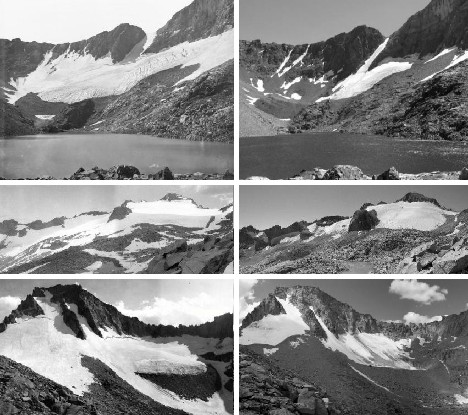 YOSEMITE NATIONAL PARK- When naturalist John Muir explored Lyell Glacier in Yosemite National Park about 150 years ago, the river of ice stretched as far as 10 football fields between the peaks of the Lyell Canyon, a glacier one might expect to see in Alaska, not California...
Pete Devine of the Yosemite Conservancy explains how the Lyell Glacier has retreated in Yosemite National Park. Global warming is being blamed for the gradual disappearance of Yosemite's glaciers. Brad Branan [email protected]  Watch Video HERE

Today, it's a sliver of the natural feature Muir called a "living glacier." Over the last 130 years, the glacier has lost 78 percent of its surface, shrunk from about a half square mile to 66 acres.
Stand on the glacier and it's hard to hear anything except the sound of melting water rushing underneath. A big patch of bedrock is exposed in its middle.
In its dying state, Lyell Glacier has become a vivid example of the effects of climate change and a touchstone for National Park Service officials increasingly concerned about global warming.
In a speech about climate change at Yosemite this summer, President Barack Obama highlighted Lyell Glacier as a warning for the future.
"Climate change is no longer just a threat; it's a reality," he said. "Yosemite's largest glacier, once a mile wide, is almost gone."
Yosemite geologist Greg Stock and Yosemite Conservancy naturalist Pete Devine said their research doesn't prove global warming is behind the glacier's melting, but both say the science on climate change has been well established and greenhouse gas emissions are a main driver. The National Park Service has held the same position for years.
The fate of the Lyell Glacier holds implications beyond the global warming debate, said Stock and Devine. Glaciers sculpted the jewels of the park's landscape, transforming granite into iconic formations such as El Capitan and Half Dome and forming the U-shaped Yosemite Valley that draws visitors from around the world.
Thousands of years ago, approximately three-fourths of Yosemite was covered by glaciers, which churned with ice and glacial silt to carve and smooth the park's granite, Stock said. Now, the park's two remaining glaciers, Lyell and Maclure, could be gone within decades, and along with them, a central part of the park's natural history.
"It's a corpse," said Devine, while standing at the edge of Lyell Glacier's west lobe in September. "It will be bare ground in maybe 10 to 20 years."
Named after prominent 18th century geologist Charles Lyell, the glacier skirts a mountain bearing the same name, which is the highest point in Yosemite at 13,114 feet.
"It will be bare ground in maybe 10 to 20 years."
-Yosemite Conservancy naturalist Pete Devine, who has studied the Lyell Glacier
For 10 years, Devine has been leading trips to Lyell Glacier for the conservancy, a nonprofit organization that raises funds for projects at the park. That work includes a four-year research project on Lyell and nearby Maclure by Stock and Robert Anderson, a professor of geological sciences at the University of Colorado Boulder.
Related: Incredible images show how the Lyell Glacier has lost nearly 80% of its surface area since 1883...
A Sacramento Bee reporter accompanied Devine, another conservancy employee and six other people on a recent three-day trip to Lyell Glacier. The hikes are intended to raise awareness about the glacier, but they also give Devine an annual opportunity to track the progress of Lyell's melting.
The conservancy trip started in the Yosemite high country of Tuolumne Meadows and continued for about 8 miles in Lyell Canyon along the Lyell fork of the Tuolumne River, which is fed by the glacier. The hike moved to higher terrain for 2 miles and concluded for the day at the expedition's base camp.
Fittingly, most of the hike proceeded along the John Muir Trail. Muir was an early proponent of the theory that glaciers shaped Yosemite despite objections from experts such as Josiah Whitney, then-chief of the California Geological Survey, and UC Berkeley geology professor Joseph LeConte. Muir's critics questioned the presence of active glaciers in Yosemite, arguing that Muir was describing ice fields instead.
In an 1875 article "Living Glaciers of California" published in Harper's Magazine, Muir explained how he tested his theory by trekking to Maclure Glacier with Galen Clark, the park's supervisor. Muir and Clark planted five stakes in the glacier. A month and a half later, Muir returned and found that all of the stakes had moved, including one that had traveled 47 inches, confirming the glacier was still active.
In the article, Muir noted that Lyell Glacier was less than a mile long and likely had a former course "of more than forty miles."
Stock, Anderson and Devine replicated Muir's test by placing stakes in both Maclure and Lyell glaciers. They checked the stakes for movement four years later and found "no appreciable movement" at Lyell, meaning it was dead or stagnant. Despite its smaller size and extensive melting, Maclure was still moving about an inch a day, the same speed Muir recorded years before, Stock said.
Stock and Devine said they felt honored to follow the research of Muir, the legendary writer who's considered one of the fathers of the National Park Service. They even found one of Muir's test stakes in the park's archives.
"Holding the stake, I felt a pretty strong connection to the guy," said Stock, adding that he was humbled by the idea that he "may be the last scientist to study these glaciers."
Stock and other researchers also compared historical photos and maps to contemporary ones to measure the glaciers' shrinking, aided by an abundant historical record. They found markers that previous researchers had placed to indicate where they periodically took pictures of the glaciers – rock cairns in Lyell Canyon and a round brass station marker on a plateau near Lyell Glacier. They also found letters in orange paint on rocks, which they believe were used to measure glacier movement.
The researchers determined that between 1883 and 2015, Maclure has gone from 99 to 33 acres, a 67 percent reduction, while Lyell had shrunk by an even greater rate.
78%
Percentage by which the Lyell Glacier has shrunk between 1883 and 2015
On September's conservancy hike, three of the six visitors gave up in the last mile, citing difficulties with the climb. Hikers to Lyell Glacier face a difficult trek with an elevation gain of more than 4,000 feet. Hikers also must go off-trail for the last mile, across increasingly steep and unstable rock fields.
The rest of the hikers said they were glad to have made the climb; they knew they might never get another chance to see Yosemite's glaciers.
"I feel like I did something very special," said A.J. Kallet, a Mill Valley veterinarian, as he made his way back down the mountain.
Brad Branan: 916-321-1065, @BradB_at_SacBee
source: http://www.sacbee.com/
original story HERE
To learn about more about global warming, climate change or greenhouse gases as well as the causes, consequences, solutions, definitions, facts and tipping points related to these subjects, 
click here
. 
To see our most current positions, opinions, comments, agreement or disagreement with this article, and/or possible criticisms related to the subjects or facts raised in the above article, 
click here
.
 Then look for those subjects in the navigation links at the top the page.
To sign a critical petition for declaring an international global warming State of Emergency, click  
here
!
To help do something about the climate change and global warming emergency, click here.
Sign up for our free Global Warming Blog by clicking here. (In your email, you will receive critical news, research, and the warning signs for the next global warming disaster.)
To share this blog post: Go to the Share button to the left below.
---