As CO2 in the atmosphere continues to rise, this hot trend isn't showing any signs of abating...
One of the strongest El Niño events in recorded history may now be behind us ― but if you thought its conclusion marked the end of record-breaking global average temperatures, think again.  
Temperatures this year may be falling slightly short of the sky-high numbers of 2016 ― which was the hottest year in recorded history, propelled by the powerful El Niño. But the continuing heat is still causing climate scientists concern.
That's because monthly or yearly temperature anomalies aren't typically worrisome to scientists; it's climatic trends seen over decades or centuries that arouse alarm. 
And looking at the past 20 years, experts say the pattern is clear.
Of the 17 hottest years on record, all except one has occurred in the 21st century, according to data from the National Oceanic and Atmospheric Administration (the exception was 1998, a very strong El Niño year). The top five hottest years on record have all occurred since 2010.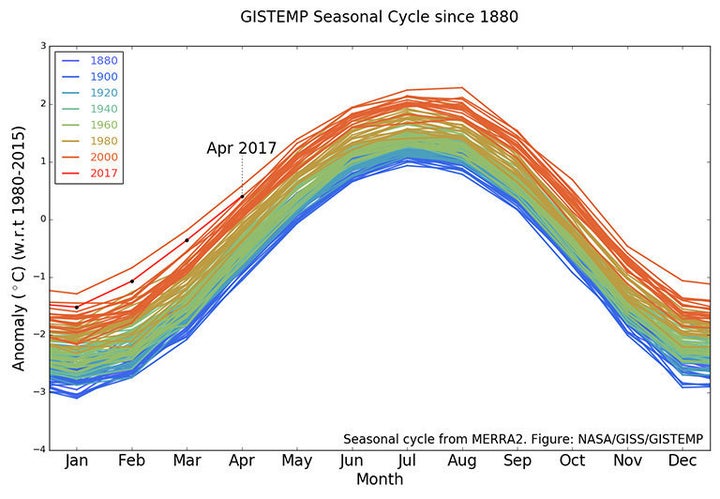 NASA Goddard Institute for Space Studies
This NASA Goddard Institute for Space Studies graph shows how global average temperatures have continued to rise since the Industrial Revolution.
And scientists expect this hot trend to continue. 
Though 2017 will likely see a slight dip in temperatures compared to last year, it will still probably rank among the hottest years in recorded history, according to Climate Central. And scientists say they don't expect the heat to taper off anytime soon. 
Because of global warming, "each new year is basically predestined to be among the warmest on record," Deke Arndt, chief of the monitoring branch of the U.S. National Centers for Environmental Information, told Climate Central in December.
Last month, Hawaii's Mauna Loa Observatory recorded its first carbon dioxide reading above 410 parts per million. It's the first time in about 3 million years that the Earth's atmosphere has had such high levels of CO2. 
Do you like this post?
---