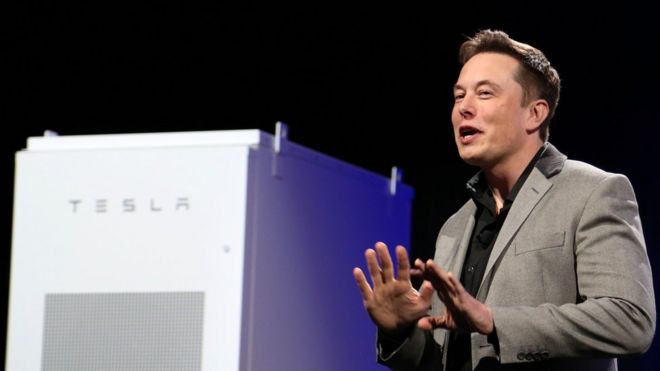 Mr Musk says his solar storage technology is scalable for Puerto Rico's need. Getty Images
Renewable energy entrepreneur Elon Musk says he could rebuild Puerto Rico's shattered electrical infrastructure with his solar energy technology...
The vast majority of the island territory remains without power, weeks after it was hit by Hurricane Maria.
On Twitter, Mr Musk said his technology, which powers several smaller islands, could be scaled up to work for Puerto Rico.
The island's governor responded to Mr Musk with the message: "Let's talk".
"Do you want to show the world the power and scalability of your Tesla technologies? Puerto Rico could be that flagship project," the Governor of Puerto Rico, Ricardo Rossello, said.
Mr Musk's Tesla company is best known for its electric cars, but it also incorporates SolarCity - a solar panel firm which specialises in efficiently storing large amounts of electricity in power banks.
The company says it has powered small islands, such as Ta'u in American Samoa. There, it installed a solar grid which can power the entire island and store enough electricity for three days without any sun.
"The Tesla team has done this for many smaller islands around the world, but there is no scalability limit, so it can be done for Puerto Rico, too," Mr Musk tweeted.
But he added that such a project would need the support of Puerto Rico - something the governor appears to be open to.
It is also understood that Tesla has already sent a number of battery systems to Puerto Rico to store energy from the island's existing solar panels to help offset the energy shortage.
The latest conversation is reminiscent of the bet started on Twitter between Mr Musk and an Australian software entrepreneur which led to plans for the world's largest battery storage project in South Australia.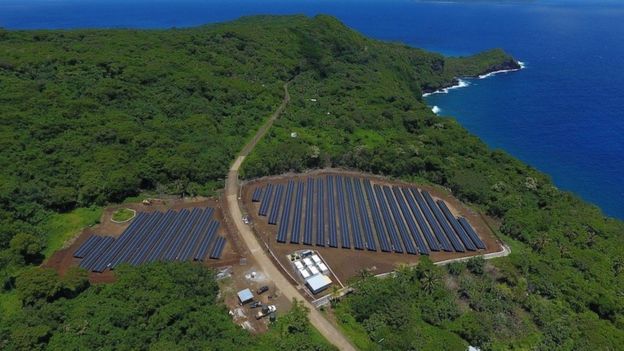 Image copyright Tesla / Solar City Image caption The company says its installation on Ta'u can supply almost 100% of the island's electricity
That battery installation - which Tesla guaranteed could be working "100 days from contract signature" - was declared half-built within days of the start of construction.
The Puerto Rican governor also used the exact same language - "let's talk" - as South Australia Senator Sarah Hanson-Young used before the project became a reality.
Puerto Rican residents with solar panels are among the few with a stable electricity supply.
One flower grower, Hector Santiago, invested $300,000 (£230,000) in solar panels six years ago, Reuters reported this week.
"Everybody told me I was crazy because it was so expensive. Now I have power and they don't," he told the agency.
It is understood that Tesla has already sent a number of battery systems to Puerto Rico to store energy from the island's existing solar panels to help offset the energy shortage.
Mr Musk has been largely successful in his renewable ventures.
Alongside his successful Tesla motors company and solar projects, he is also the founder of SpaceX, which has developed reusable rockets for space flight.
Last week, he unveiled plans for a city to city rocket transport system, which could fly people from London to New York in less than half an hour, and for a manned Mars mission by 2024.
BBC News
6 October 2017
source: http://www.bbc.com/news
original story HERE
Sign up for the Global Warming Blog for free by clicking here. In your email you will receive critical news, research and the warning signs for the next global warming disaster.
Click here to learn how global warming has become irreversible and what you can do to protect your family and assets.
To share this blog post: Go to the original shorter version of this post. Look to lower right for the large green Share button.
To view our current agreement or disagreement with this blog article, click here.
---