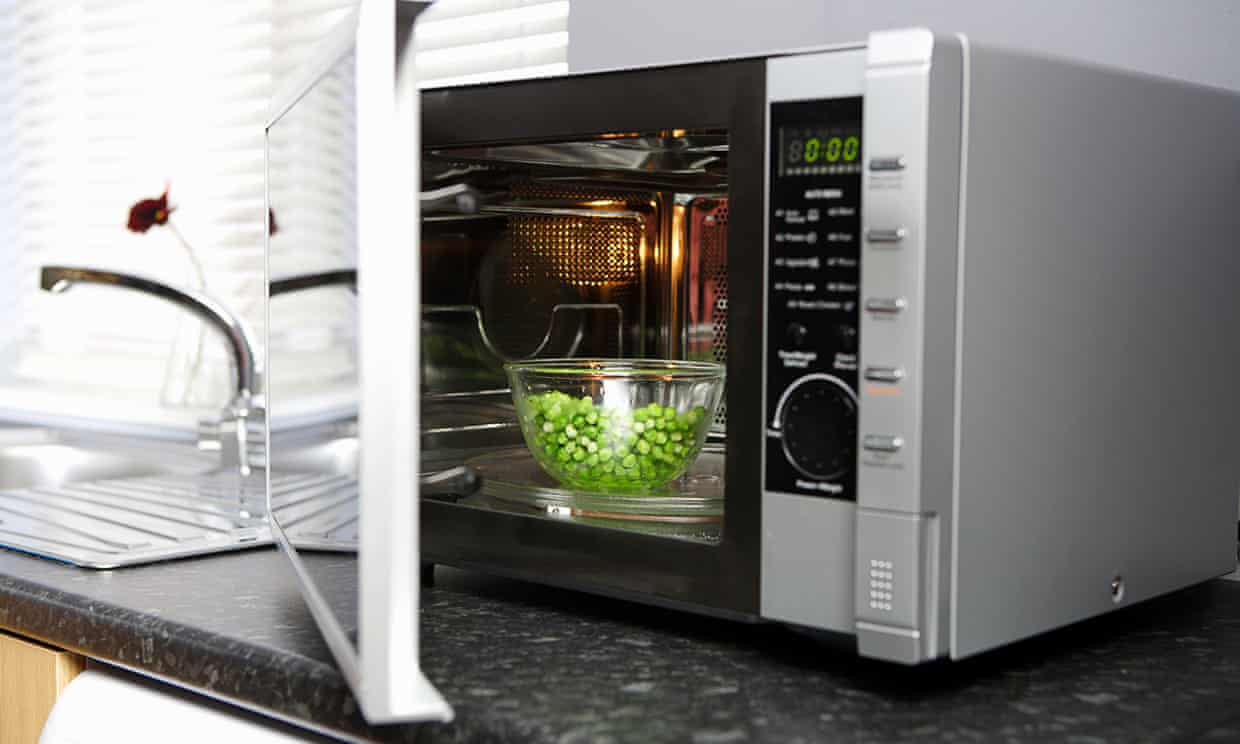 Using your microwave more efficiently and turning it off when not in use can help cut energy consumption. Photograph: Huw Jones/Getty Images
The biggest impact comes from electricity used to power the microwaves, but study also highlights rising environmental cost of our throwaway culture...
(Job Ones News Blog Editor's note: Now where is the tally for the USA and the rest of the world with microwaves??? )
   Popping frozen peas into the microwave for a couple of minutes may seem utterly harmless, but Europe's stock of these quick-cook ovens emit as much carbon as nearly 7m cars, a new study has found.
And the problem is growing: with costs falling and kitchen appliances becoming "status" items, owners are throwing away microwaves after an average of eight years, pushing rising sales.
A study by the University of Manchester worked out the emissions of carbon dioxide – the main greenhouse gas responsible for climate change – at every stage of microwaves, from manufacture to waste disposal.
"It is electricity consumption by microwaves that has the biggest impact on the environment," say the authors, who also calculate that the emissions from using 19 microwaves over a year are the same as those from a car.
"Efforts to reduce consumption should focus on improving consumer awareness and behaviour to use appliances more efficiently. For example, electricity consumption by microwaves can be reduced by adjusting the time of cooking to the type of food."
Each year more microwaves are sold than any other type of oven in the EU: annual sales are expected to reach 135m by the end of the decade.
David Reay, professor of carbon management at the University of Edinburgh, pointed out that the damage done by microwaves is still a fraction of that done by cars. "Yes, there are a lot of microwaves in the EU, and yes they use electricity," he said.
"But their emissions are dwarfed by those from cars – there are around 30m cars in the UK alone and these emit way more than all the emissions from microwaves in the EU. Latest data show that passenger cars in the UK emitted 69m tonnes of CO2 equivalent in 2015. This is 10 times the amount this new microwave oven study estimates for annual emissions for all the microwave ovens in the whole of the EU."
The energy used by microwaves is lower than any other form of cooking. uSwitch, the price comparison website, lists microwaves as the most energy efficient, followed by a hob and finally an oven, advising readers to buy a microwave if they don't have one. However, they urge owners to switch them off at the wall after use, to avoid powering the clock.
"Yes, it's important to use microwaves efficiently," said Simon Bullock, senior climate change campaigner for the charity Friends of the Earth. "But so is making sure the electricity that powers them is as low pollution as possible. The government should reverse its policy attacks on solar and onshore wind. We need green electrons powering all the nation's tellies, microwaves and fridges."
Alejandro Gallego-Schmid, one of the report's authors, said: "The aim of our study was not to compare microwaves to other cooking appliances but to look at the environmental impacts of microwaves as ubiquitous devices in households in Europe and draw attention to the need to make their design, use and end-of-life waste management more efficient."
The report also reveals that the lifespan of microwaves has reduced by nearly seven years over the last 20 years – from more than a decade to six-eight years. By the end of this decade 16m microwaves are expected to be discarded each year.
"Given that microwaves account for the largest percentage of sales of all types of oven in the EU, it is increasingly important to start addressing their impact on resource use and end-of-life waste," said Gallego-Schmid.
Existing regulation is not enough to reduce those environmental impacts, and specific regulations are needed for microwaves, says the report.
"My microwave's not too high impact at the moment," said Bullock. "It's broken, waiting in a corner for me to work out where best to recycle it."
Thu 18 Jan 2018 04.06 EST
source: https://www.theguardian.com/us
original story HERE
Sign up for the Global Warming Blog for free by clicking here. In your email you will receive critical news, research and the warning signs for the next global warming disaster.
Click here to learn how global warming has become irreversible and what you can do to protect your family and assets.
To share this blog post: Go to the original shorter version of this post. Look to lower right for the large green Share button.
To view our current agreement or disagreement with this blog article, click here.
---