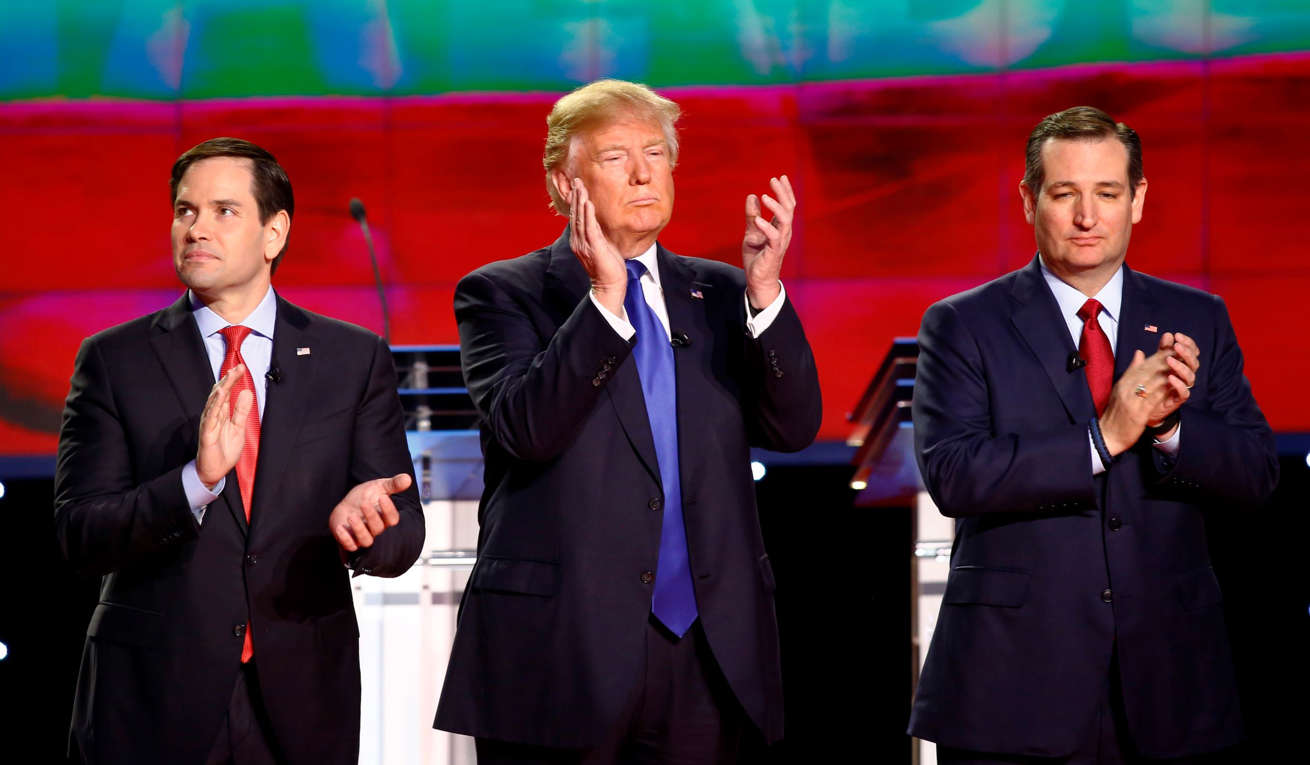 The video features Republican front-runner Donald Trump and his two closest rivals, Marco Rubio and Ted Cruz, denying man-made global warming, juxtaposed with images of U.S. flooding, wildfires, droughts and heat waves.
"I'm not a believer in climate change," Trump says during a television news interview featured in the clip.
"Satellite data show there's been no warming whatsoever," Cruz, a U.S. senator of Texas, says in another news clip.
Rubio, a U.S. senator of Florida, says, "I do not believe that human activity is causing these dramatic changes to our climate the way these scientists are portraying it."
The video aims to put the environmental issue center stage in the November race for the White House.
Democratic presidential hopefuls Hillary Clinton and Bernie Sanders have both laid out plans to combat climate change, while all five Republican presidential contenders have argued that the problem doesn't exist or have discounted the scope of the issue.
The video also draws a link between environmental issues and the vacancy on the U.S. Supreme Court following the surprise death this month of Justice Antonin Scalia.
President Barack Obama has said he plans to nominate a replacement for Scalia before the November election, but Republicans in Congress have vowed to block the effort.
"With so many issues at stake now, with so much potentially heading before the court on clean energy and climate change, we simply can't afford for our nation's highest court to be crippled," a few Democratic members of Congress say in the video.
An official for the Democratic Party said the video would be circulated on social media. (Reporting by Luciana Lopez; Additional reporting by Alana Wise; Editing by Leslie Adler)
Source: 
Reuters

The DNC's video will be posted here as soon as it's available...
To learn about global warming, climate change and greenhouse gas causes, effects, solutions, definitions, facts and tipping points,

click here

.

To receive breaking news on global warming issues, sign up for our Best of the Internet global warming blog by

clicking here

and putting your email address in the Global Warming Blog Subscribe box at the bottom right of the page. Once a week you will automatically receive new headlines from the key global warming stories of the week.

To learn about the greatest adaptive challenge and transformational adventure in human history; the new Job One For Humanity Plan to end global warming, 

click here.
To help do something about the climate change and global warming emergency, click here.
Sign up for our free Global Warming Blog by clicking here. (In your email, you will receive critical news, research, and the warning signs for the next global warming disaster.)
To share this blog post: Go to the Share button to the left below.
---