Investors were hoping to force Exxon to add a climate expert to its board, to enact a policy to avoid 2°C warming, to increase capital distributions (with the understanding that continued investment in assets likely to be stranded is not a good long-term strategy), and to report on the impact climate change policies worldwide to the company's bottom line.
Each shareholder proposal failed.
"We know the path that Exxon is on, and the business strategy as it exists today, and as it existed for the last 50 years, is not a business strategy that is going to work in the 21st century," Natasha Lamb, Arjuna Capital's director of equity research and shareholder engagement, told ThinkProgress after the meeting. "It is not in line with a low carbon scenario where we limit the burning of fossil fuels."
The business strategy as it exists today, and as it existed for the last 50 years, is not a business strategy that is going to work in the 21st century
Throughout the meeting, it was clear that Exxon's idea of tackling climate change was not in line with the view of the vast majority of the world.
"We believe that addressing the risk of climate change is a global issue," Rex Tillerson, chairman, president, and CEO of Exxon, told shareholders during his opening remarks, which were streamed online. Touting his company's record on the environment, Tillerson said ExxonMobil has invested $7 billion since 2000 to reduce the company's emissions. He also said the company supports a revenue-neutral carbon price.
"Relative to the understand of the science, there's no space between us and the IPCC," he said, but he framed the IPCC's push to keep climate change below 2°C as a policy issue. He also stressed that the world will continue to need fossil fuels. "Just saying 'turn the taps off' is not acceptable to humanity," Tillerson said.
"It is a judgment of balance between future climatic events which could be catastrophic but are unknown, by the IPCC's own acknowledgement, and more immediate needs of humanity today to address poverty, starvation, broad-based disease control, and the quality of life that billions of people are living in today, which is unacceptable to many of us," Tillerson said.
Unfortunately, the catastrophic effects of climate change are already being felt around the world. Rising sea levels and warming waters are already causing bigger and stronger coastal flooding. California's drought, India's heat wave, and the floods in Texas have all been linked to climate change.
Scientists anticipate that future warming will threaten billions of people's lives and trillions of dollars in investment.
"The reality is there is no alternative energy source known on the planet or available to us today," Tillerson said, citing Bill Gates' controversial calls for investment in new technology over a widespread transition to the solar and wind technologies we do have.
The reality is there is no alternative energy source known on the planet or available to us today
It is worth noting that Exxon recently announced that it has entered into a joint venture to develop fuel cells from carbon capture technology.
Climate Hawk Votes founder RL Miller said the idea that we need new technologies to start transitioning to the clean energy economy was "insulting."
"The fallacy of what Tillerson is saying is just that: It's a fallacy," Miller said. "I came out here from California where we are building a clean energy-based economy, and we are doing so without some sort of magical silver bullets. And we are, in fact, slowly turning off those taps that he's referring to."
She also rebutted the idea that Exxon was more focused on poverty and starvation than its own continued fossil fuel business. "I'm sure they would be very happy to tell you about their charitable organizations, but whatever good they are doing is dwarfed by what they are doing in the way of polluting our skies and drowning our democracy in a tide of dark oil and money," she said.
Exxon has been increasingly under fire from the environmental movement as well as from state investigations. New York, California, and the Virgin Islands are all actively pursuing investigations into what Exxon knew about climate change and when. Exxon has been closely tied to groups that have propagated climate denial, which, the state attorneys general say, could violate anti-fraud laws. Separate reports from Inside Climate and the Los Angeles Times last fall revealed that Exxon scientists knew that carbon emissions were fueling global warming as long ago as the 1970s. On Tuesday, the Guardian reported that the company used political pressure to quash a congressional lecture series on climate change in early 2001, shortly after former President George W. Bush was inaugurated.
Outside the meeting in Dallas, several dozen climate activists, including Miller, rallied against the oil and gas giant.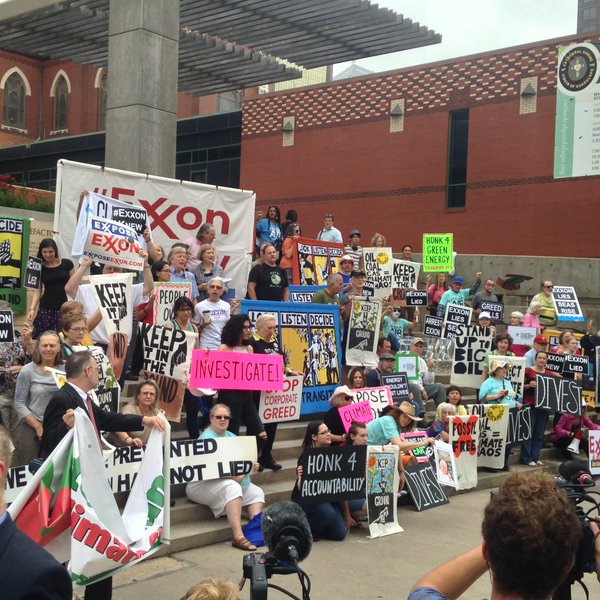 In solidarity w/ protests at the #ExxonAGM! The @TrueCostChevron network is doing the same right now @ #Chevron AGM pic.twitter.com/S2HpRCHRbA

— AMAZON WATCH (@AmazonWatch) May 25, 2016
Houston resident Renee Boschert spoke at the rally and again during the Q&A session with Tillerson as the votes were being tallied.
"My feeling is that the effects of climate change are real and are happening now, not something that is abstract and in the future," said Boschert, who lost her house during the flooding in Houston earlier this year. "Fossil fuel companies may be legally liable for these climate change damages… What happens if the company loses the coming court battles… ? How is Exxon calculating the financial risk it would face if fossil fuel companies have to pay for damage from climate change?"
Tillerson's offered one sentence before going to the next question: "Speculating on future court events would be irresponsible on my part, and therefore those numbers would be unestimable (sic)," he said.
by Samantha Page
May 25, 2016 4:07 pm
source: http://thinkprogress.org/climate/issue/
original story HERE
To see our most current positions, opinions, comments, agreement or disagreement with this article, and/or possible criticisms related to the subjects or facts raised in the above article, 
click here.
Then look for those subjects in the navigation links at the top the page.
To learn about more about global warming, climate change or greenhouse gases as well as the causes, consequences, solutions, definitions, facts and tipping points related to these subjects, 
click
 here
. 
To automatically be emailed a summary of the latest news on global warming, sign up for our Global Warming Blog by 
clicking here
. (Put your email address in the Global Warming Blog Subscribe box at the bottom right of the page.) 
To sign a critical petition for declaring a national and international global warming State of Emergency, click  
here
!
To help do something about the climate change and global warming emergency, click here.
Sign up for our free Global Warming Blog by clicking here. (In your email, you will receive critical news, research, and the warning signs for the next global warming disaster.)
To share this blog post: Go to the Share button to the left below.
---