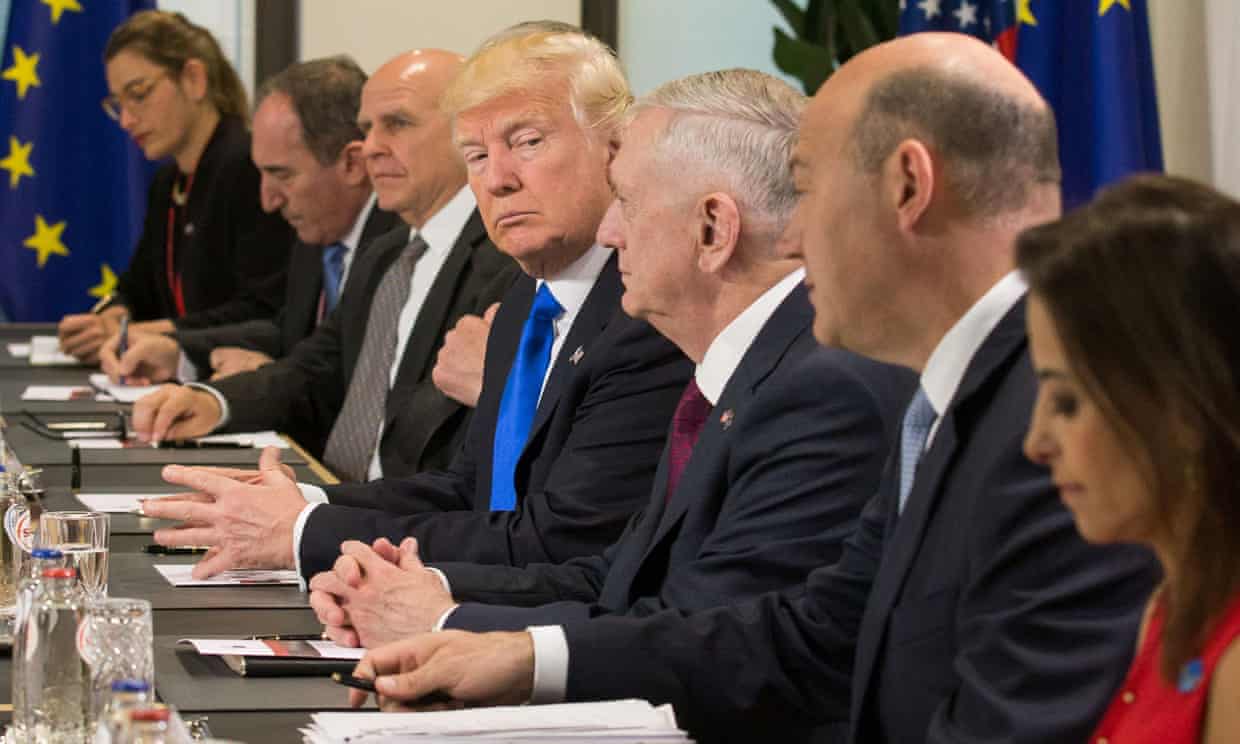 Donald Trump glances (if looks could kill ;) ) at James Mattis during a meeting in Brussels this week. Photograph: Stephanie Lecocq/AFP/Getty Images
Report says Trump has told confidants he will pull US out of agreement but defense secretary Mattis says 'president is wide open on this issue'...
Donald Trump's intentions regarding US participation in the Paris climate deal remained unknown on Sunday, as one report cited "confidants" saying the president had made up his mind to pull out while a senior cabinet figure said he was "quite certain the president is wide open on this issue".
Trump said in a tweet on Saturday: "I will make my final decision on the Paris Accord next week!"
The message was published as Trump left Sicily after the G7 summit. Leaders of the other G7 nations – Germany, France, Britain, Italy, Canada and Japan – issued a communique confirming their support for the climate deal, which was reached with contributions from Barack Obama in 2015 and signed the following year.
A report from the Axios news outlet, however, cited "three sources with direct knowledge" as saying Trump had told confidants including the head of the US Environmental Protection Agency, Scott Pruitt, that he plannned to pull the US out of the deal.
In an interview broadcast on CBS's Face the Nation, meanwhile, defense secretary James Mattis said the White House had "obviously got a discussion going on about our policy in this regard".
He added: "And I was sitting in on some of the discussions in Brussels, by the way, where climate change came up, and the president was open, he was curious about why others were in the position they were in … and I'm quite certain the president is wide open on this issue as he takes in the pros and cons of that accord."
Mattis said that as defense secretary, such negotiations were "not inside my portfolio", but added: "Obviously we deal with the aspects of a warming climate in the Department of Defense, and to us, that's just another one of the many factors we deal with which we call the physical environment."
The White House did not immediately respond to media requests for comment. On Sunday morning, however, the president offered comment of his own, via Twitter, that might have been aimed at the anonymous sources cited in the Axios report.
"It is my opinion that many of the leaks coming out of the White House are fabricated lies made up by the #FakeNews media," the president wrote. "Whenever you see the words 'sources say' in the fake news media, and they don't mention names it is very possible that those sources don't exist [sic] but are made up by fake news writers. #FakeNews is the enemy!"
Donald Trump: I would end Paris climate deal
A source who had been in contact with people involved in the decision told Reuters that meetings were planned with chief executives of energy companies and big corporations and others about the climate agreement, ahead of Trump's expected announcement. It was unclear whether those meetings would still take place.
In Sicily, Trump, who has called global warming a hoax created by the Chinese and who campaigned on a promise to pull out of the Paris deal, came under concerted pressure from the other leaders to honour the agreement.
"The entire discussion about climate was very difficult, if not to say very dissatisfying," the German chancellor, Angela Merkel, told reporters. "There are no indications whether the United States will stay in the Paris agreement or not."
Sunday 28 May 2017 10.50 EDT
source: https://www.theguardian.com/us
original story HERE
Get the new Climageddon book:
Click here for a new book about the global warming emergency and what you can do.
To View Our: current positions, opinions, agreement or disagreement with this blog article or its facts, click here.
Donate to help end Global Warming
Sign up for the Global Warming Blog for free by clicking here. In your email you will receive critical news, research and the warning signs for the next global warming disaster.
Click here to learn how global warming has become irreversible and what you can do to protect your family and assets.
To share this blog post: Go to the original shorter version of this post. Look to lower right for the large green Share button.
To view our current agreement or disagreement with this blog article, click here.
---