CREDIT: AP PHOTO/LM OTERO
The investigation has been called a "moment of reckoning" for the corporation...
The U.S. Securities and Exchange Commission has joined the growing list of agencies and offices probing ExxonMobil on climate change.
The federal agency has launched an investigation into how the oil and gas company values its future projects in the face of global climate change and plunging oil prices, The Wall Street Journal reported, citing unnamed sources.
The SEC, the Journal reports, is looking into Exxon's practice of not writing down the value of its assets ― something other major U.S. energy companies have done in response to falling oil prices ― and how the company "calculates the impact to its business from the world's mounting response to climate change."
The investigation adds to those led by the attorneys general of New York and Massachusetts. In November 2015, New York Attorney General Eric Schneiderman subpoenaed Exxon seeking documents related to the allegations that the company lied to its investors and committed fraud by covering up the risks of climate change. In March, Massachusetts Attorney General Maura Healey said her office would join the ExxonMobil probes in New York and California. 
Alan Jeffers, media relations manager for Exxon Mobil Corporation, acknowledged the investigation in an email Tuesday to The Huffington Post, and said the SEC is the "appropriate entity to examine issues related to impairment, reserves and other communications important to investors."
"We are fully complying with the SEC request for information and are confident our financial reporting meets all legal and accounting requirements," Jeffers said.
The SEC declined to comment Tuesday.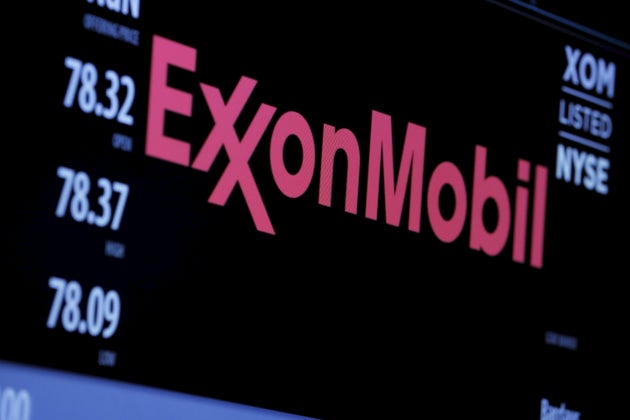 The logo of Exxon Mobil Corporation is shown on a monitor above the floor of the New York Stock Exchange in New York, New York, U.S. Lucas Jackson/Reuters
Questions about what Exxon and other big oil companies knew about carbon emissions and climate change, how early they knew it, and what they did with that information have taken center stage in recent years. As state attorneys general and environmental groups continue digging into these matters, Republican politicians have run to Exxon's defense.
In July, Rep. Lamar Smith (R-Texas), a longtime climate change denier and chair of the House Committee on Science, Space and Technology, subpoenaed those involved in ongoing investigations, claiming their probes "amount to a form of extortion" and are a "blatant effort to silence free speech." The subpoenaed parties have refused to turn over the demanded documents.
Bill McKibben, co-founder of 350.org, one of the subpoenaed parties, said in a statement Tuesday that the SEC investigation is a "remarkably important development" that adds to the "courageous" actions of state attorneys general and clues uncovered by "powerful investigative journalism."
"Before they're done we'll understand considerably more about how the world overheated ― but in the meantime, every institution that invests in Exxon should take real note of who you're keeping company with," he said.
Katherine Sawyer, senior international organizer of Corporate Accountability International, said in a statement that the world has long been pushing for Exxon to be held accountable.
"This investigation marks a moment of reckoning for the corporation," she said. "Coupled with attorneys general investigations into Exxon's campaign of climate denial, the SEC's probe means the corporation's days of deception are numbered."
ExxonMobil shares fell 1.5 percent Tuesday following news of the SEC's investigation.
To help do something about the climate change and global warming emergency, click here.
Sign up for our free Global Warming Blog by clicking here. (In your email, you will receive critical news, research, and the warning signs for the next global warming disaster.)
To share this blog post: Go to the Share button to the left below.
---