On Tuesday, Scott Pruitt, the administrator of the Environmental Protection Agency (EPA), signed an order to scrap the Clean Power Plan, a Barack Obama-era initiative to curb pollution from US power plants.
"The war against coal is over," Pruitt declared. "We are committed to righting the wrongs of the Obama administration by cleaning the regulatory slate."
The move has provoked a furious reaction from states, businesses and environmental groups that warn that the world's second-largest carbon polluter is risking its population's health and the future livability of parts of the planet.
New York's attorney general, Eric Schneiderman, said he would sue the Trump administration to prevent its "irresponsible and illegal efforts to turn the clock back on public health".
More than a dozen other states are likely to follow, backed by green groups. Xavier Becerra, California's attorney general, said he would do "everything in my power to defend the Clean Power Plan". Michael Brune, executive director of the Sierra Club, said the organization would fight Trump and Pruitt "in the courts, in the streets, and at the state and local level across America to protect the health of every community".
Several large companies have stated their support for the Clean Power Plan. In a joint statement, Apple, Amazon, Google and Microsoft said: "Climate change is one of our most significant global challenges and strong action is critical to meeting the serious threat posed by greenhouse gas emissions.
"We believe that strong clean energy and climate policies, like the Clean Power Plan, can make renewable energy supplies more robust and address the serious threat of climate change while also supporting American competitiveness, innovation, and job growth."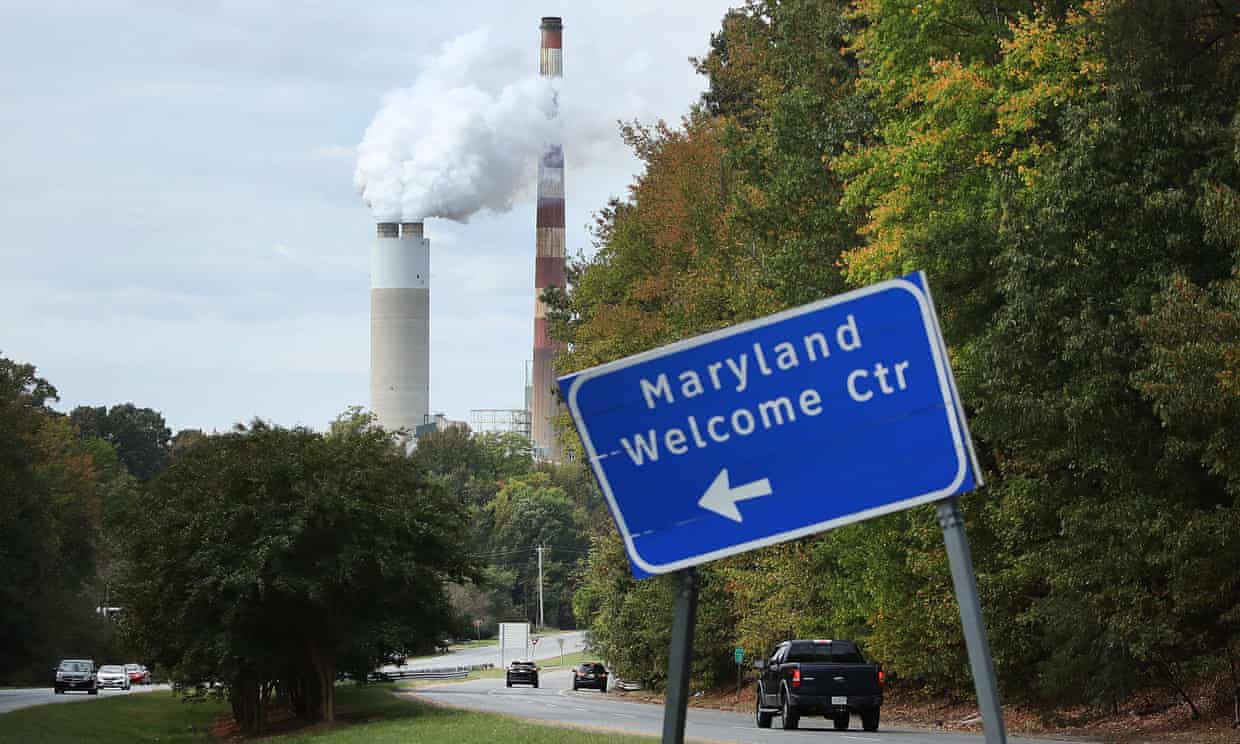 Emissions spew from a large stack at the coal-fired Morgantown generating station in Newburg, Maryland. Photograph: Mark Wilson/Getty Images
A spokeswoman for food manufacturer Mars said: "Mars has been outspoken about the need for business and government to step up and address critical global challenges, like climate change. We are disappointed by the decision."
The absence of any major national climate policy has placed greater onus on states, cities and businesses, such as those that formed the We Are Still In coalition after Trump announced his intention to withdraw from the Paris climate accord. Michael Bloomberg, the billionaire former mayor of New York, tweeted: "The EPA can repeal the Clean Power Plan but not the laws of economics. This won't revive coal or stop the US from reaching our Paris goal."
Courtroom battles may take several years to unspool, meaning the Trump administration may not be able to scrap the climate plan and craft some sort of watered-down replacement before 2020.
The repeal proposal states the Clean Power Plan "exceeds the EPA's statutory authority", adding that the agency has not determined whether it will replace the plan with anything. Instead, it has opened a comment period for the public. Pruitt said the EPA will "assess whether further regulatory action is warranted".
Some conservative groups want the EPA to provide no replacement and reverse its 2009 "endangerment finding" that climate change poses a risk to human health. It is more likely the regulator will simply put forward an industry friendly alternative that requires coal-fired plants to improve some internal practices rather than switch to cleaner sources such as solar and wind.
"What is especially laudable about the Trump EPA analysis is that Scott Pruitt and his team are intent on restoring legality to the regulatory process," said Myron Ebell, who headed the EPA transition team for Trump and directs environment policy at the conservative Competitive Enterprise Institute. "CEI has petitioned EPA to reopen and rescind the endangerment finding, so we would obviously prefer no rule. However, if the endangerment finding is not rescinded, then a legal inside-the-fenceline rule would be acceptable."
NY attorney general to sue administration for scrapping Clean Power Plan
Major companies including Apple and Google support Obama-era initiative
The Clean Power Plan was unveiled by Obama in 2015 but was immediately challenged by industry groups and 27 states, including Oklahoma when Pruitt was attorney general of the state. Last year, the supreme court froze the plan pending legal challenges.
"Legally the Trump administration is on very firm ground, but if they don't issue a replacement rule they will face lawsuits," said Jeff Holmstead, a senior EPA official under George W Bush and part of the legal team that attempted to halt the Clean Power Plan. "I think the business community doesn't want this heavy-handed sort of regulation but they do want a replacement plan. They do want some sort of regulatory certainty."
The Obama administration set the Clean Power Plan a goal of reducing emissions from the energy sector 32% by 2030, compared to 2005 levels. Electricity generation accounts for nearly a third of US emissions.
The country is more than halfway to that target, largely due to a shift from coal to cheap and abundant natural gas which has lower carbon output. Even with the repeal of the Clean Power Plan, emissions from energy generation may still come close to the original target. But the US will probably fall short of its international pledge to help avoid highly dangerous levels of global warming.
The EPA previously estimated that the Clean Power Plan would prevent about 90,000 child asthma attacks and 3,600 premature deaths a year by 2030. These gains would largely be made in disadvantaged communities and among people of color who disproportionately live next to sources of toxic pollution.
"Unfortunately our most vulnerable communities will face the brunt of this irresponsible decision, including disproportionate health impacts, while rich corporations that have control over the EPA will reap the profits," said Mustafa Santiago Ali, a former senior official at the EPA's office of environmental justice.
Pruitt – who is currently under investigation over his use of taxpayer-funded flights – has said he would ideally "do away" with tax credits for wind and solar so they can "stand on their own and compete against coal and natural gas and other sources".
He made no mention of axing subsidies enjoyed for decades by oil, coal and gas producers. This month, researchers at Oil Change International estimated that the US provides around $20bn a year in subsidies to fossil fuels, through incentives, credits, low royalty rates and other measures.
With the US pulling away from the effort to address climate change, other governments face a stiff challenge. Scientists have linked warming temperatures to increasingly ferocious hurricanes and wildfires. In recent months, parts of Texas, Florida and Puerto Rico have been battered by hurricanes. California's Napa valley region is experiencing some of the worst fires in the state's history.
Tuesday 10 October 2017 13.20 EDT
source: https://www.theguardian.com/us
original story HERE