"Typically, over the last 10 to 12 years, we tend to have a ridge of low pressure along the east coast, which has helped steer the storms away," Klotzbach said. But this invisible ridge has pushed westward this year, leaving the eastern seaboard, the Caribbean and the Gulf of Mexico exposed to hurricanes.
Some saw this coming. In early July, Klotzbach's team at Tropical Meteorology Project predicted the Atlantic Ocean would experience an above-average hurricane season because of the El Niño-Southern Oscillation (ENSO) — or rather because of its absence this year.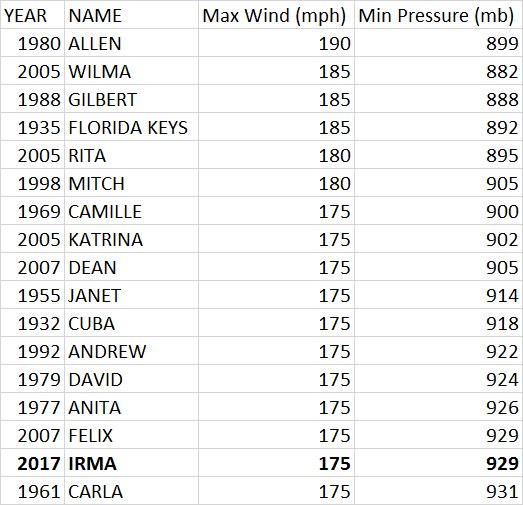 Table of all 17 Atlantic #hurricanes w/ max winds >=175 mph during their lifetime. #Irma
"We've only had 16 other hurricanes on record that have been as strong as Irma is right now."
El Niño creates extremely warm temperatures in the Pacific Ocean, which pushes strong winds into the Atlantic, creates high levels of wind shear and stops hurricanes. When Pacific sea temperatures reverse and cool, it creates La Niña, which tends to drive hurricanes. Here's the strange thing. ENSO is neutral this year, so you might expect an average year of Atlantic storms.
But 2017 has behaved much like 2005, when ENSO was neutral but the U.S. still experienced a bevy of colossal storms by the names of Hurricanes Katrina, Rita and Wilma.
Harvey and Irma appear to be replicating that legacy. Harvey dumped a record 24 trillion tons of water onto Texas and Louisiana, meanwhile when Irma's wind speeds reached 180 mile per hour on Tuesday, it became one of the strongest Atlantic storms in history.
"We've only had 16 other hurricanes on record that have been as strong as Irma is right now," Klotzbach said. Irma reached 175 mile per hour wind speeds farther east than any other known Atlantic hurricane, and its 3.5 days and counting as a major hurricane trails only Hurricane Luis in 1995.
On Tuesday, the National Hurricane Center said another weather event — tropical storm Jose — had formed in the Atlantic.
Worst case scenario for Florida. If Irma misses Hispaniola and Cuba, then Florida should expect damages on par with Hurricane Donna of 1960, Masters said.
If a hurricane of this magnitude hit Florida today, it could cause between $50 billion to $100 billion in damages.
"[Hurricane Donna] hit the [Florida] Keys and then the west coast of Florida as a Category 4 storm, and then tore through the center of the state as Category 3," Masters said.
Residents of the Florida Keys experienced 13-foot storm surges before Donna slashed up the East Coast, becoming the only storm to produce hurricane-force winds in Florida, the Mid-Atlantic states, and New England.  If a hurricane of this magnitude hit Florida today, it could cause between $50 billion to $100 billion in damages.
Klotzbach urged people to pay attention to whether or not hurricane watches or warnings have been issued for their communities because of Irma's immense size. He does not expect Irma to dump as much rain as Harvey, but even if a storm doesn't track directly over Miami, its storm surge could have a huge impact on south Florida, he said. Heavy rains, storm surge and flooding will likely hit Georgia and the Carolinas after next weekend.
"Follow the advice of the local emergency management. They'll tell you whether you should evacuate or shelter in place," Klotzbach said.
The age of Category 6 hurricanes? A fake news story, which garnered more than 2 million shares on Facebook over the weekend, asked if Hurricane Irma and its 180-mile-per-hour winds could be considered a Category 6 storm?
No, said Masters, who raised the idea of Category 6 classification in 2016 as a thought experiment.
"There never will be a Category 6 on the Saffir–Simpson scale because Category 5 is already catastrophic," Masters said. But climate change is expected to intensify the winds and rains of major storms over the next century.
BY Nsikan Akpan  September 5, 2017 at 4:24 PM EDT  | Updated: Sep 6, 2017 at 2:40 PM
Did climate change make recent extreme storms worse? Science correspondent Miles O'Brien reports on what data suggests about the connection.