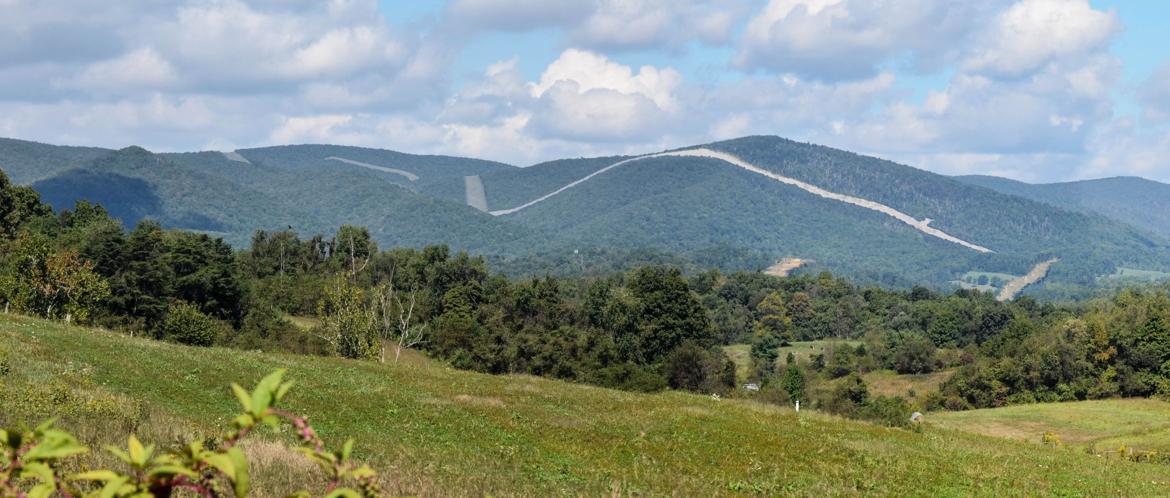 This simulation shows what the view of the Mountain Valley Pipeline would look like from Giles High School in Pearisburg. Courtesy of Hill Studio for Roanoke Valley Cool Cities Coalition
An organization that describes its mission as exposing the true costs of fossil fuels contends that the proposed Mountain Valley Pipeline and the separate but similar Atlantic Coast Pipeline would be "climate disasters"...
Oil Change International, a nonprofit based in Washington, D.C., cites evidence it says debunks the conventional wisdom that natural gas is a cleaner fuel than coal for generating electricity.
The organization released reports Wednesday that suggest the two pipeline projects and associated pollution from methane emissions "would together contribute as much greenhouse gas pollution as 45 coal-fired power plants."
The Mountain Valley Pipeline project alone would yield annual greenhouse gas pollution equivalent to the emissions from 26 average coal power plants or more than 19 million passenger vehicles, Oil Change International reported.
The calculations of greenhouse gas emissions contributed by the two pipelines did not factor in reductions in emissions that burning natural gas instead of coal might yield at the power plant where combustion occurs.
Lorne Stockman, a Staunton-based research analyst for Oil Change International, explained that the analysis does not assume that gas plants will replace coal plants.
"New gas brought into the market is today competing with clean energy, not only coal," Stockman said. "This competition between gas and clean energy can only increase."
Oil Change International's calculations were informed by data from PSE Healthy Energy, a nonprofit research institute which contends that methane leakage across the natural gas supply chain equals about 3.8 percent of U.S. gross natural gas production. PSE Healthy Energy's work is based in part on research by Robert Howarth and Anthony Ingraffea of Cornell University, who have found that extraction of natural gas via hydraulic fracturing releases more methane emissions than conventional drilling. Ingraffea is a co-founder of PSE Healthy Energy.
Terry Engelder, a geoscientist at Pennsylvania State University, has been described as a "public evangelist for hydraulic fracturing." His research helped identify huge reserves of natural gas in Marcellus Shale formations. The pro-industry Marcellus Drilling News has described Engelder as a "Marcellus rock star" and Howarth and Ingraffea as "wannabe anti-drilling detractors."
Engelder has differed with the work of Howarth and Ingraffea, which he has said overestimates the methane emissions associated with unconventional gas extraction.
"I know these guys and we agree on about 95 percent of what's out there in terms of climate change, which is what Oil Change International is all about," Engelder said in an email Wednesday. "The major difference is that they — PSE and OCI — want to transition to renewables instantaneously and I'd rather the transition be a little more nuanced."
An issue of the journal Nature in September 2011 featured a point-counterpoint commentary titled "Should fracking stop?" Howarth and Ingraffea's response was headlined, "Yes, it's too high risk," and Engelder's was titled, "No, it's too valuable."
Natalie Cox, a spokeswoman for Mountain Valley Pipeline, responded in an email to Oil Change International's findings.
"Unfortunately, the report to which you refer is issued by staunch opponents of the project and is based on flawed methodology that creates a distorted and inaccurate view of natural gas and pipeline infrastructure," Cox said.
Yet Mike Tidwell, director of Chesapeake Climate Action Network, described the reports as meticulous and disturbing.
"This analysis confirms our worst fears about how the Mountain Valley Pipeline and Atlantic Coast Pipeline would accelerate dangerous climate change," Tidwell said.
Cleaner than coal?
Oil Change International also asserted that the Federal Energy Regulatory Commission, which decides whether interstate natural gas pipeline projects should be built, fails to adequately evaluate the methane pollution associated with such projects — partly because FERC does not consider the emissions that might result from increased production of natural gas tied to new pipelines going into service.
And pollution tied to methane emissions across the "full life cycle" of natural gas isn't considered when advocates of natural gas note that using it to generate power is a cleaner alternative than coal, Oil Change International said. The full cycle would include methane emissions that occur during extraction, processing, transport and burning of natural gas, the organization said.
"It is clear that gas burns cleaner than coal in terms of both greenhouse gases and other air pollutants," Oil Change International said. "But when it comes to greenhouse gases, measuring emissions only at the chimney stack of the power plant gives a false picture of the relative impact of these fuels on climate change."
On Dec. 30, FERC released the draft environmental impact statement for the 600-mile Atlantic Coast Pipeline project, which would begin in West Virginia, burrow through Central Virginia and continue into North Carolina.
Separately, FERC is working on a final environmental impact statement for the 303-mile Mountain Valley Pipeline project, which would route through 11 counties in West Virginia and then through the Virginia counties of Giles, Montgomery, Craig, Roanoke and Franklin en route to the Transco pipeline in Pittsylvania County.
Both projects would bury 42-inch diameter steel pipes that would transport natural gas at high pressure that has been extracted through hydraulic fracturing in the Appalachian Basin.
The draft environmental impact study for the Mountain Valley project said FERC determined that the construction and operation of the pipeline "would result in limited adverse environmental impacts, with the exceptions of impacts on forest" — a conclusion that stunned many people tracking the environmental review process.
Stockman said that FERC's analysis of gas pipelines and climate change "conveniently ignores both science and economics in order to come to the foregone conclusion that these pipelines have no impact."
A potent greenhouse gas
No one disputes that methane, the key constituent of natural gas, leaks during the production, processing, transportation, compression and use of natural gas.
The U.S. Environmental Protection Agency, FERC and most scientists agree that methane is a potent greenhouse gas, one capable of contributing to climate change. The EPA reports that methane has a global warming potential more than 25 times greater than that of carbon dioxide.
In FERC's final environmental impact statement for the Atlantic Sunrise pipeline project — which will expand Williams Partners' Transco pipeline system in Pennsylvania and elsewhere — the commission noted that methane emissions from natural gas and oil extraction, processing and transmission "continues to be a serious issue that contributes to climate change."
FERC noted that natural gas flowing through the pipeline would likely cause a reduction in the use of "higher carbon emitting fuels" such as fuel oil and coal.
"Therefore, we conclude that neither construction nor operation of the [Atlantic Sunrise] project would significantly contribute to greenhouse gas cumulative effects or climate change," FERC reported in the project's environmental impact statement.
On Feb. 3, FERC approved the Atlantic Sunrise project. The commission's ruling cited, and dismissed, input from Oil Change International and others who had insisted FERC should consider how new pipelines spur production of natural gas and also factor in emissions tied to consumption of the gas.
FERC acknowledged that regulations from the Council on Environmental Quality direct federal agencies to examine the indirect environmental impacts of a project when conducting an environmental review under the National Environmental Policy Act. But the commission noted that it has no jurisdiction over natural gas production and cannot perform a meaningful analysis of a specific pipeline project's impact on production.
Stockman described this stance as a cop-out, saying such analysis can and ought to be completed.
"It's something they really should do if they want to protect citizens, the environment and the future of our economy," he said.
FERC noted that the U.S. Department of Energy has determined that natural gas development leads to both short-term and long-term increases in air emissions and that these emissions might contribute to climate change. FERC added, "But to the extent that natural gas production replaces the use of other carbon-based energy sources, the [Department of Energy] found that there may be a net positive impact in terms of climate change."
'Bureaucratic inertia'
FERC's draft environmental impact statement for the Atlantic Coast Pipeline project noted that generating electricity by burning natural gas yields fewer hazardous air pollutants — such as mercury and lead — than burning coal.
Oil Change International contends that the analysis of a pipeline's contribution to greenhouse gas emissions must consider also that pipelines "lock in" demand for natural gas for years, thereby potentially precluding the deployment of cleaner, renewable sources of energy such as wind and solar.
FERC's draft environmental impact statement for the Mountain Valley Pipeline observed that the greenhouse gas emissions from the pipeline's construction and operation "would be negligible compared to the global greenhouse gas emission inventory." FERC said the commission could not determine whether the project's contribution to cumulative impacts on climate change would be significant.
Stockman, suggesting this analysis was a fiasco, said Oil Change International will continue efforts to convince FERC to expand its evaluation of how pipeline projects increase methane emissions.
"However, we are well aware that the bureaucratic inertia at FERC is enormous and the bias toward industry well entrenched," Stockman said.
"It will require intense public scrutiny to move FERC and our intention is to motivate and inform that scrutiny," he said.
Ironically, FERC has noted that climate change impacts — "such as increased precipitation, flooding, erosion and scouring" — could potentially result in pipeline exposure because of the loss of soil cover atop the pipe.
Opponents of both the Atlantic Coast and Mountain Valley pipelines observe that portions of each route would travel through steep, rocky terrain where erosion and sediment control will be a challenge.
Still, Cox observed that "pipelines are widely recognized as the safest way to transport energy." And she noted that the U.S. Energy Information Administration has reported that the use of natural gas instead of coal to generate electricity has helped reduce carbon dioxide emissions.
The EIA also has found that increased contributions to electricity generation from renewable sources such as wind and solar have helped cut carbon dioxide emissions.
Meanwhile, research by Drexel University found "a substantial increase from 2012 to 2015" in atmospheric methane levels in a region of Northeast Pennsylvania where natural gas development has been intense for several years.
"With the increased background levels of methane, the relative climate benefit of natural gas over coal for power production is lost," Peter DeCarlo, an assistant professor at Drexel, studies atmospheric chemistry, has said.
In an email Wednesday, DeCarlo said his research group "strives to remain independent in the work that we do." He said funding for the research included a contribution from the Clean Air Council, which he said has "an activist arm that is opposed to fracking and pipelines."
Engelder said he believes that "blocking pipelines is closing out an option that may be critical for the widespread penetration of renewables." Pipelines and other infrastructure could provide natural gas as a backup fuel, he said, for times "when the wind does not blow and the sun does not shine."
In turn, pipeline opponents have said current infrastructure and storage facilities can handle future demand for natural gas and that new pipelines are not necessary.
By Duncan Adams
Monday, February 20, 2017 12:00 am
source: http://www.roanoke.com/
original story HERE
Get New Climageddon book: Click here for a new book about the global warming emergency and what you can do.
To View Our: current positions, opinions, agreement or disagreement with this blog article or its facts, click here.
To help do something about the climate change and global warming emergency, click here.
Sign up for our free Global Warming Blog by clicking here. (In your email, you will receive critical news, research, and the warning signs for the next global warming disaster.)
To share this blog post: Go to the Share button to the left below.
---