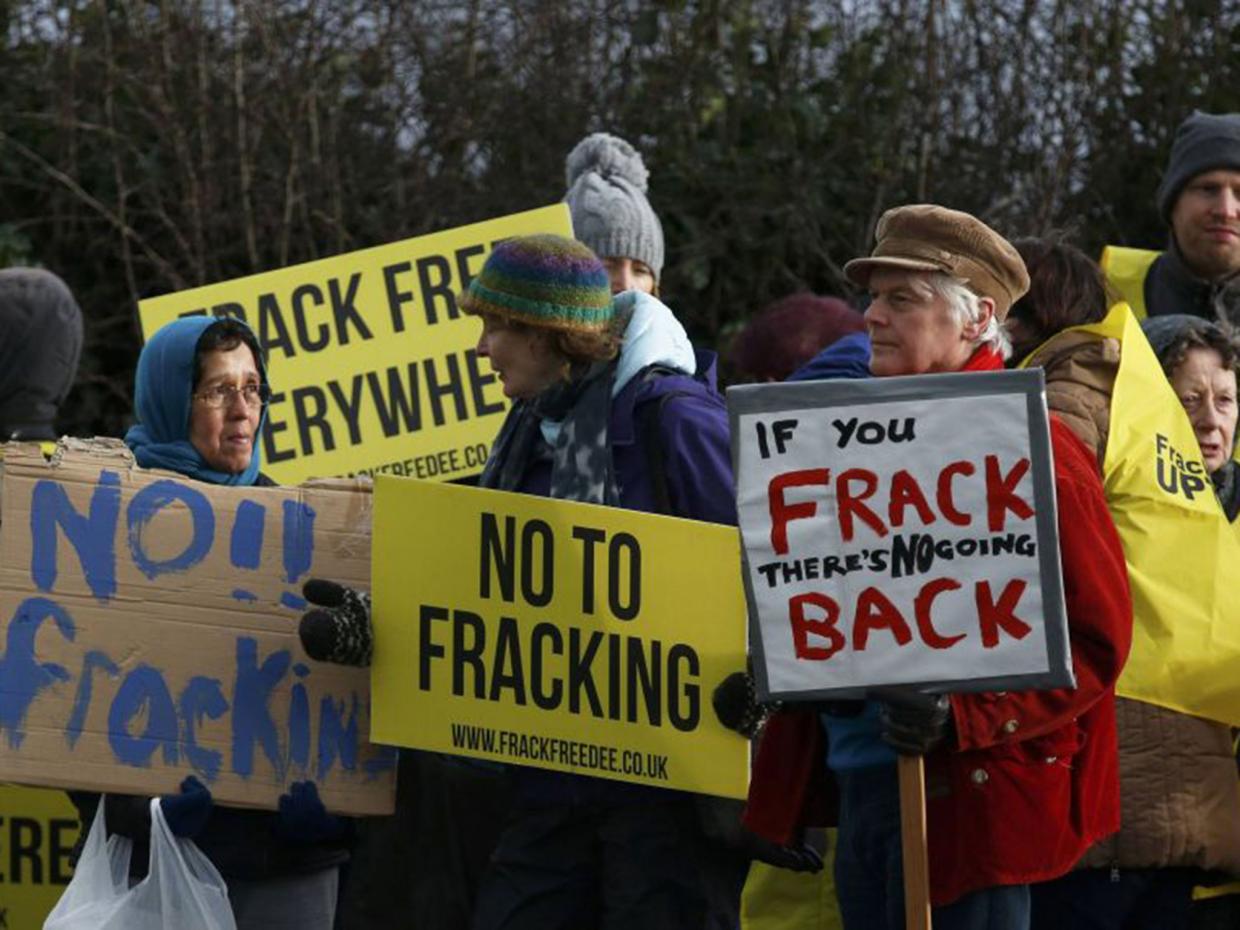 Fracking has attracted significant public opposition. Reuters
Scientists record more than 900 tremors over four months in fracking-quake hotspot in Canada – but most were too small to be felt...
Fracking can cause earthquakes that rumble on for months after the controversial gas extraction process ends, a new study has found.
Researchers recorded more than 900 individual tremors linked to hydraulic fracturing, as it is properly known, between December 2014 and March 2015 in an area around Fox Creek in Alberta, Canada, according to a paper in the journal Science.
Most were too small for anyone to notice, but the largest registered a magnitude of 3.9 and took place in January two weeks after fracking had stopped. Such a quake would usually be felt but is only likely to cause minor damage.
It is thought the process of pumping in liquid to crack rocks and release gas also resulted in a sustained increase in pressure on a nearby geological fault. 
The researchers recorded more quakes linked to that single episode, or 'stage', of fracking up until the end of the study and they may have continued afterwards.
In the UK, energy firm Cuadrilla fracking suspended operations at a test fracking well near Blackpool after two small earthquakes in 2011. But Government officials have this year approved fracking applications.
Professor David Eaton, a geophysicist at Calgary University, told The Independent: "Every fracturing stage does not produce an earthquake, but some fracturing stages are prolific.
"One of the observations in our paper was we had a case where the seismic activity persisted for several months afterwards."
He said the area around Fox Creek appeared to be particularly prone to seismic events.
A previous study in a different area found just 0.3 per cent of fracking episodes led to a quake.
"What that statistic tells us is it is exceedingly rare for hydraulic fracturing to lead to induced seismic activity," Professor Eaton said.
"But there are localized areas where these events are occurring much more frequently, there are hotspots of activity."
Professor Eaton said the potential for fracking to cause earthquakes was a "public concern" and was something that should be monitored.
"I think public tolerance for risk is very clearly linked to familiarity," he said.
"In areas where they have had oil and gas operations for decades, the public has one level of tolerance for what could be described as almost nuisance seismic activity, whereas others may have a different risk tolerance."
Fracking has attracted protests from local people and environmentalists concerned about the industrialization of the countryside, air and water pollution, and the production of fossil fuels at a time when greenhouse gas emissions must be cut to avoid dangerous climate change.
Ian Johnston Environment Correspondent
Thursday 17 November 2016
source: http://www.independent.co.uk/us
original story HERE
To learn about more about global warming, climate change or greenhouse gases as well as the causes, consequences, solutions, definitions, facts and tipping points related to these subjects, 
click here
. 
To see our most current positions, opinions, comments, agreement or disagreement with this article, and/or possible criticisms related to the subjects or facts raised in the above article, 
click here
.
 Then look for those subjects in the navigation links at the top the page.
To sign a critical petition for declaring an international global warming State of Emergency, click  
here
!
To help do something about the climate change and global warming emergency, click here.
Sign up for our free Global Warming Blog by clicking here. (In your email, you will receive critical news, research, and the warning signs for the next global warming disaster.)
To share this blog post: Go to the Share button to the left below.
---