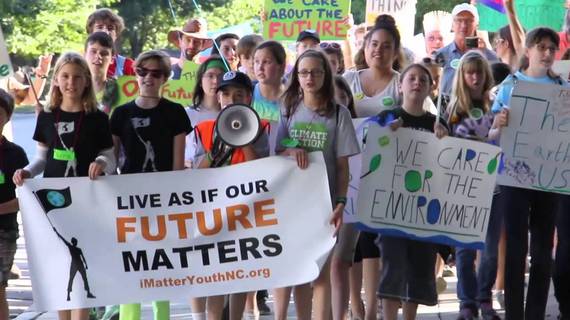 Climate change is increasingly understood as an issue of inter-generational justice, and it has become a truism that today's children will bear the brunt of our inaction. In spite of this, children are rarely addressed in climate change policy - or given a seat at the table when climate change agreements are being discussed. In countries around the world, the voice of the generation with the most at risk is mostly unheard...
As we head into COP 21, it is time to recognize young people's potential and power for making a difference...
In the United States children have blazed leadership trails on climate change in stark contrast to their elected leaders. iMatter Youth Movement founded by a 13-year-old, has inspired thousands of young people in 43 countries to become involved in campaigns, marches and groundbreaking legal action. Starting this fall, iMatter's young activists across the United States are holding their towns and cities to account for reducing their dependence on fossil fuels.
iMatter holds as a central belief that children have a unique role to play in ending the climate crisis. When children and young people discuss climate change, they bring an emotional appeal to 'do the right thing', and can urge change in the lives of grown-ups who care for them in a way that other adults cannot. Children's moral authority is also at the heart of the lawsuit brought by 21 young people against the federal government for failure to protect the atmosphere. With the support of Our Children's Trust, the young plaintiffs are asking for a court order requiring President Obama to immediately put into action a national plan to decrease CO2 to a safe level. The youngest plaintiff is just eight years old.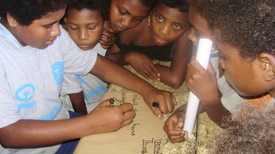 In countries most at-risk in a changing climate, children have shown their ability to lead the way in making their communities safer. Working in Pacific Islands, FSPI with Plan International has brought children into conversations on adaptation. In doing so, the children have been able to make progress that adults could not. In Papua New Guinea, children used pictures and stories to successfully advocate with their government for funds to build a sea wall. Previous attempts by adult members of the community to mobilize the same resources had been repeatedly rejected.
The child-centered approach in the Pacific opened the door not only to children, but also to women, the elderly and disabled; the people most often left out of official adaptation planning. The key was providing young people and their communities with the knowledge to understand local climate and disaster risk, and the tools for planning appropriate responses. Back in the United States, the same mix of local understanding of environmental risk and mentoring is enabling children in the Ironbound Community of New Jersey to address the double threat of industrial pollution and climate change.
In the often conservative societies of the Pacific Islands, children are not usually involved in decision-making in the home or out. Their participation in climate change adaptation led to a mind shift in the older generation, who realized the importance of their involvement in an issue in which everyone has a stake. This shift in mindset is one that we urge the delegations, both government and civil society, to embrace when heading to Paris. At COP 21 we need action that will safeguard the planet for future generations, but we will also need to take action with them.
Join the conversation on "Climate Change, Cities and Young People" on Thursday, November 19, 2015 at 4:00 pm to 6:30 pm at The New School, New York City. The event is free and will be live-streamed, please RSVP by following link: RSVP
Follow Samantha Cocco-Klein on Twitter: www.twitter.com/equity4children
Posted: 11/16/2015 2:44 pm EST
source: http://www.huffingtonpost.com/impact/
To learn what you can do that is effective to help fix global warming caused climate destabilization, click here.

To learn why the term climate destabilization is replacing the terms climate change and global warming, click here.
To help do something about the climate change and global warming emergency, click here.
Sign up for our free Global Warming Blog by clicking here. (In your email, you will receive critical news, research, and the warning signs for the next global warming disaster.)
To share this blog post: Go to the Share button to the left below.
---