Trump advisor Steve Bannon, who pushed for Trump to exit Paris with Tesla CEO Elon Musk, who gave Trump an ultimatum to stay. Source: Reuters
President Donald Trump withdrew from the Paris agreement on Thursday, citing concerns that the agreement was bad for the economy and job creation. Trump's position was likely about coal and campaign promises. Trump said he would potentially renegotiate the—voluntary—agreement in the future. However, the business community did not particularly welcome the announcement...
Tesla (TSLA) and SpaceX CEO Elon Musk, who had threatened to leave the president's advisory council, confirmed he would in a disapproving tweet.
Am departing presidential councils. Climate change is real. Leaving Paris is not good for America or the world.
Musk was followed by Disney (DIS) CEO Bob Iger, who also resigned in protest.
As a matter of principle, I've resigned from the President's Council over the #ParisAgreement withdrawal.
GM (GM) said CEO Mary Barra would remain on the council, according to a Reuters reporter.
Blackstone (BX) CEO Stephen Schwarzman will also remain.
Council member Ginny Rometty of IBM (IBM) does not tweet, but IBM told the Hill that she would remain in the advisory council: "We believe we can make a constructive contribution by having a direct dialogue with the Administration – as we do with governments around the world."
The news was enough to get Goldman Sachs (GS) CEO Lloyd Blankfein to finally use the Twitter account he created in 2011. His first tweet:
Today's decision is a setback for the environment and for the U.S.'s leadership position in the world. #ParisAgreement
The CEO of GE (GE), Jeff Immelt, tweeted his disappointment. (He is not on the council, but former GE CEO Jack Welch is. Welch has not issued any statements.)
Disappointed with today's decision on the Paris Agreement. Climate change is real. Industry must now lead and not depend on government.
Google (GOOG, GOOGL) CEO Sundar Pichai tweeted disappointment and said Google will work for a "cleaner, more prosperous future for all."
Mark Benioff, CEO of Salesforce.com (CRM), tweeted that he was "deeply disappointed."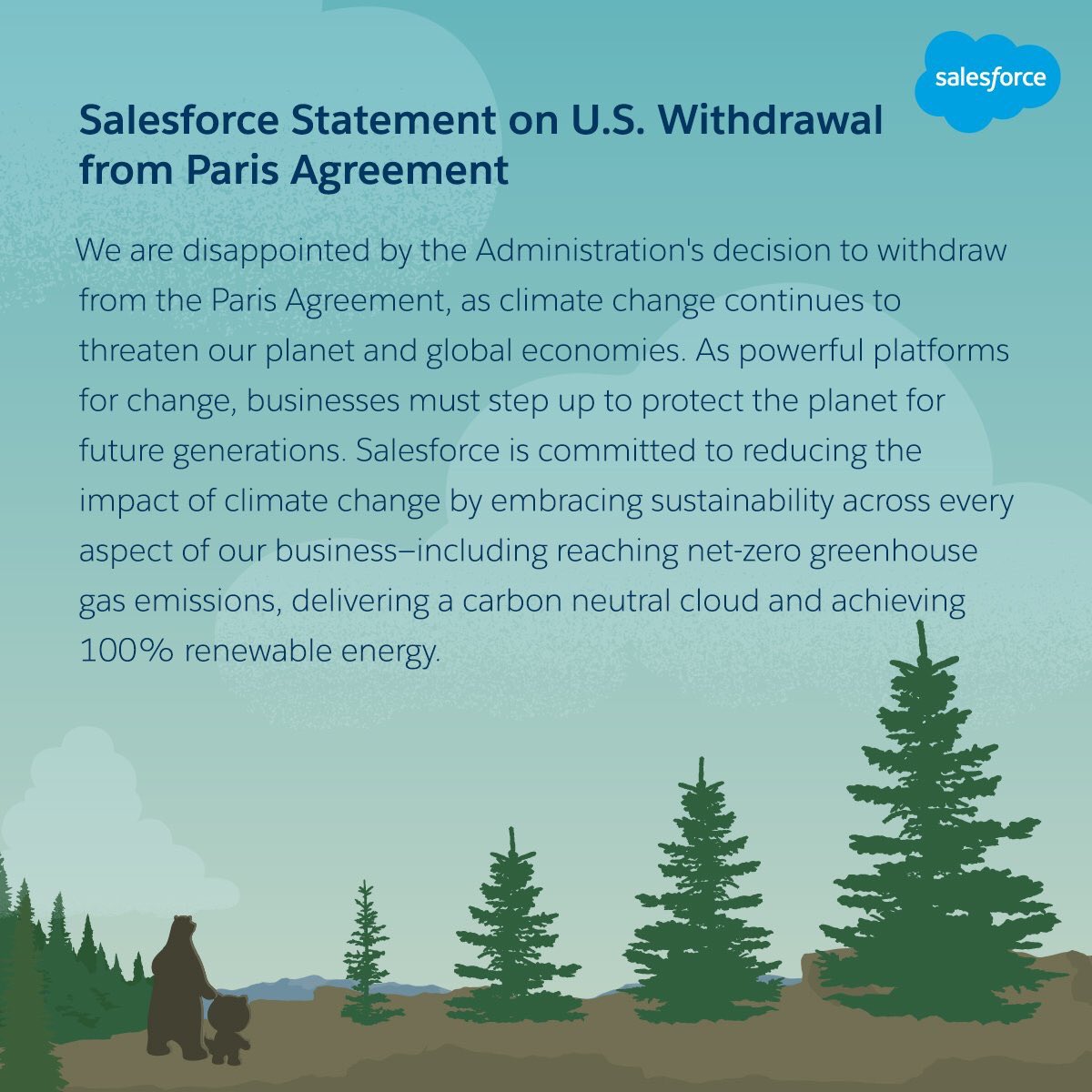 Deeply disappointed by President's decision to withdraw from ParisAgreement. We will double our efforts to fight climate change.
Microsoft (MSFT) CEO Satya Nadella tweeted, "We believe climate change is an urgent issue that demands global action. We remain committed to doing our part."
Twitter (TWTR) CEO Jack Dorsey filled his twitter timeline with pro-Paris agreement retweets.
At this point, some CEOs might not see utility in responding, but up until Thursday's announcement, many CEOs had already urged Trump to remain. A large number of prominent CEOs signed a letter to the president. As the Harvard Business Review noted, "this is not a tree-hugger group."
Inge Thulin, 3M Company
James K. Kamsickas, Dana Incorporated
Michael B. Polk, Newell Brands, Inc.
Oliver Bäte, Allianz SE ()
Andrew Liveris, The Dow Chemical Company
Geisha Williams, Pacific Gas & Electric
Brian Moynihan, Bank of America Corp.
Edward Breen, E.I. DuPont de Nemours & Company
David Taylor, Procter & Gamble Company
Zhang Yue, BROAD Group
Jeffrey Immelt, General Electric
Feike Sijbesma, Royal DSM
Denise Morrison, Campbell Soup Company
Lloyd C. Blankfein, The Goldman Sachs Group, Inc
Marc Benioff, Salesforce
David W. MacLennan, Cargill Inc.
William Brown, Harris Corporation
Jean-Pierre Clamadieu, Solvay
Michael L. Corbat, Citigroup, Inc.
Alex Gorsky, Johnson & Johnson
Elon Musk, Tesla
James Quincey, The Coca Cola Company
Jamie Dimon, JP Morgan Chase
Paul Polman, Unilever
Wendell Weeks, Corning Incorporated
François-Henri Pinault, Kering
Richard Branson, Virgin
Tom Linebarger, Cummins Inc.
James Gorman, Morgan Stanley
Robert A. Iger, The Walt Disney Group
It's even longer. On CNBC, HP (HPE) CEO Meg Whitman urged Trump to stay.
"[P]lease do not withdraw from the Paris climate accord; this is not in the best interest of Americans," Whitman said on "Squawk on the Street."
ExxonMobil (XOM) CEO Darren Woods sent Trump a letter, and Woods's predecessor and current Secretary of State Rex Tillerson was reported to have been urging Trump to remain in the agreement.
Multinational mining company (iron, coal, copper, petroleum, and more) company BHP Billiton's (BLL) CEO Andrew Mackenzie told an Australian TV station that he personally asked Trump to stay in the agreement.
Last week, Intel (INTC) CEO Brian Krzanich tweeted that Intel had been advocating for staying in the Paris accord.
by:
To help do something about the climate change and global warming emergency, click here.
Sign up for our free Global Warming Blog by clicking here. (In your email, you will receive critical news, research, and the warning signs for the next global warming disaster.)
To share this blog post: Go to the Share button to the left below.
---