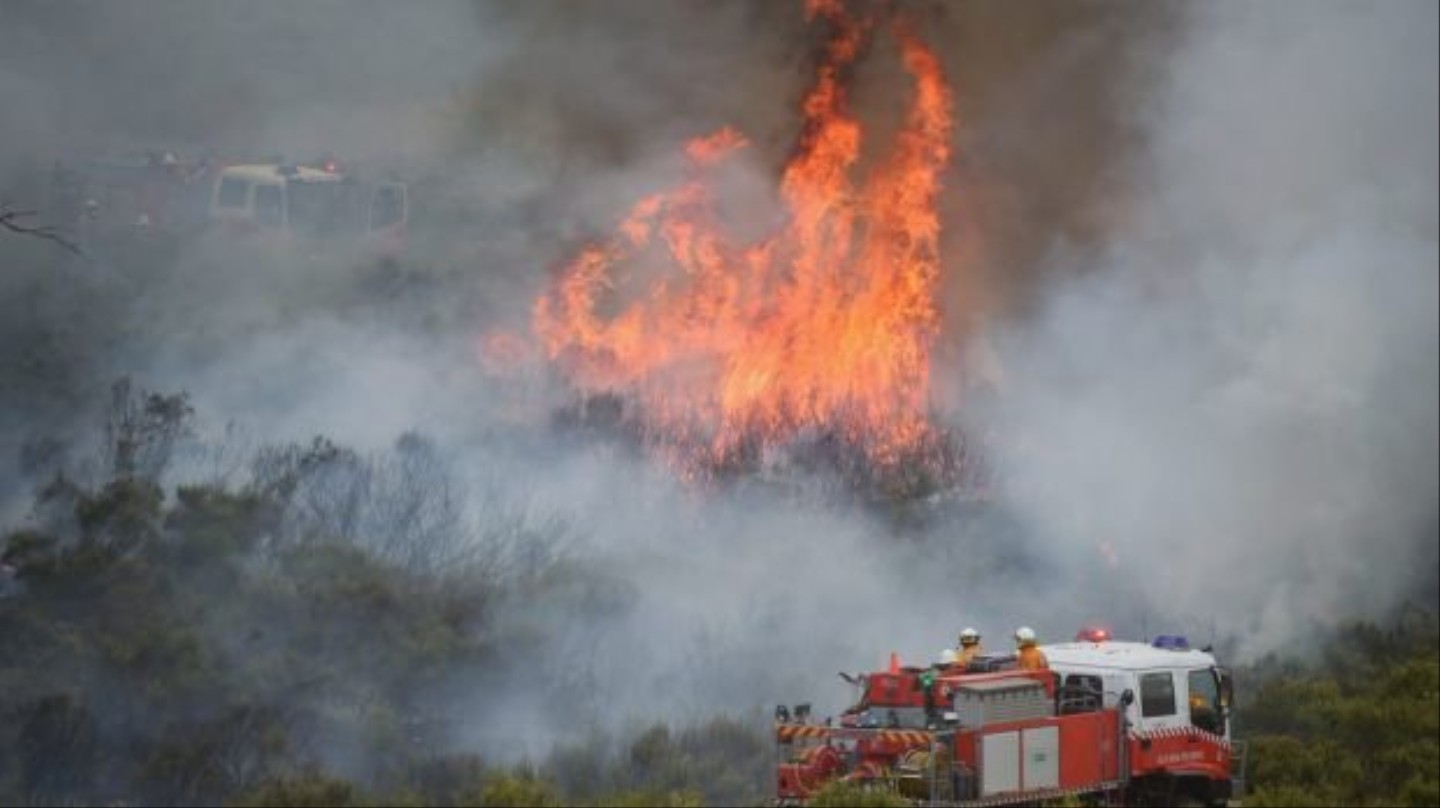 Image via Twitter user Richard Sheak
Floods in WA, raging bushfires in NSW—it's just a taste of things to come, according to climate scientists...
How about that weather, hey? Summer has been a doozy so far. In Western Australia, towns have been evacuated and roads closed due to flash flooding—a result of the second wettest February in 25 years. Meanwhile, the eastern states have succumbed to a heat wave that has seen firefighters struggle to contain scores bushfires in New South Wales. In recent days, the forecast has been so dire the Bureau of Meteorology's temperature maps looked apocalyptic—much of the country rendered black because bright red wasn't enough for how hot it was.
Sure, Australian summers tend to be hot. But these recent weather events are at the extreme of both ends of the spectrum. Within the same week, Australians were evacuated from their homes to escape both flooding and bushfire. If only scientists could've predicted this kind of extreme weather would happen this summer. Oh wait, they did. They totally did.
On February 8, the Australian Climate Commission released a report titled Cranking Up The Intensity: Climate Change and Extreme Weather Events. It predicted that extreme heat would increase across the entire continent, with significant increases in the length, intensity and frequency of heat waves in many regions. It also predicted that extreme rainfall events would increase across most of Australia. Southern and eastern Australia, it reads, "are projected to experience harsher fire weather."
How come? You know the answer to this already. The report finds that climate change is influencing extreme weather across Australia. It notes that while the links between climate change and bush fires and heat waves have also been well-established, the evidence linking climate change to storms and heavy rainfall is also growing.
The report sure seems relevant in light of the weather over the past couple of weeks. One of its authors, climate scientist Dr Will Steffen, agrees. Speaking to VICE this morning, he didn't mince words.
"Yes, the recent weather in Australia is a symptom of climate change," Steffen said. "We can see this best by comparing recent extreme weather events to those 50 or more years ago. Recent extreme events have become more frequent and more intense, and this is a result of climate change caused by the burning of fossil fuels."
The summer of 2017 will no doubt make it into future Climate Commission reports, because weather data is of great assistance to scientists painstakingly trying to communicate the obvious link between climate change and worsening weather conditions.
Thanks to weather data, Steffen said, in some cases we can now be precise in quantifying the influence of climate change. "For example, Australia's record hot year of 2013 was virtually impossible without climate change. And the extensive and severe bleaching of the Great Barrier Reef last year was made 175 times more likely because of climate change."
The report warns that across Australia, extreme weather events are projected to worsen as the climate warms further, and the only way to curb these effects is to dramatically decrease the burning of fossil fuels.
Unfortunately, it doesn't look like Australian government is going to do address this issue anytime soon. In fact, it was revealed in federal parliament this morning that Prime Minister Malcolm Turnbull deliberately misled the public with regards to the role of wind turbines in the South Australian power blackout last year. Turns out, the government happily blamed the blackouts on wind power, despite knowing the entire time that they were not.
According to the Bureau of Meteorology, the weather around the country will be comparatively bearable this week. But in the long term, you should probably brace yourself for more discomfort.
Follow Kat on Twitter
source: https://www.vice.com/en_ca
original story HERE
Sign up for the Global Warming Blog for free by clicking here. In your email you will receive critical news, research and the warning signs for the next global warming disaster.
Click here to learn how global warming has become irreversible and what you can do to protect your family and assets.
To share this blog post: Go to the original shorter version of this post. Look to lower right for the large green Share button.
To view our current agreement or disagreement with this blog article, click here.
---