The US National Hurricane Center has downgraded Maria to a category 2 storm after it devastated Puerto Rico. The weather service cautioned that the hurricane could strengthen and again become a major hurricane by Thursday.
The top sustained winds of the storm were placed at near 110 mph (175 kph) with higher gusts about 5 pm Wednesday.
The storm system is expected to continue moving away from Puerto Rico in coming hours before passing offshore the northeast coast of the Dominican Republic tonight and early Thursday.
María emerge de Puerto Rico debilitada justo al norte del Canal de Mona con rumbo noroeste. Vientos de tormenta a 100 km/hr en el este de RD
Puerto Rico is experiencing serious issues with electricity and cell phone connectivity, but some images of the scenes there are emerging on social media.
Starting To receive images from Puerto Rico. My sister just sent me this. It's from Utuado my hometown. #HurricaneMaria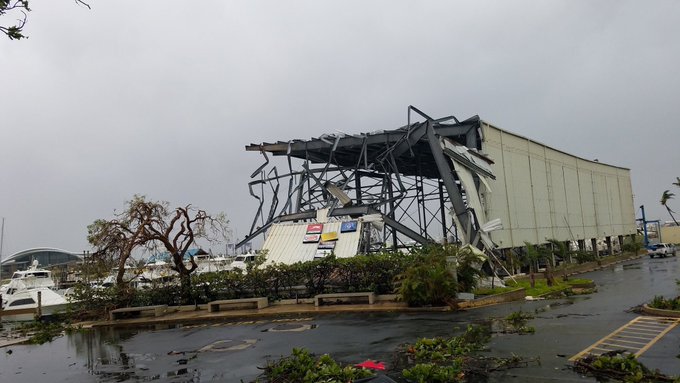 Club Naútico en Miramar, San Juan luego del #HuracánMaría | Foto vía: @JaveColon
Fema - all energy customers without power
Federal officials report all energy customers in Puerto Rico are without power at this time, a spokesperson for Federal Emergency Management Agency (Fema) told the Guardian.
The spokesperson said Fema's top priority is protecting the lives and safety of those impacted by the Hurricane Maria. It and other agencies pre-positioned first responders on Puerto Rico and the US Virgin Islands to help deploy support operations efficiently.
The White House just released a statement on its response to the hurricanes.
The President continues to direct all necessary Federal resources to protect the people of the United States territories affected by Hurricane Maria and to support response and recovery efforts with respect to Hurricanes Harvey and Irma. He and the First Lady send their thoughts and prayers to all those in harm's way.
Earlier today, Puerto Rico's governor, Ricardo Rossello, asked Trump to declare the region a disaster zone. The White House gave the country an emergency declaration, which is a designation below "disaster".
Puerto Rico's governor, Ricardo Rossello, has ordered a curfew in the territory from 6pm until 6am local time, saying it is essential to maintain order. The curfew is in place until 6am on Saturday.
People exempt from the curfew are: state and federal government officials, state and federal security agency personnel, health workers, reporters and people that may be in an emergency situation.
Updated at 4.12pm EDT
Hago un llamado al Pueblo a la calma, a la compresión y a la prudencia durante éstos difíciles días para Puerto Rico. #ToqueDeQueda
El #ToqueDeQueda será de 6pm a 6am, desde hoy miércoles hasta el sábado a las 6am. Las excepciones se detallan en declaraciones emitidas.
The second-largest radio telescope in the world is based in Puerto Rico's Arecibo Observatory, which shut down temporarily because of the storm.
A spokesperson for the National Science Foundation, Aya Collins, told the Washington Post that the observatory had been closed since Monday to give workers time to prepare for the storm. If the conditions are safe, the observatory hopes to re-open on Friday, Collins said.
Arecibo is also where much of the 1997 film Contact was filmed.
Ricardo Rossello, the governor of Puerto Rico, has advised residents to remain in a secure location as conditions are still dangerous.
"Let's keep calm until weather conditions permit government authorities to take to the streets," Rossello said. "The danger continues - there is a flood notice for all of Puerto Rico. Remain in safe places".
Mantengamos la calma en lo que las condiciones del tiempo le permitan a las autoridades de gobierno salir a la calle.
El peligro continúa - hay aviso de INUNDACIONES para TODO Puerto Rico. Permanezcan en lugares seguros.
NationNews Barbados has published aerial footage of the damage in Dominica, the first island hit by Maria.
At least seven people died there, according to Hartley Henry, a chief aid to the prime minister Roosevelt Skerrit.
And 90% of buildings were damaged on the island, according to the Organisation of the Eastern Caribbean States (OECS). The storm took out all of the island's communication systems, triggered landslides and blocked roads, OECS said.
Puerto Rico loses 100% of its electricity - reports
Multiple reports say Puerto Rico's Electric Power Authority is unable to provide electricity to customers – leaving residents without power.
The head of Puerto Rico's disaster management agency, Abner Gomez, announced the power shut down at a briefing on Wednesday afternoon, according to the BBC. Gomez said Maria damaged "everything in its path".
The National Hurricane Center reports that the center of the hurricane was detected "just offshore" the northwest coast of Puerto Rico around 2pm ET. It will move away from the coast this afternoon, according to the NHC.
"The center will then pass offshore of the northeastern coast of the Dominican Republic tonight and Thursday and then move near the Turks and Caicos Islands and southeastern Bahamas Thursday night and Friday," the update said.
Maria is expected to remain a "dangerous major hurricane" through Friday.
Updated at 2.11pm EDT
Reporter Alex Dick-Read writes to the Guardian from Tortola, the largest of the British Virgin Islands, where it has been tough to find a cell phone signal. He says the communication is very difficult there and a strict curfew is being enforced.
"Overall it seems we got fairly lucky – nothing near as bad as Irma," he said, noting that the hurricane passed a bit south of the city.
He said it's hard to tell how badly the islands have been hit because the damage from Irma is still fresh.
We will have more from Alex later today.
Here's his dispatch from earlier this week on the recovery efforts in the British Virgin Islands:

Amanda Holpuch (now) , Damien Gayle , Matthew Weaver, Claire Phipps and Sam Levin (earlier)
Wednesday 20 September 2017 17.51 EDT
source: https://www.theguardian.com/us
original story HERE
Sign Up for Our Free Global Warming Blog RSS feed by clicking here. About once a week you will automatically get all the best blog stories of the week. (The blog now has thousands of articles.)
Share This Blog Post: If you would like to share this blog post, go to the original shorter version of this post and look to lower right for the large green Share button. Ask them to sign up too for the Global Warming Blog.
Click here for information on the groundbreaking and disruptive new Climageddon book. It is about the global warming emergency and what you can do to help end it!
To View Our: current positions, opinions, agreement or disagreement with this blog article or its facts, click here.