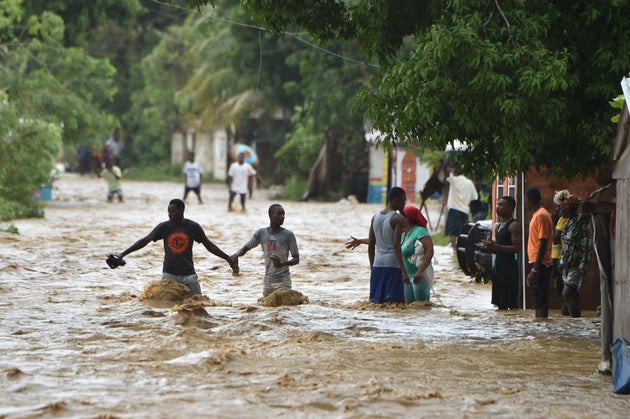 People try to cross the overflowing La Rouyonne river in the commune of Leogane, south of Port-au-Prince, Haiti, on Oct. 5. HECTOR RETAMAL via Getty Images
It's unusual for a storm like this to hit in October...
Hurricane Matthew, a record-shattering storm that is unusual for October, is a reminder of climate change's potential to turn seasonal weather events into extreme, year-round threats. 
Matthew, which meteorologists downgraded from a rare Category 5 to a Katrina-magnitude Category 3 on Wednesday, could make landfall in southeast Florida as early as Thursday, and threatens northeast Florida and the coasts of Georgia and South Carolina through Saturday. The storm has already claimed at least 11 lives in Haiti, the Dominican Republic, Colombia and St. Vincent and the Grenadines.
The storm has surpassed several milestones as one of the strongest, longest-lasting hurricanes of its kind on record. But on top of that, scientists note, it's atypical for this time of year. 
Matthew is the only hurricane of this strength to persist this many October days since 1963, noted Colorado State University meteorologist Philip Klotzbach, an expert in Atlantic hurricane forecasts. 
Matthew also remained a Category 4-5 hurricane for 102 hours, The Washington Post noted, which is the longest amount of time on record that a hurricane of that strength has persisted in the Atlantic basin during the month of October. 
While the Atlantic's hurricane season officially runs June 1 to Nov. 30, the statistical peak is Sept.10, when ocean temperatures are high and wind shear ― a storm-mitigating factor ― is low. 
But as climate change increases the temperature during months that aren't typically warm enough to support storms as strong as Matthew, hurricane season is beginning to last longer.
"The nearly unprecedented rapid intensification we saw with this storm is favored by warmer oceans and greater ocean heat content," Michael E. Mann, a leading climate scientist and professor of meteorology at Penn State University, told The Huffington Post. As the "seasonal window during which sea surface temperatures are warm enough" to support storms increases, he said, "we can expect to see the season broaden."
It's important to note, Mann added, that scientists are still figuring out how wind shear factors into this. 
"There is quite a bit of uncertainty as to how wind shear in the Caribbean will change in the future as a result of climate change, therein lies a key uncertainty in future projections," he wrote. "But we're fairly certain that, whether we see more or fewer tropical cyclones, we will see more intense hurricanes and super-typhoons, like Katrina, and Sandy and Haiyan and Patricia and now Matthew."
To help do something about the climate change and global warming emergency, click here.
Sign up for our free Global Warming Blog by clicking here. (In your email, you will receive critical news, research, and the warning signs for the next global warming disaster.)
To share this blog post: Go to the Share button to the left below.
---