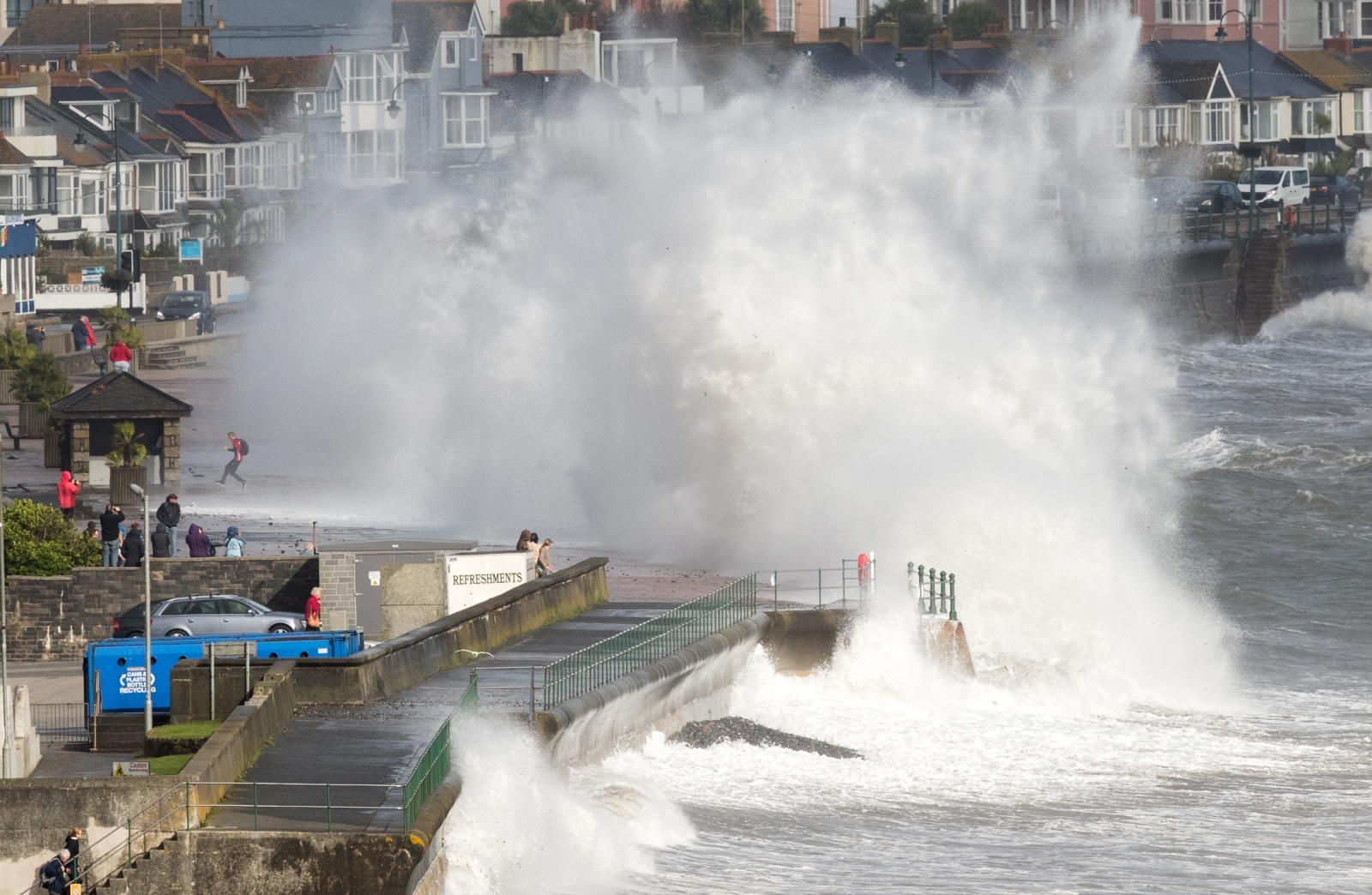 As hurricane-force gusts battered the Republic of Ireland, one woman and a man died in separate incidents when trees fell on their cars.
A second man died in a chainsaw accident while attempting to remove a tree felled by the storm.
Thousands of homes and businesses are without power in the Irish Republic, Northern Ireland and Wales.
Police in Scotland say the storm has hit Dumfries and Galloway and it is forecast to continue over the region into the evening.
'Stay indoors'
The woman, in her 50s, died near Aglish, County Waterford, and a female passenger, in her 70s, was injured.
Her injuries were not believed to be life-threatening, the Gardai, Ireland's police force, said.
One of the men died near Dundalk, Co Louth, after his car was struck by a tree at about 14.45 BST, the Gardai said.
The other man, in his 30s, was killed in Cahir, Co Tipperary.
All road users were urged to stay indoors and not travel unless their journey was absolutely necessary.
Flights were also disrupted as several UK planes were forced to land or divert after reports of a "smoke smell" linked to weather conditions.
BBC Weather said the strongest winds recorded so far were at Roches Point, near Cork in the Republic of Ireland, where they reached 97mph.
Ireland's meteorological service said its highest gust was 109mph at Fastnet Rock.
The Met Office's amber warning for Northern Ireland, western Wales and western parts of Scotland is still in force for gusts of up to 80mph - strong enough to bring down trees.
Despite the attention on the wind, other parts of the UK have seen unseasonably warm temperatures and red skies.
The ex-hurricane had dragged in tropical air and dust from the Sahara combined with the debris from forest fires in Portugal and Spain making the sky appear red.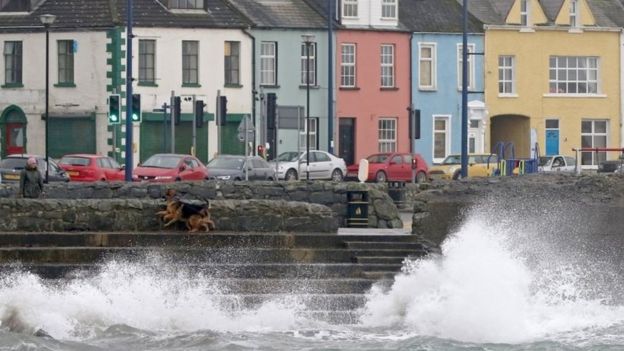 An amber warning is in force in Northern Ireland Image copyright Getty Images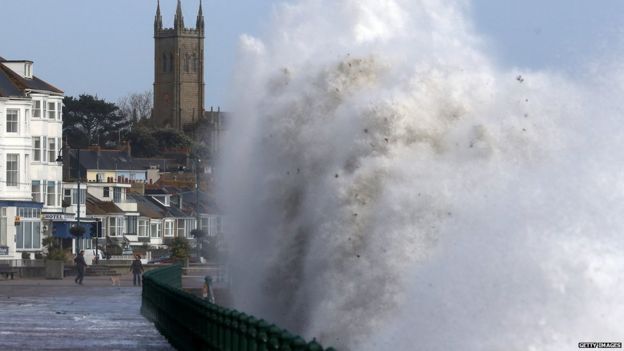 Image caption Waves crashed onto Penzance seafront in Cornwall
It could be several days before power is restored to some homes in the Republic of Ireland, ESB Networks has warned.
The roof of Cork's football stadium has also been blown off by the winds.
In Wales, the Cleddau Bridge was shut to high-sided vehicles, Pembrokeshire County Council said. All schools in the county have been closed.
Elsewhere in the UK, skies have turned red and yellow as Ophelia drags dust from the Sahara through the atmosphere.
Ophelia has arrived from the Azores in the Atlantic Ocean and coincides with the 30th anniversary of the UK's Great Storm of 1987.
The BBC's Ireland correspondent, Chris Page, said it would be the most severe storm to hit Ireland in half a century.
The Irish Republic's Met Eireann said the storm was forecast to continue travelling north over western parts of Ireland, with "violent and destructive gusts" of 75mph to 93mph expected countrywide.
It also warned of possible flooding due to heavy rain and storm surges.
"There is a danger to life and property," it said.
It has issued a red alert for the country.
In England, three flood warnings - meaning flooding is expected - have been issued in the South West, and there are several flood alerts - meaning flooding is possible - across other parts of the country.
The Scottish Environment Protection Agency has put a series of flood alerts and warnings in place for south-west Scotland.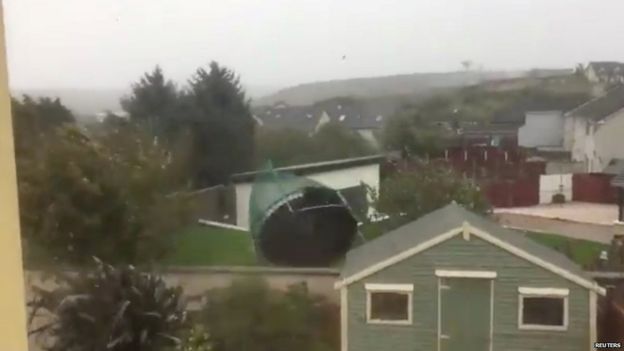 Image copyright Reuters Image caption A trampoline was blown away by strong winds in Cork, Republic of Ireland
In other developments: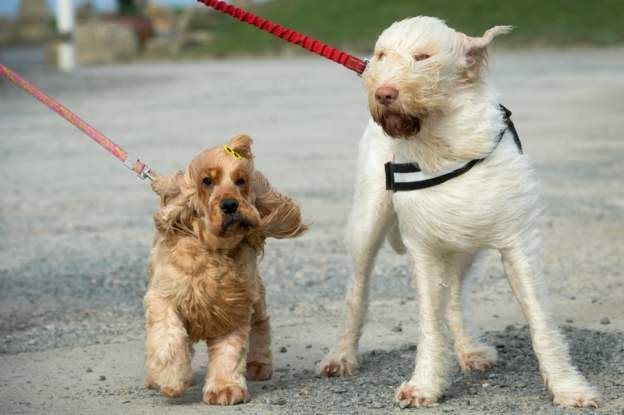 The storm hit Land's End leaving these two dogs windswept Image copyright Getty Images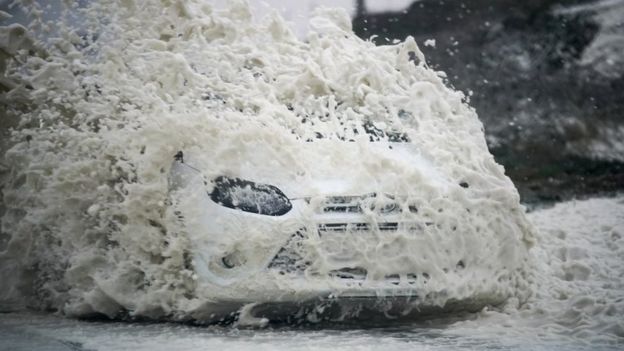 And at Trearddur Bay, Wales strong winds whipped up sea foam onto the road @campaignforleo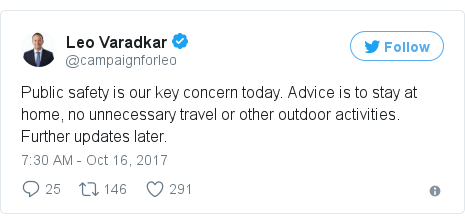 BBC Weather said Monday would be a "day of huge contrasts" with the strong gusts of wind travelling over the Irish Sea and heading north to central and southern Scotland, sparing eastern parts of the UK.
Eastern England is instead expected to enjoy unseasonably warm weather, with temperatures of 22C or 23C on Monday - compared with an average for mid-October of 15C.
Highs of 24C were recorded in the region on Saturday as some parts of the country basked in a "mini heatwave" thanks to warm air brought by Ophelia.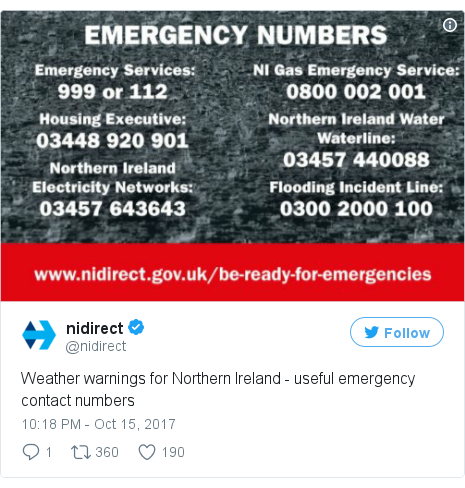 Sign up for the Global Warming Blog for free by clicking here. In your email you will receive critical news, research and the warning signs for the next global warming disaster.
Click here to learn how global warming has become irreversible and what you can do to protect your family and assets.
To share this blog post: Go to the original shorter version of this post. Look to lower right for the large green Share button.
To view our current agreement or disagreement with this blog article, click here.
---