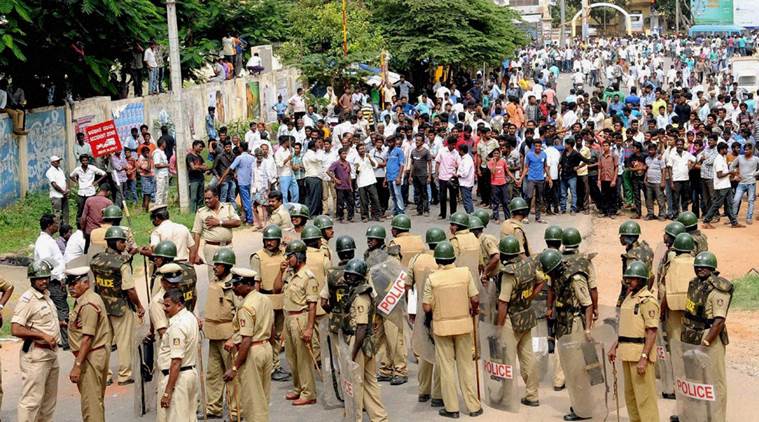 The Indian city of Bengaluru, in Karnataka state, is under curfew after violent protests broke out in the area over the sharing of river water with neighboring Tamil Nadu state. (Reuters)
Authorities imposed a curfew Tuesday in India's tech hub of Bangalore to quell violence that erupted over a water-sharing agreement from a local river...
People in Karnataka state don't want to share their river with a neighboring state, so they took to the streets and torched vehicles with license plates of that neighboring state. Credit Space Kraken Youtube
Work ground to a halt at many of the city's technology firms, streets were deserted and stores shuttered. The state's chief minister, Siddaramaiah, told reporters that he was worried about what the bloodshed was doing to the image of the area, often called the "the Silicon Valley of India."
At issue is the allocation of water from the Cauvery River, also known as the Kaveri, which originates in the southern Indian state of Karnataka, where Bangalore is located,  and flows into neighboring Tamil Nadu. A water-sharing agreement between the two Indian states that has been a source of controversy for more than a century.
In 2007, a government panel established an official allocation system that Karnataka has long argued favors farmers in Tamil Nadu. The Supreme Court had directed the Karnataka government to release water to Tamil Nadu in the coming days, sparking the protests. Protesters are not only concerned about water for irrigation, but drinking water supplies as well.
Disputes over control of water supplies are not uncommon around the world. Egypt, Sudan and Ethiopia have quarreled for years over dams and other water-control measures along the Nile. In the United States, the Colorado River is at the center of a tug-of-war between the needs of agriculture and growing cities.
Related: WSJ Why Are People in India's Tech Hub Bangalore Protesting Over Water?
India is now the latest flash point in water-use battles, which some experts believe could become more acute worldwide as climate change boosts temperatures and influences weather patterns.
"People should not take law in their own hands," Siddaramaiah, who goes by one name, said.
Chanting "we will give blood, but not Cauvery," protesters took to the streets Monday, torching hundreds of buses and stores and clashing with police. At least two people have died in the unrest.
Although violence has flared over the issue for years, drought-like conditions have lingered in Karnataka even as the country overall experienced a normal monsoon season.
Karnataka's reservoirs were 30 percent short of normal levels, while Tamil Nadu's were down 49 percent, according to a recent analysis from the data portal IndiaSpend. Parts of India have suffered successive droughts in recent years that has caused havoc with food supply and driven more desperate farmers to suicide.
Climate change experts say that India is one of the most vulnerable countries in the world to climate change. Rainfall is expected to increase  with greater variability, which could mean more droughts and floods.
With rising temperatures comes an increased risk of violence, some experts say.
A 2013 study by scholars at Princeton University and the University of California at Berkeley, published in the journal Science, looked at 60 studies on climate change and found "strong causal evidence" linking climate events to human conflict across the world.
For each standard deviation in change in climate toward warmer temperatures or extreme rainfall, the authors showed, the frequency of interpersonal violence rose 4 percent and intergroup conflict rose 14 percent.
Human conflict could become a critical effect of climate change if global temperatures continue to rise as forecast, the study found.
By Annie Gowen September 13 at 7:51 AM
source: https://www.washingtonpost.com/
original story HERE
To learn about more about global warming, climate change or greenhouse gases as well as the causes, consequences, solutions, definitions, facts and tipping points related to these subjects, 
click here
. 
To see our most current positions, opinions, comments, agreement or disagreement with this article, and/or possible criticisms related to the subjects or facts raised in the above article, 
click here
.
 Then look for those subjects in the navigation links at the top the page.
To sign a critical petition for declaring an international global warming State of Emergency, click  
here
!
To help do something about the climate change and global warming emergency, click here.
Sign up for our free Global Warming Blog by clicking here. (In your email, you will receive critical news, research, and the warning signs for the next global warming disaster.)
To share this blog post: Go to the Share button to the left below.
---