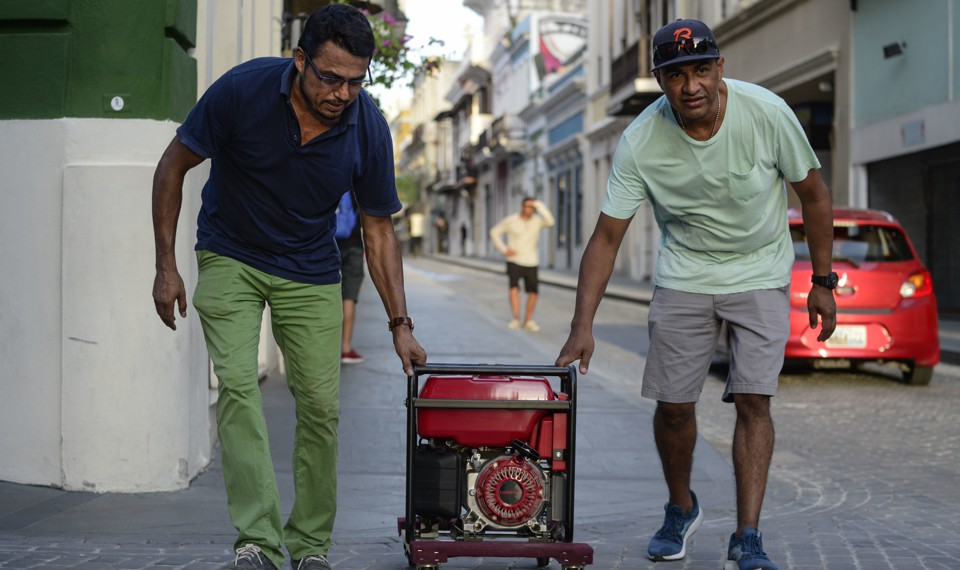 Amid a confusing tangle of overlapping authorities, shady contracts, and a push for privatization, nobody knows what the end of the island's electricity and humanitarian crises will look like, or when it will come...
It's been three months since Hurricane Maria changed everything in Puerto Rico. FEMA has declared it's transitioning from disaster response to recovery, but humanitarian issues continue to mount. The territorial government has vastly undercounted deaths from the storm and its aftermath, with the true tally likely topping 1,000. The threat of disease looms, exacerbated by the island's crumbling health infrastructure. Puerto Rico is drowning in millions of cubic yards of trash, and facing combined housing, tax, and credit problems. The island is losing waves of people to the mainland. And above all, the longest and most devastating blackout in American history is still affecting a third or more of all Puerto Ricans, perhaps even as many as half. For many, darkness has become a new way of life.
If, as The Washington Post recently reported, Army Corps of Engineers estimates that full power won't be restored until May are correct, it will mean that at least some of the island will have been without power for seven months. But there are few signs indicating that even that conservative estimate—revised downward multiple times and conflicting with Governor Ricardo Rosselló's recent prediction of a completion date of February 2018—will likely come to pass. To complicate matters, a battle for control over the grid, politics, and the future of Puerto Rico's energy profile has consumed the recovery process, and its resolution will probably dictate the energy future of Puerto Rico.
That battle began long before two devastating hurricanes hit the island last year, and the seeds of disaster had been sown long before as well. Puerto Rico's state-owned power company, the Puerto Rico Electric Power Authority (PREPA) has been in crisis for years, and its crumbling electricity grid—with a fragile transmission scheme, little basic maintenance, extraordinary pollution, and out-of-date infrastructure—made the threat of power shortages and blackouts even for critical infrastructure a common one for millions of Puerto Ricans for years as a humanitarian crisis brewed.
PREPA is also the source of much of Puerto Rico's debt problems, and managing the authority's $9 billion in debt was a key goal of 2016's PROMESA legislation, passed by Congress and signed into law by President Obama, that established an external federal-government-appointed Financial Oversight and Management Board for Puerto Rico. That board was only nominally beholden to the will of Puerto Ricans, a dynamic that from the bill's inception has put the FOMB at odds with the elected government of Puerto Rico.
The two authorities have engaged in something of a cold war since the appointment of the board in August 2016. Rosselló's office has strongly objected to some of the austerity measures recommended by the board, including a plan in August 2017 to furlough government workers. And the two have jockeyed for control of PREPA, although Rosselló's plan for the embattled agency hasn't ever seemed too far off from the FOMB's stated goals. In September, Rosselló himself told The New York Times that PROMESA would offer a route for accelerated private investments in PREPA. And while the governor has not promoted the full sale of PREPA—a decision that would undoubtedly further weaken the power of Puerto Rican officials—he has outlined a strategy for outsourcing certain functions of PREPA and for establishing public-private partnerships for others.
The existing rivalry between government and board immediately became a flashpoint after Hurricane Maria hit in mid-September, partly because of jurisdictional issues. In its effort to transition from disaster response to recovery, FEMA has left the Army Corps of Engineers in charge of most of the infrastructure development, including the power grid, leaving the military with the responsibility of bringing over two-thirds of the power generation and power lines back. But the Corps has limited flexibility in meeting that mandate. While the Army Corps of Engineers can and will bring dilapidated pieces of the infrastructure up to code during the rebuild, it can't transform the grid, or do much to change PREPA's sustainability and reliability issues, nor the massive amounts of pollution the coal- and oil-dominated power generation creates.
So then who is responsible for transformation? PREPA's ability to operate independently in planning for and in executing any long term strategy has been perhaps irrevocably damaged by a string of managerial failures after the storms.The most immediate of those is the ongoing Whitefish scandal. In the aftermath of Maria, PREPA signed a $300 million contract with the little-known Montana firm Whitefish Energy, a contract that charged exorbitant rates for certain services and exempted some provisions from federal oversight, even though the contract language stated falsely that FEMA had reviewed the contract. Media coverage and criticism from leaders such as San Juan Mayor Carmen Yulín Cruz eventually led to that contract being mostly voided, but questions over PREPA's contracting procedures dogged the struggling company, especially as another $200 million contract between PREPA and Mammoth Energy Services' Cobra Acquisitions LLC emerged with similar provisions.
Those two contracts sparked intense federal scrutiny of PREPA's inner workings, including multiple concurrent inquiries by the FBI and the Department of Homeland Security and multiple congressional hearings. At those hearings, it became clear that the problems in rebuilding Puerto Rico's grid ran much deeper than PREPA's contract process.
At a November 14 hearing before the House Committee on Natural Resources, testimony and documents from Puerto Rican officials revealed that PREPA had decided to forego a "mutual aid" relief contract with another power company—usually the primary route for disaster-stricken power grids—even though it later contracted, through the Whitefish deal, with the Jacksonville Energy Authority to perform critical services at higher rates than the mutual-aid agreement would have entailed. A September 28 email from JEA CFO Melissa Dykes expressed concern with using that arrangement, "rather than the existing mutual aid agreement which does not have clear provisions for logistical arrangements." That email also outlined possible reasons why PREPA's contracts with Whitefish had been so slapdash: The power authority likely couldn't provide lodging or support for mutual-aid providers and couldn't afford downpayments for more established contractors, many of which balked at providing services for the financially beleaguered island without a guarantee of payment.
Still, even with PREPA's administrative deficiencies laid bare before Congress, problems within the power authority hampered recovery. After acknowledging that the Whitefish scandal had moved back power-generation target dates, PREPA's executive director Ricardo Ramos resigned on November 17.
The net effect of all of these twists and turns on recovery was made clear by Ramos before his resignation: The executive lamented that the Whitefish scandal "was negatively impacting the work we're already doing" and could result in delays of up to 12 weeks. But Rosselló and the Army Corps of Engineers have also traded blame for the inefficiencies in restoring power, with all sides admitting that human error and bureaucracy have been important factors in creating a recovery date that always seems to be just over the horizon, and yet remains far off.
Citing that horizon, many members of Congress have used the Whitefish scandal in an attempt to transfer more power to the FOMB. "A legacy of dysfunction [at PREPA] has created a competence deficit that threatens the Island's ability to improve conditions for its citizens," said House Committee on Natural Resource chairman Bob Bishop, a Republican from Utah. Arkansas Representative Bruce Westerman, the chairman of that committee's Subcommittee on Oversight & Investigations agreed. "This is precisely why the oversight board should be granted more authority," he said.
The FOMB moved in October to take over PREPA and to wrest control of the disaster response from Puerto Rican officials. It demanded a role in PREPA's contract review process moving forward, and filed a motion to appoint Noel Zamot, its revitalization coordinator, to be PREPA's "Chief Transformation Officer."
According to John Mudd, a legal analyst in Puerto Rico, the move would have essentially given the FOMB total control over PREPA, even though the law originally barred it from interfering with Puerto Rico's compliance with federal programs, such as federally funded relief. "The board is taking advantage of this Whitefish thing, and saying 'These people don't know what they are doing, and we should get to appoint someone,'" Mudd said. "They don't need a chief transformation officer. What they want is to control PREPA."
For many on the island, the gambit from the FOMB appeared to be less a response to the crisis than a move to bypass the elected government of Puerto Rico and privatize PREPA, a longstanding goal. In an August radio interview, FOMB chairman José Carrión said the board's priority was to "privatize the Electric Power Authority as soon as possible." According to Mudd, the FOMB's plan for PREPA could mirror large corporate bankruptcies like the 2009 Chrysler Chapter 11 reorganization, which sold the automaker's good assets to a Fiat-Chrysler conglomerate and sold off unwanted plants in a federally-funded process. Arthur Gonzalez, the bankruptcy judge who approved the Chrysler plan, is on the FOMB.
While Zamot has downplayed some of Carrión's talk of total privatization of PREPA in the near-term, in a November 7 hearing before the House Committee on Natural Resources, he did tout "access to private capital"—about $3 billion worth—as a short term remedy for PREPA's inability to borrow money. One of Zamot's favored projects is the resumption of a $800 million waste-to-energy incinerator project from New York firm Energy Answers. Environmental activists in the Arecibo municipality have fought against a decision by the Puerto Rican government to approve an Energy Answers incinerator there, although, according to the anti-incineration coalition leader Myrna Conty,  they feared that the storms would be an opportunity for the champions of privatization to resurrect the project.
Despite long-term similarities in their plan for the power authority, the FOMB and Rosselló's office fought for control. In anticipation of Rosselló's court challenge to the designation of Zamot as PREPA's chief transformation officer, a spokesman for the governor said that "the position of the governor will never be that final decisions will be made by an entity that was not elected by the people of Puerto Rico." The Puerto Rican government's liaison to the board added that if courts ratified Zamot's designation, it would mean that the FOMB could essentially replace any public official, including the governor.
But on November 13, a federal court made the unexpected decision to deny Zamot's appointment, a decision that the FOMB decided not to appeal, and which left the territorial government with the upper hand. Since then, the two entities have operated in an uneasy detente. The board is a partner in the contract-review process, and is working alongside the Puerto Rican government to get the power grid back online. But the push and pull between the two—especially with FOMB holding the purse strings for the island and PREPA, and with its fiscal-planning sessions underway—will still go a long way to determining just what form rebuilding the grid will take.
According to a source familiar with the board's long-term strategy, who declined to be named because of the confidential nature of the discussions, much of the transformation it envisions involves private investors, including investments from Tesla—which is already piloting six projects to restore power for critical infrastructure on the island—and the Energy Answers incinerator. Some of the options on the table include the creation of solar-powered "micro grids" and increasing investment in renewables, initiatives that private-sector energy and infrastructure executives at the board's financial planning sessions have presented as necessary solutions to Puerto Rico's vulnerability from climate change, rampant pollution, and its near-total lack of alternative power. Still, according to the FOMB, it's almost impossible to do any of these things without significant funding beyond what's been provided from the federal government, and the tax bill recently signed by President Trump introduces more fiscal challenges for the island to overcome that might further hamper recovery.
The court-ordered alignment between FOMB and the government of Puerto Rico may not withstand those pressures and the pressures of transformation. FOMB has its next fiscal-planning session in mid-January, during which the push and pull between the government and the board on both issues of PREPA's transformation and the financial status of the island should be apparent. Will privatization and austerity pit the interests of Puerto Rico's bondholders against those of its citizens? In the wake of the Whitefish scandal, can private actors be counted on to refrain from exploiting an island in need? And, on an island with a diminishing population where the power authority and its debt albatross—along with its teetering power monopoly—are critical for political control, will the bondholders or the citizens win out? The answer will likely determine when the lights come back on, and if they'll stay on through the next inevitable storm.
Sign up for the Global Warming Blog for free by clicking here. In your email you will receive critical news, research and the warning signs for the next global warming disaster.
Click here to learn how global warming has become irreversible and what you can do to protect your family and assets.
To share this blog post: Go to the original shorter version of this post. Look to lower right for the large green Share button.
To view our current agreement or disagreement with this blog article, click here.
---