The amount of toxic waste generated by U.S. companies, and what happens to it, is hiding in plain sight.

..

 

 

Charles and David Koch spent the past several years and millions of dollars building a conservative movement in American politics. A new book out this week, Dark Money by Jane Mayer, chronicles the rise of their influence during the Obama era. 

A big part of their focus, and that of their peers, has been to shrink the impact of tax, fiscal, and especially environmental regulation. That position, Mayer points out, happens to work to the benefit Koch Industries, whose operations span oil refining, paper making, and synthetic fiber.

"They said they were driven by principle," Mayer writes, "but their positions dovetailed seamlessly with their personal financial interests."

Her book, denounced by the company as relying on "questionable sourcing and a misrepresentation of the facts in order to further a partisan, agenda-driven storyline," draws readers through a history of Koch Industries, its environmental impact, and subsequent litigation. Mayer writes: "While a few legal violations could be understood as misfortunate accidents, Koch Industries' pattern of pollution was striking not just for its egregiousness but also for its willfulness."

But just how egregious? Such allegations are often hard to prove. Yet, as it turns out, big polluters are required to tell the U.S. Environmental Protection Agency how much toxic waste they produce, and what they do with it. The information is publicly available through a little-known database called the Toxic Release Inventory, which includes 689 chemicals and classes of chemicals that can cause either cancer, "significant adverse acute" human health effects, or noteworthy environmental damage.

Here's how the Kochs stacked up in 2014, the most recent year with complete data. 
1. Big waste, but not the biggest
Koch Industries has consistently appeared among the top five U.S. producers of toxic waste. In 2014 the company trailed two others, mining industry giant Teck American and Dow Chemical, in the Toxic Release Inventory.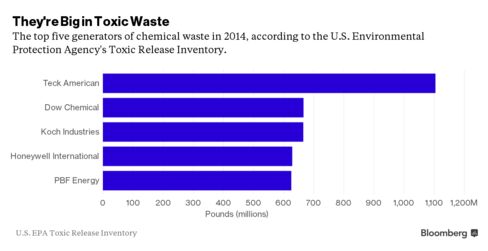 Third place isn't so bad when compared with 2012, the year Koch Industries topped the list of several thousand companies. Its toxic waste fell by a third since then. 
2. Waste doesn't equal pollution
Not all of that toxic stuff is emitted into the atmosphere or waterways. The EPA divides such hazardous waste into several categories, based on what happens to it, whether it's recycled, burned for energy, treated, or released into air or water.

The largest fraction of Koch Industries' waste is treated, which means the toxic chemicals are destroyed before they can be emitted. The company burns the next largest portion of its toxic waste for heat or to generate electricity, and a smaller amount is recycled and used in new operations. Eight percent is released into the environment. That's the fourth-highest environmental release in 2014, according to the EPA data. Koch Industries' top chemical waste is methanol, which is commonly used in industry as a solvent, fuel, or antifreeze, followed by nitrates and ammonia.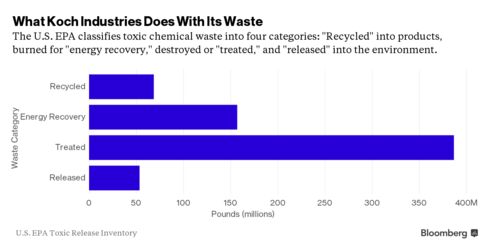 Carbon dioxide isn't typically thought of as a toxic gas, unless you're trapped in a room filled with it. Among toxic waste generators, the Kochs produce far more of the gas seen as most responsible for climate change, and rank 12th among all companies in the greenhouse gas pollution database.
Court losses a few decades ago led Koch Industries to better comply with environmental rules, Mayer writes. She cites Charles Koch's 2007 book, The Science of Success, where he writes, "We were caught unprepared by the rapid increase in regulation, politicization, and litigation" in the 1990s. "While business was becoming increasingly regulated, we kept thinking and acting as if we lived in a pure market economy."
3. Lots of waste in lots of places
It's hard to compete with mining when it comes to producing a lot of pollution from just a few sites. Teck American tops the toxic waste list in 2014 with lead and zinc mining in Alaska. What the Kochs' industrial facilities lack in mining industry scale, however, they make up for in number—129 plants generated toxic waste in 2014, according to the TRI. 

The Koch Industries data reflect the company's scale—60,000 people in all 50 states, according to Ken Spain, the company's managing director of corporate communications. "No other company listed on the report has a similar footprint compared to Koch, and therefore the data can often be misleading," he said.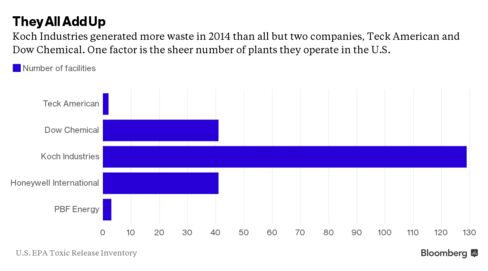 Teck said in a statement that the EPA data reflects the massive amount of rock and ore moved during mining, "and does not indicate any environmental effect."

"This is naturally occurring rock material that does not leave the mine site," the company said, adding that it holds the material in storage systems governed by state and federal standards. Teck describes its environmental performance on its website.
January 20, 2016 — 6:00 AM CST
source: http://www.bloomberg.com/
To receive the latest breaking news on global warming issues, click here and go to our climate blog. Look to the bottom right of the page for the climate blog Subscribe box to automatically get our RSS news feed and each new story. 
To learn what you can do that is effective to help fix global warming caused climate destabilization, click here.
To learn why the term climate destabilization is replacing the terms climate change and global warming, click here.
To help do something about the climate change and global warming emergency, click here.
Sign up for our free Global Warming Blog by clicking here. (In your email, you will receive critical news, research, and the warning signs for the next global warming disaster.)
To share this blog post: Go to the Share button to the left below.
---