Prior to October 2015, many homeowners in the Porter Ranch neighborhood of Los Angeles were unaware that they lived next door to one of the largest natural gas storage facilities in the nation. Against the copper hills of the northern San Fernando Valley, their gated clusters of multi-story villas, arranged on neat curves and cul-de-sacs, probably felt worlds away from toxins and industry.
Then came the largest methane gas leak in U.S. history. A 61-year-old wellhead, 8,500 feet underground at the Southern California Gas Company's Aliso Canyon storage site, cracked, spewing gas into the atmosphere at astonishing pressure. Since that day, life in Porter Ranch has turned on its head. More than three months later, the gas company has been unable to plug the leak.
"I'm unaware of anything of this magnitude that has happened before," Brian Panish, an attorney for a group of Porter Ranch homeowners, told the L.A. Times in January. "There's no study to know what the long-term effects are. What about some of these children? Do you think people's homes are going to be worth the same?"
Though methane is odorless and nontoxic, the sulfuric smell of a common additive, mercaptan, has sickened Porter Ranch residents. Their symptoms include vomiting, rashes, headaches, dizziness, and bloody noses. Thousands have now been displaced (the gas company has been ordered by the city to provide temporary housing).
Residents are also worried about levels of benzene, which can be a component of natural gas and is known to cause leukemia, in the air. Government officials have leapt into action, volleying lawsuits, penalties, and stern language at the utility, and stepping up air quality monitoring. At least 25 personal injury lawsuits have been filed by Porter Ranch homeowners. Hundreds of residents are calling for the entire facility to be shut down permanently—a move that state commissioners might support.
Infrared footage of methane pluming from Aliso Canyon. (Earthworks)
Without a doubt, the size and pressure of the Porter Ranch gas leak is incomparable. It will continue to have an outsize impact on the environment, long after the well is finally capped; methane holds 84 times the atmospheric warming power of carbon dioxide. The UCLA environmental historian Jon Christensen estimates that this one leak alone is turning back the clock on California's efforts to reduce greenhouse gas emissions by a year.
But while the plume may be unique, the symptoms Porter Ranch residents are experiencing aren't. Los Angeles is situated on top of one of the richest stores of hydrocarbon in the world, its economy intertwined with gas and oil production for more than a century. Alongside some of the country's largest natural gas storage facilities, there are 5,000 active oil and gas wells throughout L.A. County. Living among them can be just as, if not more hazardous, than living through the Porter Ranch leak—and the evidence suggests the city has done little about it.
The oil drill next door
In Wilmington, a working-class neighborhood near L.A.'s port, pump-jacks dot the landscape like trees. On small lots sandwiched between homes, schools and churches, they cast shadows on rooftops and nod as gently as branches. Pump-jacks help extract oil from the ground, a process that can pollute the air with diesel particulates, methane, and a host of volatile organic compounds, including carcinogenic benzene.
Ashley Hernandez, a 23-year-old community activist and Wilmington resident, has seen neighbors suffering from all kinds of illnesses over the years: Nose bleeds, headaches, asthma, sore throats.
"My mom got sick when we first moved here from North Hollywood. I did too once we moved near Warren E&P," she says, referring to the largest drilling site in the neighborhood, which includes 90 active wells. (There are hundreds of wells throughout Wilmington, the most of any neighborhood in the city.)
As she's gotten older, Hernandez has grown accustomed to the sour odors that seep from sidewalks. But residents are still at risk. Research has shown that the closer people are to active oil and gas production, the greater the risk of respiratory, neurological, and reproductive health effects. In Wilmington, wells sit an average of 139 feet from sensitive sites like houses and baseball fields. The cancer risks reflect these (short) distances; in communities near the ports of Los Angeles and Long Beach, the environmental risks of developing cancer are thought to be about twice as high as in Porter Ranch, based on new air quality monitoring data and a 2014 study by the South Coast Air Quality Management District.
"I
t's hard to know that something is in the air and you can't do anything about it."
Children are especially vulnerable to the health effects associated with oil and gas extraction, because they absorb higher doses of toxins and contaminants than adults. Thirteen-year-old Edgar Cabrera lives with his parents across the street from a South L.A. drilling site owned by a company called AllenCo, not far from the University of Southern California campus. For four years, Cabrera experienced debilitating asthma attacks while drilling was in operation. He and his parents were terribly concerned. "It's hard to know that something is in the air and you can't do anything about it," Cabrera says.
They weren't alone. Residents of the University Park neighborhood registered hundreds of complaints with local air quality regulators and the EPA about odors, nausea, body spasms, chronic fatigue, and respiratory illnesses connected to the drilling. Air quality regulators issued multiple violations to AllenCo. The site closed in 2013, after EPA officials fell ill while investigating the site.
Still, "there was no order for relocation of residents, no directives for medical monitoring," says Gladys Limón, an attorney with the California environmental advocacy firm Communities For a Better Environment. Compared to the Porter Ranch leak, Limón says, "the response from the city has been vastly different, and the only real difference we can tell is the demographic."
An unequal response
Wilmington and University Park are neighborhoods with relatively low median incomes, and where the residents are predominantly Latino. Make no mistake: there are also wells in white, wealthy neighborhoods in Los Angeles. It's part of city lore that Beverly Hills High School has a floral-patterned tower enclosing an oil derrick on its campus, while a high-end shopping mall in West Hollywood, the Beverly Center, houses another behind a massive wall.
Still, advocates believe that L.A.'s Department of Planning—which oversees drilling permits—regulates oil and gas producers in a racially and economically disparate manner. A lawsuit filed in November against the city on behalf of a group of youth plaintiffs alleges as much:
Oil companies in South Los Angeles and Wilmington have been allowed to use highly polluting diesel rigs and skimp on walls and other protective enclosures. In wealthy Westside communities, by contrast, oil companies near residences are typically required to use electric drilling rigs and build extensive enclosures, including sound-proofed structures that look like office buildings. The result is that the City has disproportionately exposed the plaintiffs and their communities to health and safety risks.
The lawsuit further accuses the city of "rubber stamping" new applications for oil and gas drilling in residential areas, thus routinely violating the California Environmental Quality Act by forgoing required environmental reviews for new wells.
"Residents around the various drill sites have approached the city during different times, asking for better conditions, asking for environmental impact analyses, and their efforts have been mostly futile," says Limón, who is among the attorneys representing the plaintiffs.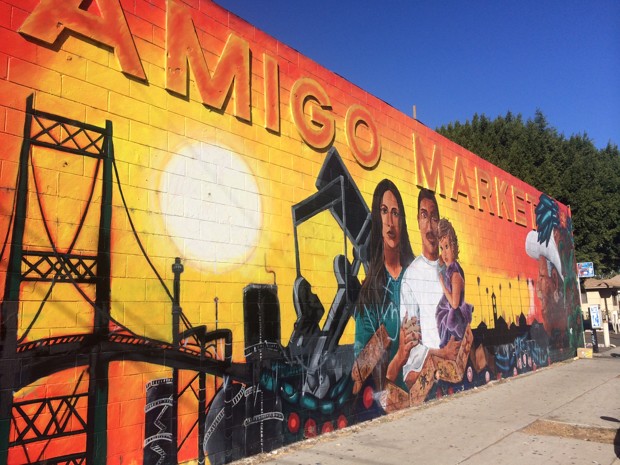 A mural depicting pump-jacks and a family faces a sidewalk in Los Angeles's Wilmington neighborhood. (Laura Bliss)
The plaintiffs in the lawsuit aren't the first to point out weaknesses in the city's handling of oil and gas extraction. An October 2015 investigation by the Los Angeles Times found "an apparent lack of follow-through on [the] operating conditions" that the city had imposed on several drilling companies, including AllenCo, and a lack of coordination between the city and the South Coast Air Quality Management District, which receives complaints and monitors air.
Representatives from the Department of Planning say that they cannot comment on pending litigation. Sam Atwood, media relations manager of the South Coast Air Quality Management District, says that the agency has been strengthening existing rules around emissions and especially nuisance odors, which he says constitute the majority of the complaints it receives. "I'd say we've made a lot of progress," he says. "I think we've seen fewer complaints as a result."
It bears mentioning the EPA has no set standards for benzene as an air pollutant, so it's not something that the AQMD specifically monitors with drillers. Atwood says that he is not aware of any one drilling facility that has exceeded the state toxicology agency's standards for general cancer risk.
A hope for new standards
For those fighting for equal protection from the health effects of drilling, odor protections from the AQMD are simply not enough. The city's full-blown response to the Porter Ranch gas leak, compared to its seeming unwillingness to enforce even its own stipulations on oil and gas operators elsewhere, feels like more of the same racial and economic discrimination.
"It is no secret that communities of color are the frontline to industry, so why aren't [government agencies] listening to our rallies, press releases, and concerns with the same attention as Porter Ranch?" asks Hernandez.
The question is relevant for Los Angeles and the country, especially in the wake of the water crisis in Flint, Michigan. Even Flint's mayor believes that environmental racism played a part in the failure of government to protect the safety of her city's drinking water supply. Now, that's resulted in widespread tragedy, with 10 dead from a Legionnaire's outbreak likely linked to tainted water and children's blood-lead levels through the roof.
If anything good can come out Flint, it's government reform. In Los Angeles, the scale and visibility of the Porter Ranch disaster could and should act as yet another wake-up call for regulators working in less-visible neighborhoods. No one in South L.A. is arguing that Porter Ranch residents should get anything less than the response they've received. They just want to be treated fairly.
"We support the residents of Porter Ranch to shut down that facility and protect their families," says Limón. "But we also hope that the situation will set new precedents for the standards required of all oil and gas operators, across Los Angeles."
source: http://www.citylab.com/
To receive the latest breaking news on global warming issues, click here and go to our climate blog. Look to the bottom right of the page for the climate blog Subscribe box to automatically get our RSS news feed and each new story. 
To learn what you can do that is effective to help fix global warming caused climate destabilization, click here.
To learn why the term climate destabilization is replacing the terms climate change and global warming, click here.