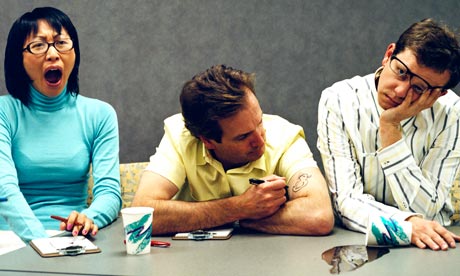 Photograph: Joseph Rafferty/Getty Images
Most millennials, in spite of what they say, are not yet acting on concerns about escalating global warming. A strong sign this is true is that Millennials have not effectively mobilized to challenge global warming's direct threat to their futures despite being the most technologically-savvy, information sharing generation in history.
 Luckily, there are a few Millennials who are concerned about global warming. Those Millennials are in very good company with some of the world's brightest minds in science.
 We can only hope those few concerned Millennials will not ignore their anxiety. After all, fear, when based on appropriate facts, is a powerful evolutionary mechanism that has evolved over millions of years as an early warning system to prepare for something that could harm our survival.
 If you're one of those Millennials listening to your anxiety and intuition about global warming and the climate, come to this website and discover the information that can prepare you for what is coming…
To see our most current positions, opinions, comments, agreement or disagreement with this article, and/or possible criticisms related to the subjects or facts raised in the above article, click here.
 Then look for those subjects in the navigation links at the top the page.
  To learn about more about global warming, climate change or greenhouse gases as well as the causes, consequences, solutions, definitions, facts and tipping points related to these subjects, click here. 
 To automatically be emailed a summary of the latest news on global warming, sign up for our Global Warming Blog by clicking here. (Put your email address in the Global Warming Blog Subscribe box at the bottom right of the page.) 
To sign a critical petition for declaring a national and international global warming State of Emergency, click  here!
To help do something about the climate change and global warming emergency, click here.
Sign up for our free Global Warming Blog by clicking here. (In your email, you will receive critical news, research, and the warning signs for the next global warming disaster.)
To share this blog post: Go to the Share button to the left below.
---