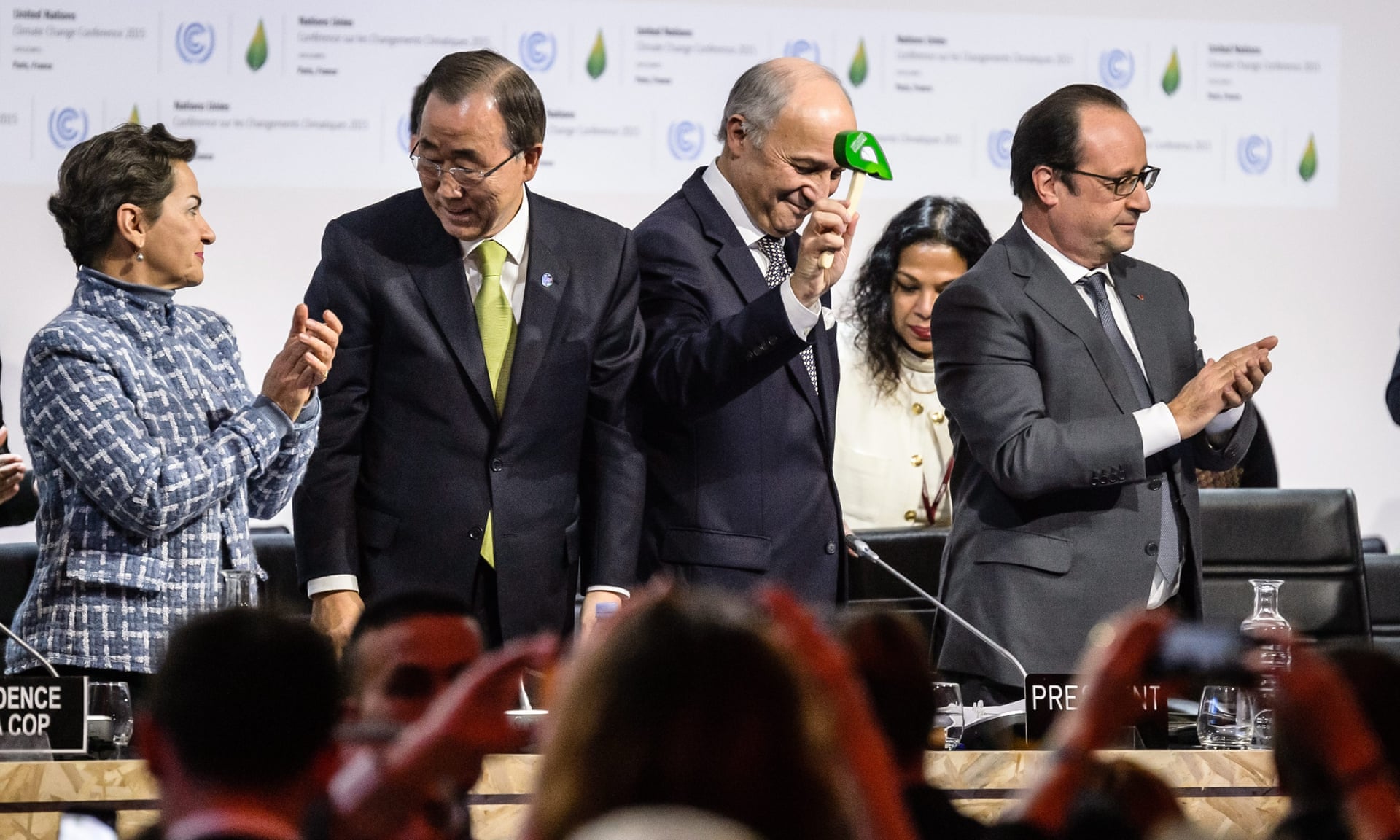 World leaders and UN officials agree on a global climate deal in Paris earlier this month. Photograph: Christophe Petit Tesson/EPA
My generation has a responsibility to find practical solutions to the environmental problems we have inherited and ensure politicians honor their promises...
I was 15, sitting on a London tube headed for the Houses of Parliament with my mum, when she leant forward and warned me that she might be about to get arrested. It was 2009 and we were on our way to a climate change protest she had helped to organise.
Together with a group of friends - all women - she had co-founded an environmental lobbying group to demand that the government take urgent action on climate change in the run-up the Copenhagen UN climate talks.
I was too young and perhaps still too politically naive to engage with the conference's history. So when she explained that for its entire 15-year timescale, it had failed to come to any meaningful agreements - and that this was the year we had to try to make sure it finally did, I'm sure I only grunted in an indifferent manner from under my shaggy mop of hair.
But Copenhagen didn't go as anyone had hoped. It wasn't until six years later, aged 21, that I reflected on that experience.
I had moved to New York to study architecture. One of my first classes was on sustainable systems and as I sat listening to the professor give us a basic introduction to climate change, it all came flooding back. It struck me that here I was, five conferences later and still there were no binding agreements. No clear solutions. No plan of action.
Our first assignment was to design a structure that would help protect a city from flooding. It was a sobering moment. I wondered if my classmates and I were fated to become a generation of architects forced to spend their careers trying to remedy the environmental disasters we humans were responsible for creating.
That class became the wake-up call I needed. I ordered books, downloaded documentaries and found myself at a weekend-long training camp with Al Gore. The event was hosted by his organisation Climate Reality with the goal of making participants into Climate Reality leaders.
Over that weekend in Iowa I met attendees as young as 12 who had persuaded their parents or teachers to take them. I learnt about Xiuhtezcatl Martinez, the 15-year-old campaigner from Colorado who was suing his government for environmental damages. He spoke at the UN last year and he works as the youth director of an organisation he founded: Earth Guardians.
I learnt about Boyan Slat, the 21-year-old environmentalist and inventor whose design for a system of cleaning plastic waste from the oceans has raised more than $2m in support for his organisation, the Ocean Clean Up.
I left that weekend with newfound optimism. I saw an ambitious generation who were keen to learn as much as they could about the environmental threats that we face. A generation who were eager to educate others and inspire action on a bigger scale than we've seen before.
Encouraged by everything I had learnt, I partnered with WWF to make a short film for the video blog I run with my brother, JacksGap. As the negotiations began to take place at COP21 in Paris, we wanted to show our audience the effects of climate change firsthand, together with the impact that we as individuals can have when we stand together to demand change.
Before I knew it I was standing on the edge of one of the world's fastest retreating glaciers in Greenland and then at the front of the people's climate march alongside my mum and thousands of others in London. This time however the conference wouldn't end in failure. In fact it would become the first to produce an ambitious legally binding agreement between all 195 countries.
But the deal agreed in Paris is just the beginning. The responsibility falls on my generation to ensure politicians honour their promises and keep global warming to below 1.5C. It's imperative we keep up the pressure by continuing to organise and find practical solutions to the problems we have inherited.
• Finn Harries blogs at JacksGap, an online blog and video project. He is on Twitter @finnharries
Tuesday 29 December 2015 09.00 EST Last modified on Wednesday 30 December 2015 03.08 EST
source: http://www.theguardian.com/us
To receive the latest breaking news on global warming issues, click here and go to our climate blog. Look to the bottom right of the page for the climate blog Subscribe box to automatically get our RSS news feed and each new story. 
To learn what you can do that is effective to help fix global warming caused climate destabilization, click here.
To learn why the term climate destabilization is replacing the terms climate change and global warming, click here.
To help do something about the climate change and global warming emergency, click here.
Sign up for our free Global Warming Blog by clicking here. (In your email, you will receive critical news, research, and the warning signs for the next global warming disaster.)
To share this blog post: Go to the Share button to the left below.
---