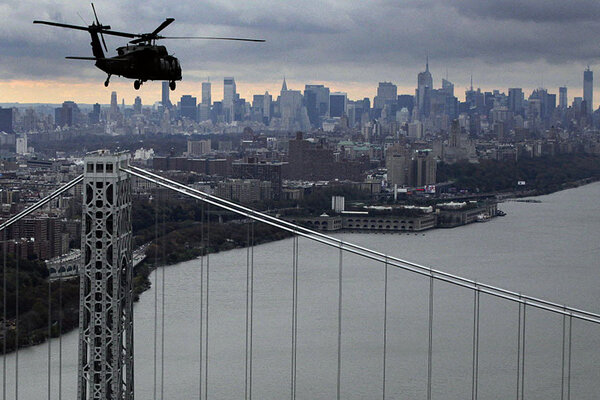 Researchers at Pennsylvania State University reveal the likelihood of another devastating flood event like Hurricane Sandy in 2012. But preparations for a city of that scale are challenging.
As ice caps melt into the oceans, climate change might leave many low-ground metropolises submerged.
But it's not just rising seas that could put New York City underwater. The Big Apple could face a repeat of hurricane Sandy flooding, according to researchers at Pennsylvania State University. 
A storm surge like the one that forced its way past the barricades in its path, swamping roadways and flooding subway tunnels during the 2012 superstorm could happen again, the researchers say.
"In the pre-anthropogenic era, the return period for a storm producing a surge of 2.81 meters (9 feet) or greater like Sandy at the Battery would have been about 3,000 years," Andra Reed, study author and graduate student in meteorology at Penn State, said in a university release. "We found that, in the anthropogenic era, the return period for this same storm surge height has been reduced to about 130 years."
Storm surges occur when winds and atmospheric pressure from a large storm churn seas up higher than normal resulting in inland flooding. But the storm's power isn't the most influential factor in storm surges. The size of the storm, the tide, and sea level all contribute.
"Sea level is rising because of climate change," said Michael Mann, meteorologist at Penn State. "But climate change also appears to be leading to larger and more intense tropical storms." 
There were seawalls in place to hold back such a storm surge off Manhattan, but the water flooded over the barrier into Battery Park on the southern tip of the island. 
The Federal Emergency Management Agency (FEMA) issued a revised floodplain map following the 2012 storm. This new map is a fresh look, as the last one was made in 1983 by the agency. 
This new map generously expands the flood zone of the region, perhaps too generously according to some. 
Almost doubling the number of buildings contained in the floodplain, the map also increases the number of potentially affected residents by 83 percent. This brings the marked area to 400,000 residents and 71,500 structures. 
The city has called FEMA's map is overcautious, according to an August article in the Wall Street Journal. Officials had their own study done, showing a significantly smaller floodplain.
It may be devastating to live through flooding like many did in 2012, but for the city it comes down to economics. 
When an area is dubbed a floodplain, certain protective measures must be put in place. However, some of those fall on the homeowners in the form of higher insurance costs. 
New York is appealing FEMA's map with those costs in mind, but officials are still wary of the risks.
"It was necessary for the city to do it, to try to keep that affordability for homeowners," Donovan Richards, a City Council member who represents parts of Queens, told the Journal. "But we also have to be cautious, and not shrink the map to the extent that if another storm comes, these homeowners would not have been in the flood zone."
 By Eva Botkin-Kowacki, Staff writer September 29, 2015
source: http://www.csmonitor.com/
 To learn what global warming caused climate destabilization is, click here.
To learn why the term climate destabilization is replacing the terms climate change and global warming,
 click here.
To learn what you can do to reverse global warming and climate destabilization, 
click here.
Sign up for the Global Warming Blog for free by clicking here. In your email you will receive critical news, research and the warning signs for the next global warming disaster.
Click here to learn how global warming has become irreversible and what you can do to protect your family and assets.
To share this blog post: Go to the original shorter version of this post. Look to lower right for the large green Share button.
To view our current agreement or disagreement with this blog article, click here.
---