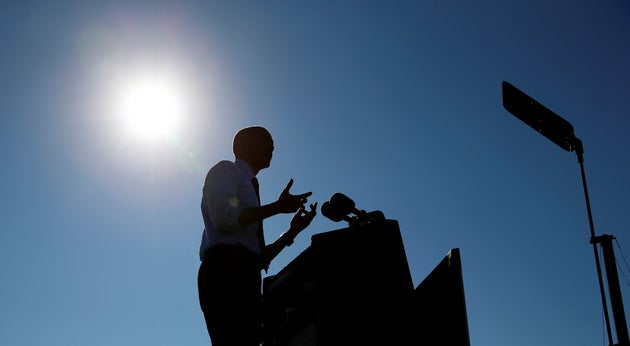 President Barack Obama wrote about good news in the clean energy sector from recent years in an article published in a scientific journal Monday. Kevin Lamarque/Reuters
"This should not be a partisan issue. It is good business and good economics to lead a technical revolution."
President Barack Obama on Monday said the building momentum behind renewable energy is almost unstoppable, despite any plans Donald Trump may have to eviscerate his environmental legacy or to follow through on pledges to expand the production of fossil fuels.
In an academic article published in the journal Science, Obama writes about the slew of good news seen in the clean energy sector in recent years: prices are falling, businesses are investing and the world, finally, is listening. All three, he says, "should put to rest the argument that combatting climate change requires accepting lower growth or a lower standard of living."
"Businesses are coming to the conclusion that reducing emissions is not just good for the environment ― it can also boost bottom lines, cut costs for consumers and deliver returns for shareholders," he said. "This should not be a partisan issue. It is good business and good economics to lead a technical revolution and define market trends."
The journal article is one of several moves undertaken by Obama in the final months of his presidency set on solidifying his administration's wide-ranging environmental progress. The president has protected more land and water than any of his predecessors. The United States has ratified the landmark Paris climate agreement, and measures such as the Clean Power Plan have sought to dramatically curb domestic emissions from energy production.
But all of that progress could very well be undone by the incoming president. Trump has threatened to pull the U.S. out of the Paris deal, has called climate change a hoax created by the Chinese and has chosen the former CEO of Exxon Mobil to be his secretary of state. Promises to "put our miners back to work" rang throughout coal country during his campaign, despite the feasibility of such plans.
Obama used the article to challenge many of those pledges, saying the withdrawal from the Paris agreement would "undermine" American interests and lose the country a seat at the table "to hold other countries to their commitments." He also pointed to dozens of corporations that have committed to go green without government intervention ― including Walmart and General Motors ― as signs of a shift in momentum that will carry on with or without Trump on board.
But while Obama conceded that "this does not mean the next administration needs to follow identical domestic policies," he said the future presents an opportunity that could be of "great benefit for the American people."
"I remain convinced that no country is better suited to confront the climate challenge and reap the economic benefits of a low-carbon future than the United States," he said, going on to note that "of course, one of the great advantages of our system of government is that each president is able to chart his or her own policy course. And president-elect Donald Trump will have the opportunity to do so."
To help do something about the climate change and global warming emergency, click here.
Sign up for our free Global Warming Blog by clicking here. (In your email, you will receive critical news, research, and the warning signs for the next global warming disaster.)
To share this blog post: Go to the Share button to the left below.
---