Drivers make their way along flooded Beach Road after the ocean breached the seawall outside Boston on Jan. 4, during the "bomb cyclone. Similar scenes will be possible Friday and Saturday in Boston, but at least there won't be sea ice. (Brian Snyder/Reuters)
Even by New England standards, the Nor'easter forecast to explosively develop Friday and Saturday is set to be a whopper. With onshore winds topping 70 mph, a stalling ocean storm that will linger for days, and the full moon Thursday night, the stage is set for a worst case-scenario coastal flood event...
A four foot storm surge will accompany the beast of a storm, which will rapidly spin up south of Long Island Thursday night. The central pressure could drop thirty millibars in 24 hours, easily qualifying it as a "bomb cyclone."
[A powerful storm is gearing up to slam the Northeast, and it could topple records]
The National Weather Service is warning that the seas could top 15.3 feet at the tidal gauge in Boston Harbor. Significant impacts will occur during the high tide Friday morning, which falls just before noon. Because the storm will stick around for several tidal cycles, it could reach this threshold again around midnight Friday and noontime Saturday.
This 15.3 feet, if realized, will break the record for flood stage in Boston for the second time this year. The long-standing record of 15.1 feet, set during the Blizzard of '78, was knocked out of its top spot by the 15.16 feet achieved during January's "bomb cyclone." Both systems brought massive coastal flooding in Eastern Massachusetts, wreaking havoc in shoreline communities and destroying a number of structures.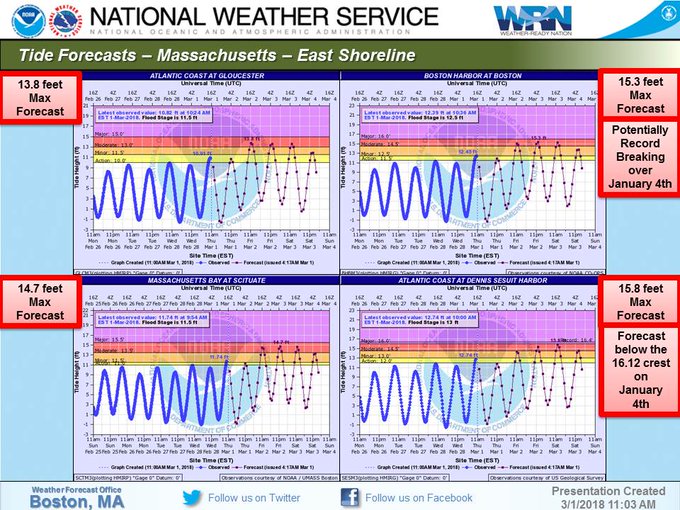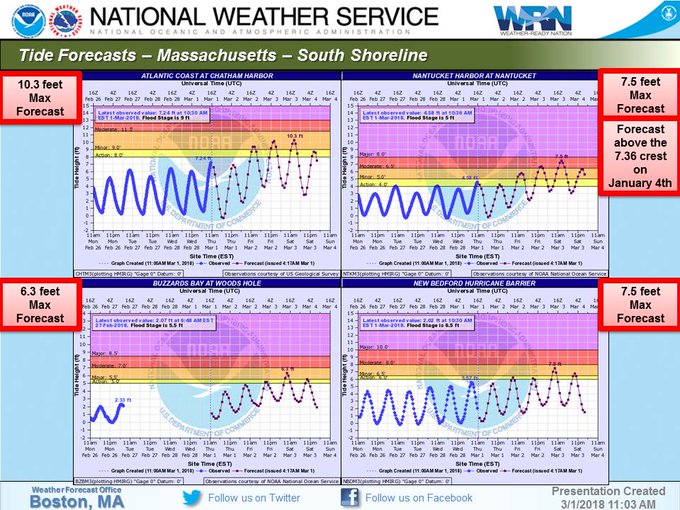 NWS Boston
✔
@NWSBoston
Remember Jan. 4th? This storm has the potential of being worse! MODERATE to MAJOR coastal flooding, especially the E MA coastline. Latest tidal forecasts: both
#
BOSTON
&
#
NANTUCKET
expected to exceed crests observed on Jan. 4th,
#
BOSTON
potentially breaking its tidal crest record
Unfortunately, widespread destructive coastal flooding this weekend is looking unavoidable at this point. Friday's event is a "perfect storm" for high-end coastal flooding in Southern New England. The ocean is already primed for big issues due to high astronomical tides. Onshore flows between 40 to 60 mph (and up to 80 mph on Cape Cod) will persist for upward of 24 hours, thanks to a stalling storm. These winds will pile water up along the coast, funneling it into bays, rivers, and inlets. Meanwhile, waves topping thirty-five feet are possible just a few miles offshore.

Residents and business owners collect sandbags, Thursday, March 1, in Scituate, Mass., ahead of Friday's expected storm, predicted to bring high winds and the potential for coastal flooding. (Greg Derr/The Quincy Patriot Ledger via AP)
Particularly vulnerable is Scituate, Mass. Numerous homes damaged by the storm there in January may be completely demolished by Friday's vicious wave action. The Scituate Fire Department is currently preparing dive team equipment in the event that water rescues become necessary.
A similar situation was unfolding in Duxbury on Thursday afternoon, where the fire department was putting the finishing touches on their new heavy-duty high water rescue vehicle. The massive truck was acquired just last month as military surplus. The town manager has already issued a voluntary evacuation order, opening the senior center to those needing shelter.
On Cape Cod, conditions are expected to be especially dire. Sandwich Harbor will completely flood, inundating the heavily-travelled Route 6A during at least two or three tidal cycles. Water could snake half a mile inland over the marshes, flooding several neighborhoods and even reaching the town center.
The National Weather Service is calling this event "serious and life-threatening," tweeting that some vulnerable neighborhoods could be "cut off for long periods of time."
"For those living along the coast," they said, "this could be a matter of life or death." Those susceptible to flooding are urged to heed the advice of local officials.
Inland freshwater flooding is likely in some spots as well, thanks to a widespread 2 to 4 inches of rain, locally topping five inches in Southeastern Massachusetts and Rhode Island. A flood warning has already been issued for the Pawtuxet River at Cranston, R.I., just southwest of the Providence metropolitan area. Rainwater draining into receding ocean flooding could keep some bays at or above flood stage into the weekend.
If it seems like you're hearing the term "record flooding" more and more in recent years, that's because you are.
Since 2000, the seas have risen several inches in the Northeast due to climate change. Though it may sound small, that's oftentimes enough to tip the scales into "record" category. The same storm 50 years ago would be less severe than it is today, simply because the water wasn't as high back then. The Intergovernmental Panel on Climate Change estimates that coastal flooding threats could triple toward the end of the century.
By Matthew Cappucci
March 1 at 3:21 PM
source: https://www.washingtonpost.com/
original story HERE
Sign up for the Global Warming Blog for free by clicking here. In your email you will receive critical news, research and the warning signs for the next global warming disaster.
Click here to learn how global warming has become irreversible and what you can do to protect your family and assets.
To share this blog post: Go to the original shorter version of this post. Look to lower right for the large green Share button.
To view our current agreement or disagreement with this blog article, click here.
---