Photographer: Joe Raedle/Getty Images
Being underwater will soon mean exactly what it says. Especially in Florida...
When talking about housing, "underwater" usually means you owe more on a mortgage than the home is actually worth. If climate change continues apace, that term could take on a much more literal meaning. 
Rising sea levels could soak homeowners for $882 billion, according to a new report from real estate website Zillow. The research takes its initial cue from the journal Nature, which in March found sea levels could rise more than 6 feet by the end of the century. In that scenario, Florida could lose close to 1 million homes, or 13 percent of the state's current stock. That comes out to $400 billion in value—a figure that doesn't include losses to commercial buildings or public infrastructure or account for future appreciation in home value.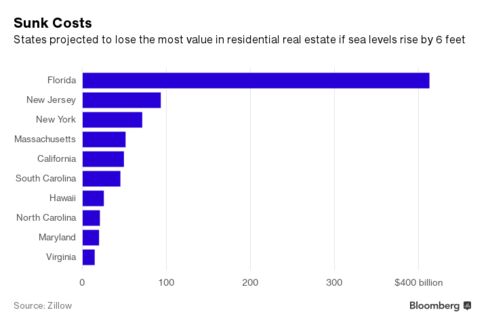 Zillow combined its own home price estimates with sea level projections from the National Oceanic Atmospheric Administration. There's still a lot of guesswork going on, cautions Zillow Chief Economist Svenja Gudell. Governments could build barriers to protect coastal communities or sea level rise could prove more moderate. But whatever the variables, there will be major losses as the waters move in.
Even in Zillow's less calamitous scenario of a 2-foot increase in sea level, the U.S. would still lose $74 billion in home value, with Florida leading the way at $17 billion.
The total value of the losses, meanwhile, is determined by the number of homes at risk of flooding and the value of those homes. In the more catastrophic 6-foot-rise scenario, New York City would lose about 32,000 homes at $27 billion in value. Newport Beach, Calif., meanwhile, would lose one-sixth as many homes but $10 billion in value, because median home value there is $1.6 million.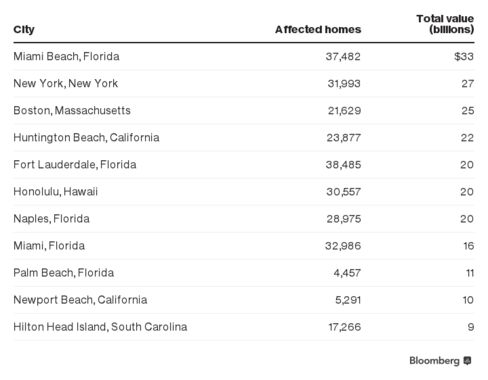 Homebuyers have proven to be a stubborn bunch when it comes to building and buying homes in coastal areas. Still, the year 2100 isn't that far away. If you're on the market for oceanfront real estate, you might want to find a beach that's on high ground. Or better yet, consider the Great Lakes.
Watch Next: The Science Behind Climate Change
This week in Paris negotiators from 195 countries will try to reach a deal aimed at reducing global carbon emissions. But what do scientists generally accept as damage to the earth? And how was it all caused? Bloomberg's Tom Gibson explains...
by: Patrick Clark
source: http://www.bloomberg.com/
original story HERE
To see our most current positions, opinions, comments, agreement or disagreement with this article, and/or possible criticisms related to the subjects or facts raised in the above article, 
click here.
Then look for those subjects in the navigation links at the top the page.
To learn about more about global warming, climate change or greenhouse gases as well as the causes, consequences, solutions, definitions, facts and tipping points related to these subjects, 
click
 here
. 
To automatically be emailed a summary of the latest news on global warming, sign up for our Global Warming Blog by 
clicking here
. (Put your email address in the Global Warming Blog Subscribe box at the bottom right of the page.) 
To sign a critical petition for declaring a national and international global warming State of Emergency, click  
here
!
To help do something about the climate change and global warming emergency, click here.
Sign up for our free Global Warming Blog by clicking here. (In your email, you will receive critical news, research, and the warning signs for the next global warming disaster.)
To share this blog post: Go to the Share button to the left below.
---