More than a million residents of Rome are facing water rationing for up to eight hours a day as the prolonged heatwave that has ravaged southern Europe takes its toll on the Italian capital.
Some businesses are already reporting sporadic disruption to their supply, while last month mayor Virginia Raggi turned off thousands of the city's public drinking fountains in an effort to save water as the drought set in.
Officials from the Italian utility Acea, the Lazio region that contains Rome, and the environment ministry will meet this week to discuss the possibility of rationing the water supply to about half of the city's 3 million residents.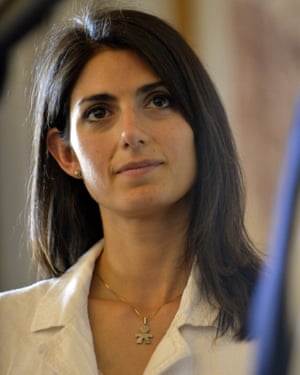 Virginia Raggi, the mayor of Rome
Lazio's governor, Nicola Zingaretti, has ordered that a ban on drawing water from drought-hit Lake Bracciano, which lies about 40km from the capital and supplies some of its water, will come into force on 28 July.
"They are working on it and looking at some hypotheses; a decision should be made on Wednesday," a spokesperson for Acea told the Guardian.
Water rationing in the Italian capital would be the latest consequence of a series of heatwaves in southern Europe this summer that have fuelled wildfires, exacerbated droughts and led Greek authorities to close some of the most popular tourist sites.
Blazes have broken out across southern Italy and Sicily, where temperatures have climbed well above 40C. Wildfires near the Calampiso seaside resort west of Palermo, the Sicilian capital, forced the evacuation by boat of more than 700 tourists earlier this month.
High temperatures compounded by strong winds have helped fires spread after months of below-average rainfall. Farm animals perished while several farms and more than 150 hectares of pine forest were destroyed in a blaze in Sicily this month.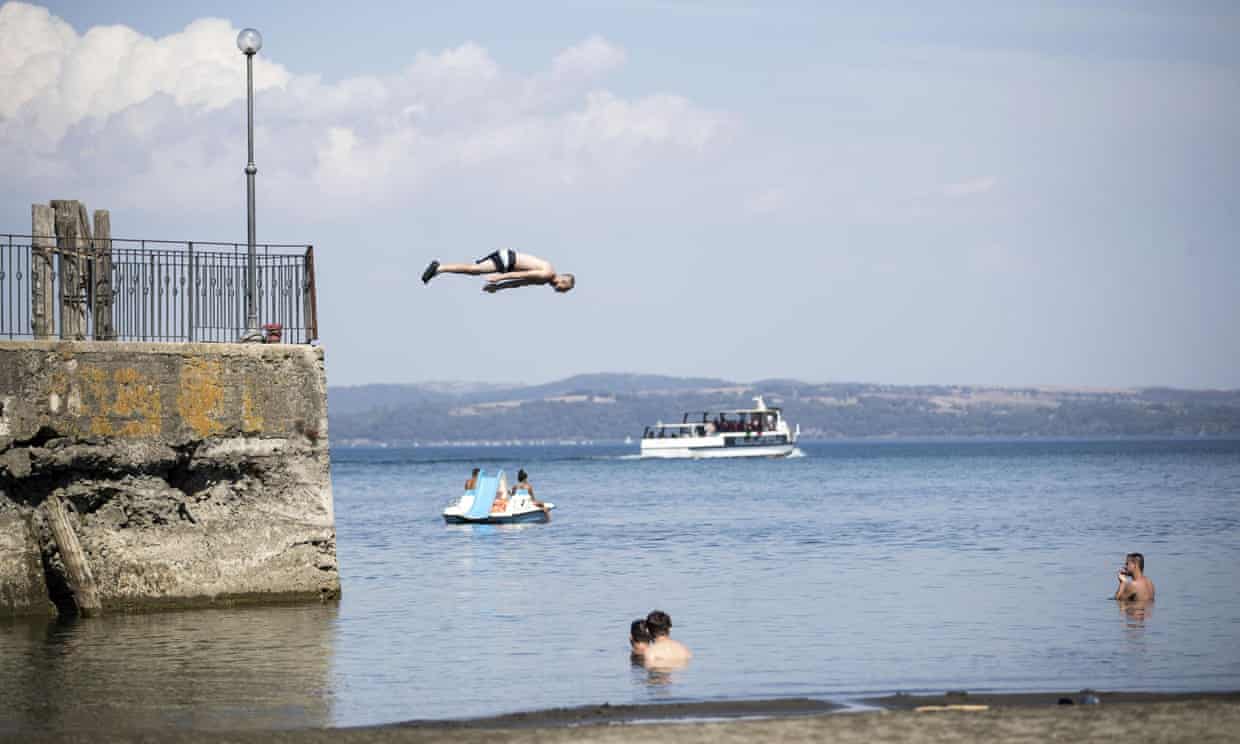 A man dives into Lake Bracciano, about 40kmnorth-west of Rome. The lake's level has fallen sharply due to the drought. Photograph: Massimo Percossi/EPA
In Spain, drought has devastated cereal crops and could threaten the grape and olive harvests.
The country endured an early heatwave last month. Though the phenomenon is not uncommon in July, authorities said the temperatures were especially high.
Last month scientists, using temperature records and up-to-date computer models, published a study concluding that human-caused climate change has dramatically increased the likelihood of such extreme heatwaves.
The analysis by World Weather Attribution (WAA), an international coalition of scientists that calculates the role of climate change in extreme weather events, found the heatwave that struck Portugal and Spain in June was 10 times more likely to have occurred due to global warming.
There has been significantly less rainfall across Italy this year – up to 80% lower than average in some areas. Meteorologists said on Sunday that the country had experienced its driest spring in 60 years.
The drought has ravaged two-thirds of agricultural land across the peninsula, causing an estimated €2bn (£1.8bn) worth of damage, according to Coldiretti, the farmers' association.
Drought in the northern agricultural provinces of Italy prompted the government to declare states of emergency. Beppe Grillo, leader of the anti-establishment Five Star Movement, has called for a similar response to the wildfires.
In southern Italy the heatwave has sparked at least 20 wildfires, including on the slopes of Mount Vesuvius near Naples.
In Rome some guesthouse owners say they are already having problems with their water supply, although it is unclear if this is solely due to the drought or partly due to ageing infrastructure. The city loses as much as much as 45% of its water due to a chronically leaky network of pipes.
"Some of the guesthouses that we run with our partner in the Santa Maggiore area have been affected," said Steve Brenner, who owns the Beehive hotel close to Rome's Termini railway station. "The first time it happened was in the middle of the night. We thought that maybe Acea [the water authority] was working on something, but we were told there were no works going on."
When residents in Santa Maggiore reported the first drop in water supply to Acea, the company blamed ageing pumping systems in the buildings.
Brenner said: "This has been going on for decades. So much of the system doesn't work, but the drought makes it critical."
Raggi, Rome's mayor, said on Monday she would try to avoid any rationing of the city's water supply. "It is unacceptable that over one and a half million Romans should be without water," she told Il Messaggero newspaper.
Monday 24 July 2017 12.11 EDT
source: https://www.theguardian.com/us
original story HERE
Sign Up for Our Free Global Warming Blog RSS feed by clicking here. About once a week you will automatically get all the best blog stories of the week. (The blog now has thousands of articles.)
Share This Blog Post: If you would like to share this blog post, go to the original shorter version of this post and look to lower right for the large green Share button. Ask them to sign up too for the Global Warming Blog.
Click here for information on the groundbreaking and disruptive new Climageddon book. It is about the global warming emergency and what you can do to help end it!
To View Our: current positions, opinions, agreement or disagreement with this blog article or its facts, click here.